Street art festival POW WOW Hawaii 2014 officially ended on February 15. Kaka'ako landscape transformation was again a huge success. This year's festival brought over 100 artists to Honolulu for a week of painting, exhibitions, talks, workshops and parties. Today, we bring you our final report of those not yet featured murals.
Successful Collaboration
Many of the painted walls were collaborative efforts, like Meggs and Bask, who had never worked together. They apparently beat the challenge of joining their creative processes. Meggs and Bask have created an outstanding work which can be found on the wall of Lana Lane Studios in Honolulu.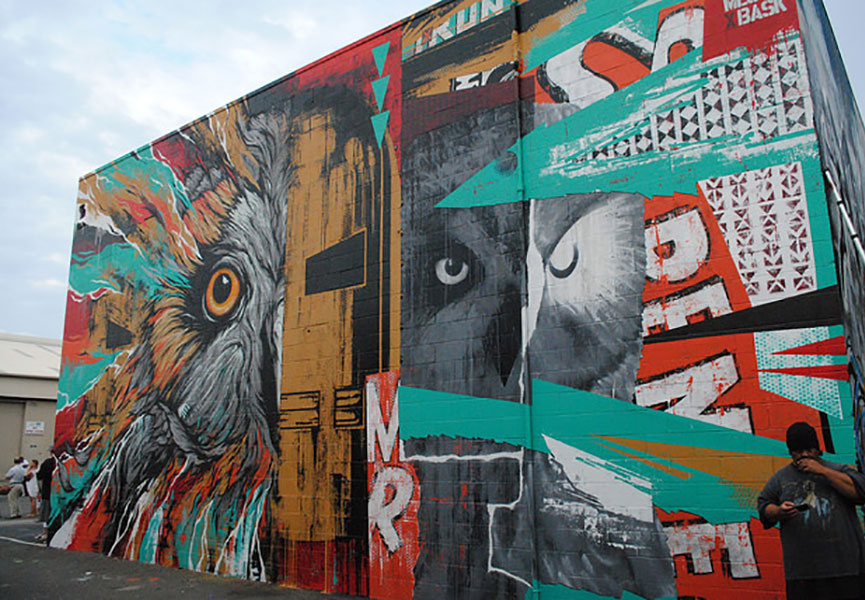 To the People of Honolulu
The side of the building in Pohukaina Street in Honolulu got this year an impressive mural by Andrew Schoultz. Schoultz has been spending every day of the festival painting a mural which he dedicated to the people of Honolulu.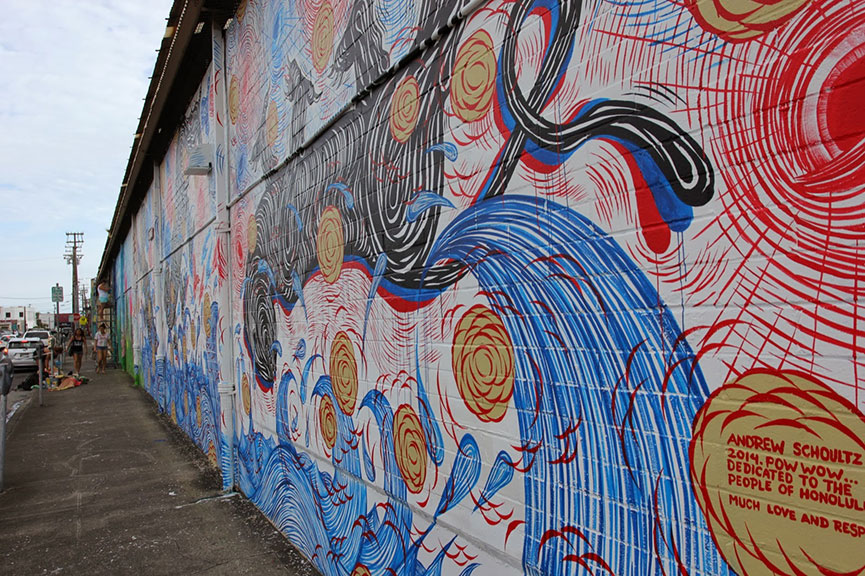 Inspirational Hawaii
After two long days of painting, Dave Kinsey created his huge mural inspired by the constant battle between civilization and nature of Hawaii. The majestic tree in the middle of the image is rising from the ground, surrounded with striped orange & red lava flows on the volcanic islands, both symbolizing the wild nature of the area. The red circle in the background, symbolizes Japan and the influence that tourism and focused development has had on this tropical paradise.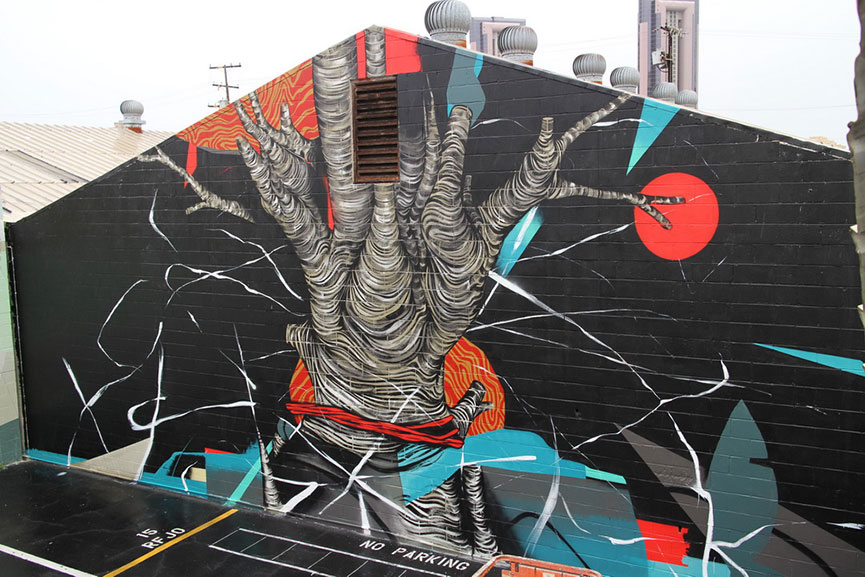 Last but not Least
Prolific L.A. based collective CYRCLE. was one of the last ones to finish their mural for POW! WOW! Hawaii 2014 festival. They made it happen by spraying every single dot over two nights and days. They created a hand painted impressive mural showing ancient Greek figures, most likely one is a Hellenistic river god, in front of the Fresh Café in Kaka'ako. This large and remarkable piece of work especially strikes with hyper-realistic sections showing draping fabrics. Thematically and stylistically, this powerful mural is in line with CYRCLE's upcoming solo show in London, titled "OVERTHRONE! POORING REIGN"  For this show Davey and Rabî have been studying and exploring ancient Greek and Roman art/sculptures that glorify power. Besides creating this fantastic art piece, CYRCLE released a limited edition prints through 1xRun's POW! WOW! 2014 Featured Artists Series especially for this event.