Precisionism developed in a decade following the end of the World War I, in 1920s America. Its short time span of slightly over ten years - until the early '30s - does not, however, undermine its significance in modern art world. Being considered the first autochthone art style developed in the US, it nonetheless holds stylistic connection with European Modernism and styles developed by historical avant-gardes. Similarily to Cubism and Futurism, their aesthetics are of a broken, segmented world where precision, dynamism, linearity, and angular forms take over the natural shapes of the everyday objects. Again, like Cubism, Precisionism defined the existing space through conspicuous rendering of angular forms that often simplify the depicted world, but also divest the world from emotions. Industrial aesthetics, with focal point on metropilitan and industrialized landscapes, followed Futurists' obsession with the new age of technological progress and innovation. The combination of stylistic and conceptual meanings makes this art style into a relevant and important point of reference when other artistic styles and movements are examined.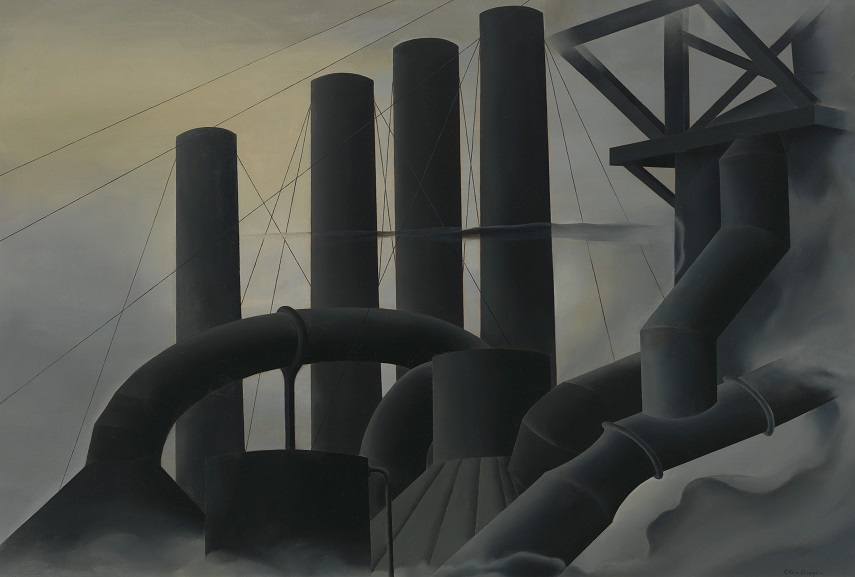 Aesthetics of America's Industrial Prowess
Artists linked with the Precisionist movement never formally organized themselves in a group, nor did they create any form of manifesto. However, they exhibited together in New York during the 1920s. Before the term Precisionists got a wide currency, they were often called by different names, such as Cubist-Realists, Immaculates, Sterilists, and modern classicists[1]. These names uncover something regarding the style the group adhered to, even before we look at their works. Being called Immaculates or Sterilists shows that their style was clear, stern and unencumbered with unnecessary detail. Different structures and landscapes were painted in pure and simple outlines with maximally reduced details; forms were regularly simplified to geometric elements, and surfaces were handled in a smooth and polished manner[2].
Even before the term Precisionism appeared, different theorists and critics noted the linear and precise style of the works created by the group. In 1927, the director of the Museum of Modern Art in New York, Alfred H. Barr, first used the name Precisionists to describe the group. Along with distinct style, Precisionists' works stood out due to the depicted topics as well. The urban scenery, skyscrapers, industrial plants and buildings, apartment houses, bridges, tunnels, and streets, all were depicted on Precisionists' paintings.
The changes in American metropolitan landscape following industrialization and modernization of the country inspired creatives to produce works where such innovations were raised to poetic levels, although divested from emotional engagement. The movement was "repeatedly welcomed by art critics in search of a new esthetic commensurate with America's booming industrial prowess"[3]. However, not all Precisionists adulated the machine age. Instead, they created works that criticized dehumanizing effects of technology. George Ault, Ralston Crawford, Francis Criss, Stuart Davis, Charles Demuth, Preston Dickinson, Elsie Driggs, Louis Lozowick, Gerald Murphy, Charles Sheeler, Niles Spencer, Morton Schamberg and Joseph Stella, belong to a group of most prominent Precisionists, while Virginia Berresford, Henry Billings, Peter Blume, Stefan Hirsch, and Edmund Lewandowski were occasionally linked with the movement, including Georgia O'Keeffe, who often negated her connections with the movement[4].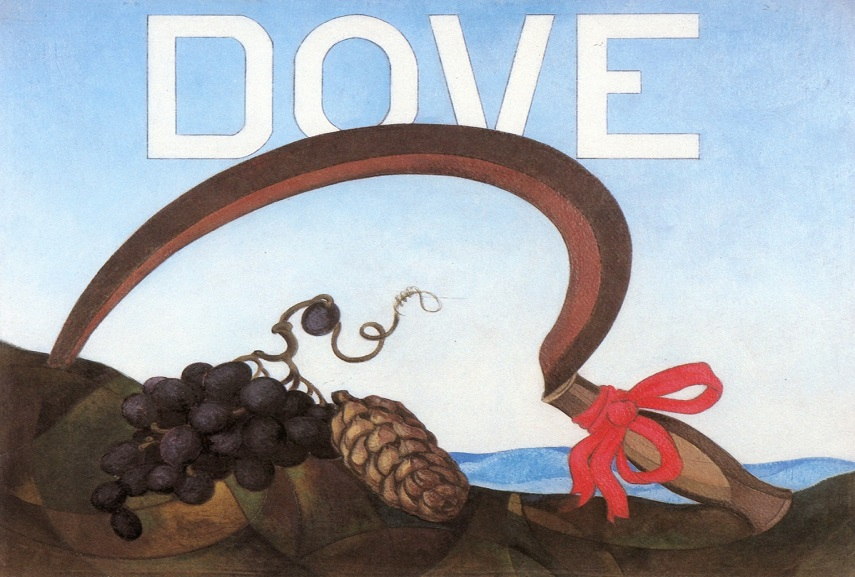 The Outgrowth of Precisionist Style
Precisionism influenced several artistic movements - from American Scene Painting, to Pop and Abstract art. Although some theorists negate the importance of Precisionism and its wider influence, the stylistic changes it introduced reverberated through artistic communities. As we already explained its aesthetics, now we will focus on specific elements that were taken on by other creatives and developed into distinct visual languages.
Maybe the closest in visual style to Precisionism is American Scene Painting. It was developed around 1925 and lasted until 1945. Its representatives were Charles Burchfield and Edward Hopper, but also the representatives of Regionalism, a Midwest branch of the same movement. Burchfield and Hopper depicted American landscape not in a heroic, neutral way of Precisionists, but in a bleaker, unsettling manner. They represented small-town America with its vernacular architecture where loneliness and despair are almost palpable.
Charles Demuth's I Saw the Figure Five in Gold is probably one of the best known paintings of the Precisionist movement. Although other paintings and style in general influenced modernist artistic movements in America, it could be said that Figure Five holds the foremost place in this equation of significance. The painting was inspired by William Carlos Williams's poem The Great Figure, created after the poet saw fire engine on the streets of Manhattan. Figure Five is a transliteration into paint of the poem, while its popular subject and angled forms anticipate both Pop and Abstract art. Abstract art slowly emerged from the increased stylization of forms and reduction of details, such as in representation of factories by Stefan Hirsch, and semi-abstract portraits of Demuth. Demuth's poster-portraits - specific in their depictions of letters and everyday commercial objects instead of figures - are some of the earliest examples of such imagery in American art. They inspired similar Pop Art renderings of consumer objects.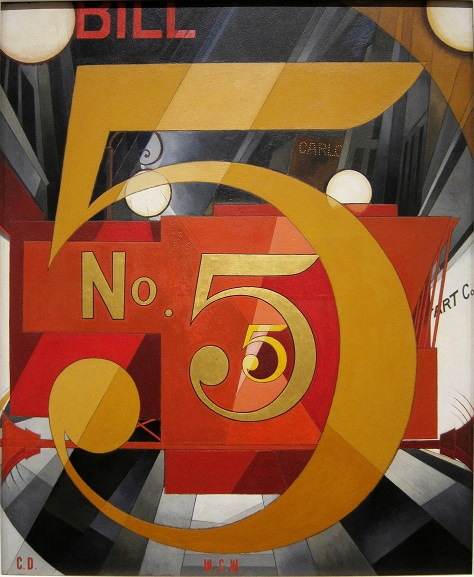 Precisionism and Avant-Garde Film
The sharp focus of Precisionist art and modern themes inspired not just different generations of artists but cinematographers as well. Numerous avant-garde films deploy the same aesthetic elements as seen in Precisionist paintings. Camera often lingers on buildings and geometric patterns of cityscapes. Among the representative films Manhatta from 1921 stands out. The authors of the film, Charles Sheeler and Paul Strand, recorded New York in static takes and later juxtaposed it with lines from a Walt Whitman's poem about the city. Robert Flaherty, in his film 24 Dollar Island, used the telephoto lens which flattens detail, creating in this way an effect similar to one seen in Precisionist paintings. Finally, Andy Warhol created a film where Precisionist style is taken to its extremes - Empire from 1964[5]. It is an eight-hour long take of the Empire State Building where only changes of light during the day create dynamism.
Paul Strand – Manhatta (1921)

Precisionism - An Art Movement that led American Art into Abstraction
As America approached its involvement in Second World War, and with news coming from Europe, a widespread unease about destructive force of technology slowly set in. The positive outlook on technological advances held by Precisionists dissipated. However, Precisionist style profoundly influenced the evolution of modern art and built the foundation of American Modernism. Today, Precisionism is observed as a stylistic bridge between realism and Abstract art, and new exhibitions are structured so as to emphasize this point. As Deedee Wigmore explains in an essay following the recent Precisionist retrospective: "Precisionism was about the search for architectural structure underlying reality, which eventually led American artists out of realism into pure geometric abstraction."[6]
Editors' Tip: Ten Precisionist Artists: Annotated Bibliographies
Sometimes considered to be America's first indigenous modernist art style, Precisionism, a movement principally of the 1920s and 1930s, concentrated on depicting the urban and industrial landscape, emphasizing the formal geometrical qualities of solid mass and clean lines and rendering these vistas with simplified, sharp-edged shapes and smooth, unmodulated application of pigment, void of extraneous details and impersonal in tone. This annotated bibliography by R. Scott Harnsberger deals with Precisionism and its ten leading practitioners: George Ault, Peter Blume, Ralston Crawford, Charles Demuth, Preston Dickinson, O. Louis Guglielmi, Louis Lozowick, Morton L. Schamberg, Charles Sheeler, and Niles Spencer. Each artist's chapter begins with a biographical sketch and includes sections such as Interviews, Articles, Essays, Exhibition Reviews and Book Reviews.
References:
Anonymous,

Precisionism

, visual-arts-cork.com [October 27, 2016]
Murphy J., (2000),

Precisionism,  In Heilbrunn Timeline of Art History.

metmuseum.org   [October 27, 2016]
Smith R., (2008), ART VIEW: Precisionism And a Few Of Its Friends, nytimes.com  [October 27, 2016]
Ibid. 
Norden M.F., (1984), The Avant-Garde Cinema of the 1920s: Connections to Futurism, Precisionism, and Suprematism, Leonardo, Vol. 17, No. 2, p.111.
Good B., (2015), D. Wigmore Fine Art Explores The Influence Of Precisionism, incollect.com
Featured images: Charles Green Shaw - Shape Shadows, 1934, detail. Image via incollect.com; Charles Burchfield - Lunch Saloon. Image via whitesnowshow.blogspot.rs; Irene Rice Pereira - Mill Town, 1940. Image via incollect.com. All images used for illustrative purposes only.