We all remember that guy from a print shop in Exit Through the Gift Shop who posted and reposted that strange sticker on every possible inch of the urban space he could find. Today, he is one of the most respected contemporary urban artists. This summer, he curated a group show during Lollapalooza Music Festival called The Provocateurs, which included leading internationally acclaimed street artists. He is also known for his charitable work, such was the spring campaign of raising awareness concerning drinking water supply (read more about this in our post Artists 4 Water). Finally, his is probably best known for his signature style (a mesmerizing recent example resides today in Little Italy in the form of a mural). The public of urban art lovers and enthusiasts have another set of Shepard Fairey pieces to be excited about…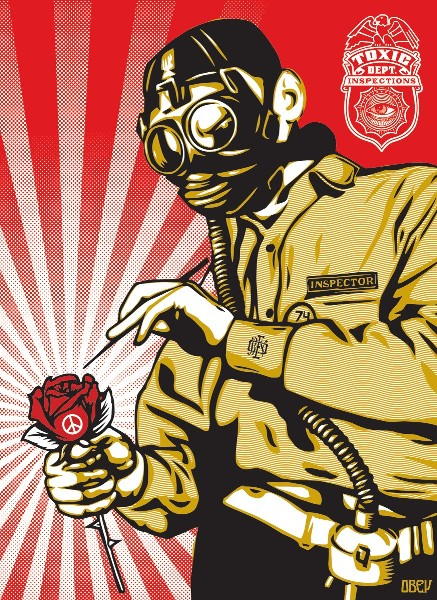 The Phenomenology of Obey
Sometime during the beginning of the last decade of the 20th century, Shepard Fairey took up a role of a phenomenologist. Although he had intellectual guidance within the philosophical thought of Martin Heidegger, the artist had decided that there was a need to act. With this postmodern twist on his mind, Fairey set on a journey to place the now famous OBEY sticker everywhere he could. The idea was, like the phenomenological method of seeing the world suggests, to make people "see clearly something that is right before their eyes but obscured." Thus, Fairey managed to invigorate people and make them interact with their surroundings. In a way, as soon as he started to act, he begun his transformation from a phenomenologist into a constructivist. Today, we can say, honoring his inspiration, Shepard Fairey's work has its place-in-the-world.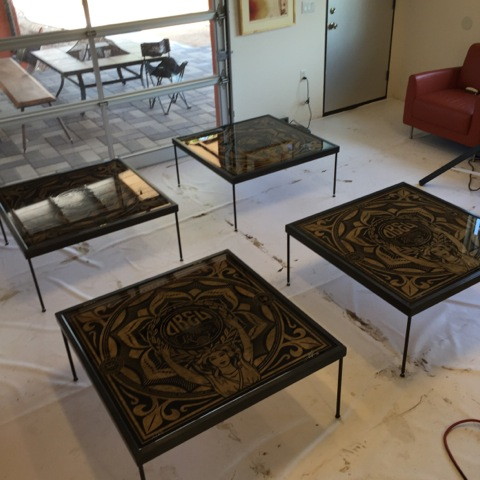 About Prints On Wood
Prints on Wood came into existence in the world of street art and urban art seven years ago, creating a series of wood prints for Sea No Evil art show. Two years after, Prints on Wood collaborated with Shepard Fairey for the first time. The art lovers at Prints on Wood work towards creating unique "wood canvases", adding a value to the original piece by pointing out those small imperfections of the material. Working with prints people bring to them or through interaction with fine art, Prints on Wood aspire to create the most true-to-color photo quality print with a vintage feel. They have, once again, collaborated with Shepard Fairey in order to produce elegant, yet durable pieces containing the artist's signature style.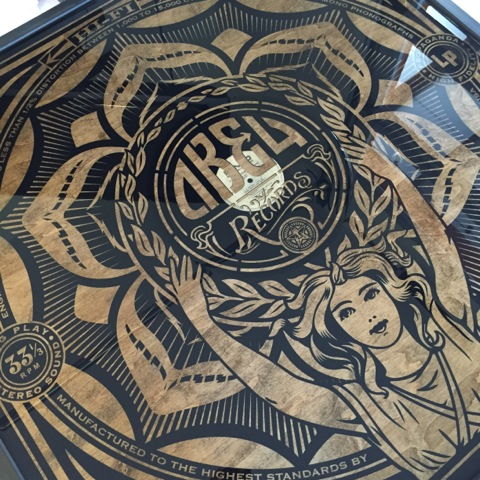 Shepard Fairey x Prints On Wood
The most recent collaboration between Shepard Fairey and Prints on Wood has been an extremely fruitful one. Fairey's style, recognizable around the globe, has served perfectly for the interaction with maple or plywood. The inspirational imagery of artist's stencil work now resides on quality table tops, as well as framed wood pieces. Fairey's particular aesthetics has fused extraordinarily with the darker tones of the material… Oh, one other thing, all the pieces are already sold out!