An acclaimed French street artist, Pro176 is known for big hi-tech scenes, as if translated directly from comics - colorful and energetic, but restrained with thick contour. Emerging from the French street art scene in the 1990s, he is one of the founders of Ultra Boys International, an avant-garde graffiti crew that has developed a new aesthetics for graffiti.
His recent body of work is currently on view at Galerie Géraldine Zberro. Titled Perpetual Ascension, the exhibition features monumental canvases, bursting with color.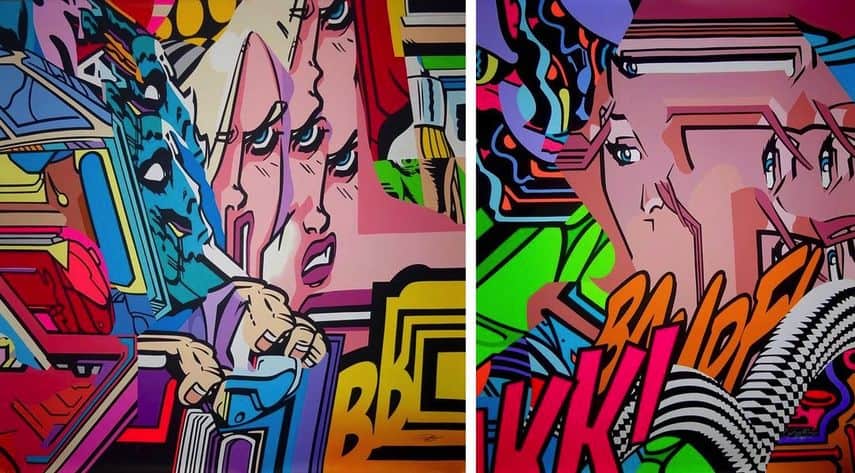 The Comic Book Influence
In his early childhood, Pro176 was obsessed with comic books from across the Atlantic that his mum used to buy him. Teaching himself how to draw by copying the famous illustrator Jack Kirby, comics were his first lectures in art, making a huge influence on his work.
After first observing the work of Mode2 and Colt during the "89 Youth for Equality", he made a decision to dedicate his life to painting. He would spend days mastering his craft, working letters and styles to extract their fullest potential. He attempted to acquire academic artistic education, but was denied because of his "general bad grades".
In 1966, he joined the ranks of the infamous and notorious Grim Team. The following year, he co-founded the Ultra Boys International, which claimed a new form of Graffiti informed by the aesthetics of Marvel comic books, futuristic abstract mathematics, alphabetical constructivism and the brutality of refined Picasso's facial Cubism.
In 2010, the artist met with Seen, also known as the "Godfather of Graffiti", who have taught him to use brush and acrylics, giving his works a more polished look. An artist who significantly influenced his early years in graffiti, Seen has become a true mentor to him.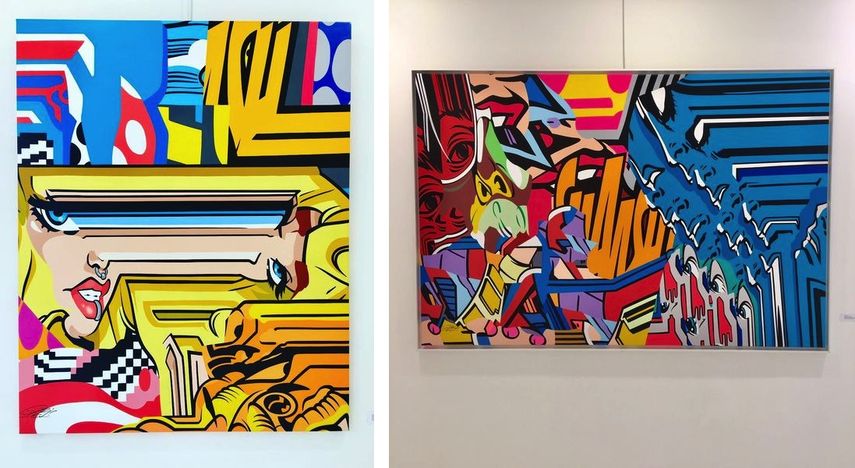 The Style of Pro176
Pro176 finds inspiration in Jack Kirby's universe, where the eternal philosophical battle of good versus evil takes place amidst universes filled with infinite galaxies and stars and inhabited by heroes and super villains. Huge futuristic machines and spaceships often appear in the background, hinting at his early fascination with sci-fi movies.
Designed to the extreme, his letters complement this Astro-galactic universe and the vivid color palette. More recently, the artist started incorporating large abstract and colorful figures cut out with black. In his pieces, one can notice his wholehearted and constant work dedicated to the canvas.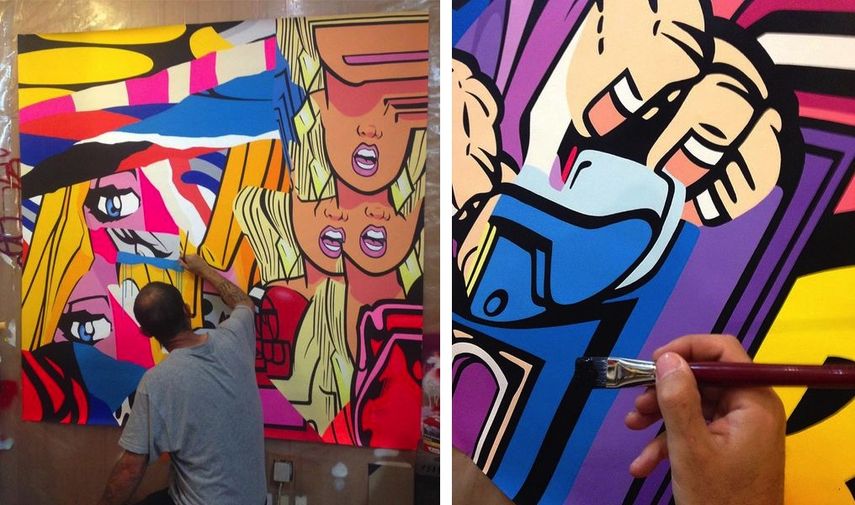 Pro176 Exhibition at Galerie Géraldine Zberro
Promoting ubiquitous art offering cultural diversity and multiple techniques, Galerie Geraldine Zberro offers a fresh look at the world and the city of today. With the exhibition of Pro176, the gallery continues their mission of supporting and promoting artists who have brought something new to the history of contemporary art.
The exhibition Perpetual Ascension will be on view at Galerie Géraldine Zberro in Paris until July 2nd, 2018. Be sure to hurry up, since the exhibition is almost sold out!
Featured image: Pro 176 Wynwood Wall. All images courtesy of Galerie Geraldine Zberro.