Perhaps the best way to explain the meaning and ideology of Process art is to take an example from a movement that had a major influence on it. Looking at one of the drip paintings by Jackson Pollock[1], we see a complex web of paint, so obviously ecstatically executed that we immediately realize it's something we've never seen before. In fact, things become clearer when we find out that the artist made it by having a performance with the canvas, as he danced around it and splashed paint all over its surface as if it was all some kind of a ritual. While these paintings are, without a doubt, visually stunning, what counts the most is the process behind them, the idea that got everything going, the impulse of creation so palpable we can almost touch it. This is how Process art fit perfectly into the concepts of the avant-garde movements of the 20th century, changing the way we perceive artworks by drawing our attention away from them and pointing it towards the action of their formation.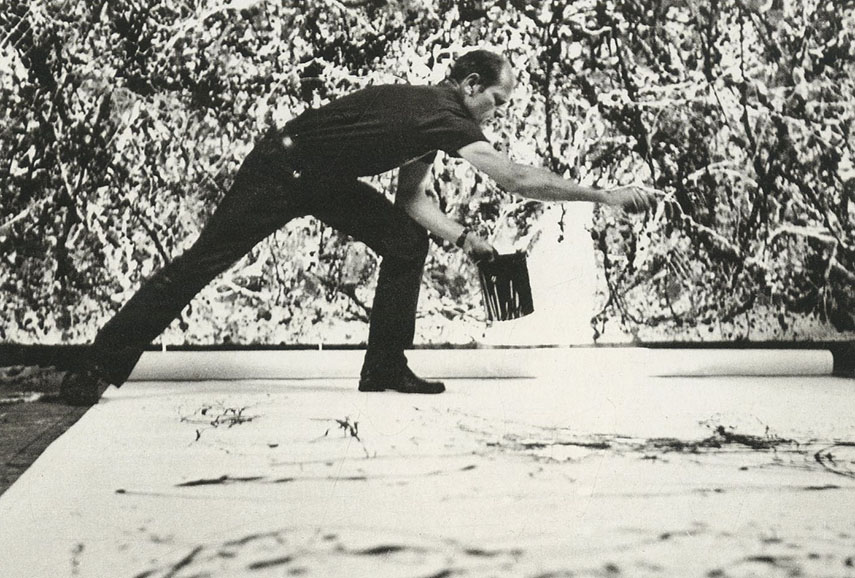 Process Art - The Becoming
Rooted in other artistic movements and the aforementioned Abstract Expressionism, Process art has been recognized in the United States and Europe in the mid-1960s and continued being present on the scene through the 1970s. As a stance that emphasized the fact art is in the creative journey rather than the masterpiece itself, its philosophy can be traced back to indigenous rites and, in particular, shamanic and religious rituals. In Shamanism, for instance, the practitioner "reaches altered states of consciousness in order to perceive and interact with a spirit world and channel these transcendental energies into this world." Process artists tend to go experience something similar while creating their pieces, which is why cultural forms like sun dance and sandpainting, especially the making of the mandala were also highly influential. Furthermore, when it comes to the mandala process, it is widely known that the Buddhist monks from Tibet spend weeks working on one, only to destroy it soon after it is done - because it's not about the end product, but the spirituality of its creation.
As peculiar and unconventional as it was, Process art inevitably led its members towards the use of nontraditional, uncommon materials such as latex, wax, felt, grass, fire, broken glass.[3] This gave them a lot of freedom with the way they could apply and use them in their artworks, performances and of course processes at large, leaving much of it to improvisation, random occurrences and actions led by impulse, such as cutting, hanging, dropping, and even freezing, decomposing, condensing. As a result, the artworks were ephemeral, one might even say inconsistent or insubstantial, which in this case was exactly the point. Nevertheless, there were no rules, nor rights and wrongs, just a quest to reach the purity of imperfection and human expression.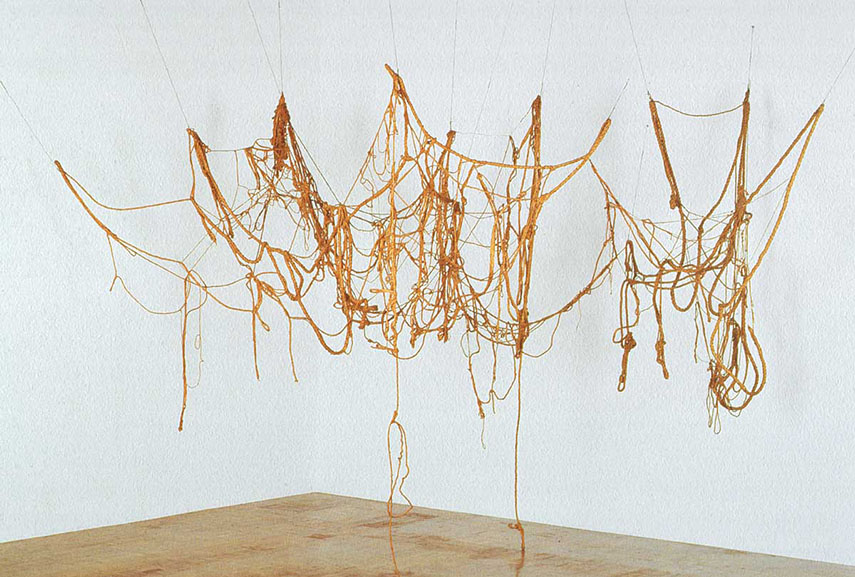 The Work of Process Artists
In their creations, Process artists believed art should be about nature or the human body. One of the most famous names from the movement's beginnings was Eva Hesse, a German-born known for her pioneering sculptures made of latex, plastics and fiberglass, all evoking natural and organic forms. Eva Hesse's work delved into emotional struggles and related to the body with an impressive immediacy. The language of biomorphic forms was also spoken by Lynda Benglis, whose latex sculptures and wax paintings embedded strong elements of feminism and irony. Like Robert Morris, on the other hand, Richard Serra made his work by experimenting with materials; for example, he threw molten lead into the corners of a room, or he cut, propped or stacked lead sheets, rough timber, etc. in order to create large, strangely balanced structures. Keith Sonnier also belongs to this group as another re-inventor of sculpture, in which he incorporated light. Coming from a conceptual point of view is Bruce Nauman, with his photographs, video works, drawings, neon pieces, prints and performances. He used process art and his body to question the role of an artist and investigate psychological states and behavioral codes.
The Art of the Process - Robert Ryman, Eva Hesse, Bruce Nauman, Susan Rothenberg
Robert Morris's Anti-Form
The most important event related to Process art as a movement surely is the 1968 exhibition at the Leo Castelli warehouse in New York City. Artist Robert Morris, one of the most prominent figures at the time, not only organized the show but had also written an extensive essay around which the concept was revolving. Titled Anti-Form, the thesis explained the intention behind the movement and its artists, such as the aforementioned Giovanni Anselmo, Richard Serra, Eva Hesse, Stephen Kaltenbach, Bruce Nauman, William Bollinger, Alan Saret, Gilberto Zorio and Keith Sonnier, all of the main representatives of Process art. For the exhibition, Robert Morris contributed his experiments with felt, which he piled, stacked and hung from the wall, exploring the effects of gravity and stress on ordinary materials[4]. After that, the artist continued making indoor installations of unorthodox materials like dirt and thread waste.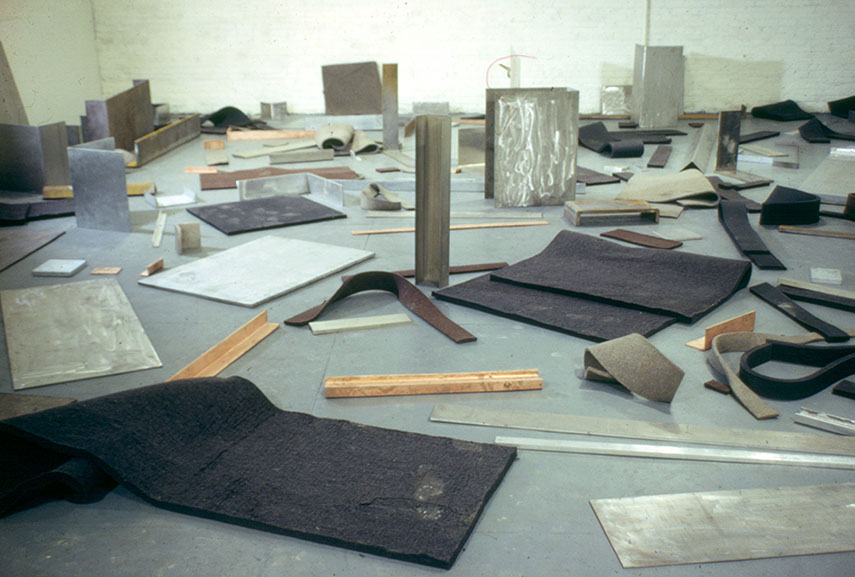 An Important Part of Art History
Process art is considered to be a subset of Postminimalism, a style which evolved as a reaction to Minimalism during the late 1960s. Drawing from Abstract Expressionism, as we've seen earlier, it rejected certain aspects of Minimalist art, such as the static, self-referential and impersonal state of its artworks. Together with Performance art, Conceptual art and Arte Povera, it went to pave its own way across a variety of artistic genres, media and styles, and in the process, it formed a strong connection with Environmental art movement, due to the dedication to nature, its systems and forces. Many Environmentalists actually explored and experienced art and nature the similar way as Process creatives and worked solely with natural items.
Another thing these movements share is the taste for the impermanent. In fact, Process and Environmental artworks could never really be sold, but this was never their goal either. What the artists did propose, however, are many new perspectives on the arts in general, and thanks to its efforts, an artwork stopped necessarily being physical. The movement is still alive and well today, with many talented creatives focusing on the journey rather than destination, pushing the boundaries of aesthetics and form, and challenging proportion in every way. Today, Process art represents an important part of children's education as well, encouraging them to experience the creativity which is just as, if not more, important than the final product.
  Editors' Tip: Robert Morris: Object Sculpture, 1960-1965
A key figure in the history of minimal, post-minimal, and conceptual art, American artist and critic Robert Morris created approximately 100 "object sculptures" or, as he called them at the time, "process type objects" between 1960 and 1965. These consist of plaques, containers, and assisted or simulated readymades of wood, Sculpmetal, and lead. This book is the first study to address the object sculptures as a full and complex yet coherent body of work. Jeffrey Weiss, an authority on modernist and postwar sculpture, in close collaboration with Morris, systematically catalogues the object sculptures, and subjects them to critical and historical interpretation in the context of Morris's early practice overall. Featuring new photography of many of the works and an interview with the artist, this book offers an important and original perspective on a crucial early period in the career of one of America's most important names in the arts.
Sources:
Pincus-Witten, Robert, Postminimalism, Out of London Press,1977.
Featured images in slider: Eva Hesse - Aught, 1968; Richard Serra - Tearing Lead from 1:00-1:47, 1968; Barry Le Va - Criss Cross Shift, 1970-71; Jackie Winsor - Bound Grid, 1971-72; an artwork by Lynda Benglis; Keith Sonnier - Ba-O- Ba VI, 1970. All images used for illustrative purposes only.