After successfully realizing it project 7ways2love, Bizzarre Magazine comes back with another exciting venture.
As organizers explain, the project titled Human Nature is inspired by a common human belief that happiness lies in the power to control everything. Trying to overtake their nature, humans are now responsible for new genetics, global warming, plastic islands, extinct species, extreme plastic surgery, etc. Therefore, the project will present the most epic failures of human evolution interpreted by 6 different creatives.
The first chapter of Human Nature will introduce the work of a young and talented artist from England, Alex Gamsu Jenkins, who will explore the conquests of power and what all this has brought us.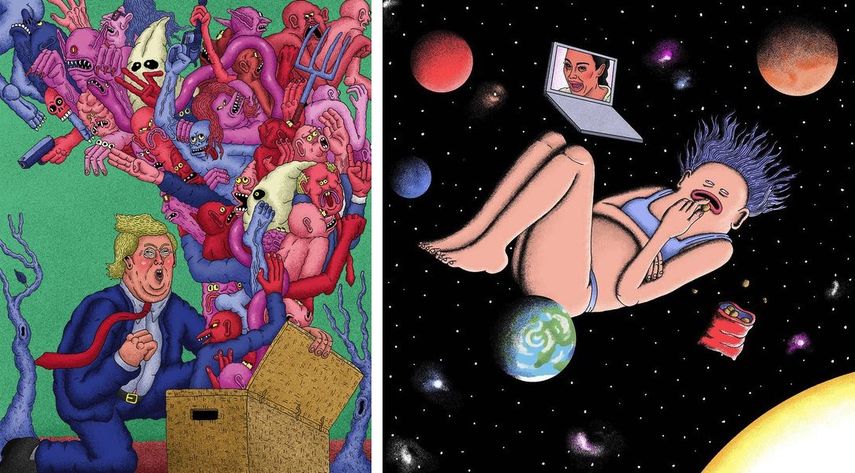 The Practice of Alex Gamsu Jenkins
An illustrator and cartoonist from London, Alex Gamsu Jenkins explores satirical and critical subject matter through a distinctive and vivid style characterized by humor, sarcasm and incredible imagination. Often touching on the absurd and surreal, he takes the viewers down the path of madness, offering points of view one would never have imagined.
His grainy newsprint-like scenes seem plucked from the freakiest depth of the modern mind. He works as a narrator for the collective anxieties experienced by people in the world today. His characters, drink, smoke, sweat and drain in self-loathing, often being slaves to their devices. These works are always refreshingly eye-opening and brilliant.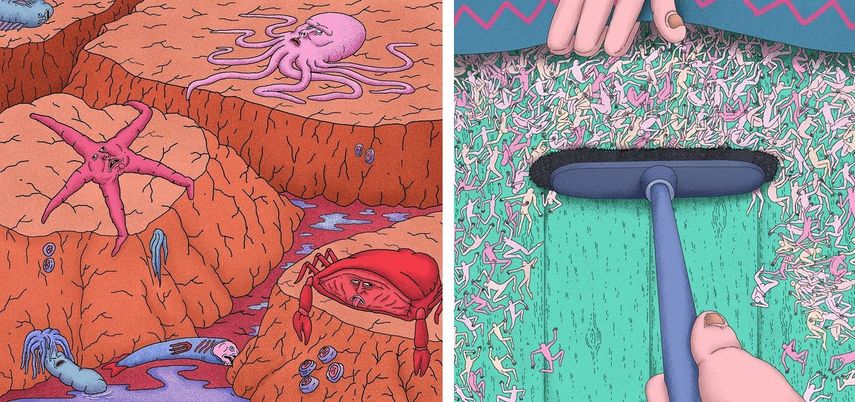 Human Nature
The project Human Nature will feature 6 artists who will each present a different point of view of the problem in a fun way in two sessions: Workshop with Dinner and A New Mural with music and drinks.
The workshop and dinner for the first chapter will take place at RAIMA in Barcelona, Spain on April 2nd, 2019. The opening will take place at 7 p.m, the workshop with the artist will start at 7:30, while the dinner will take place at 9 p.m.
A new mural will be inaugurated on April 9th, with fresh music and drinks in the space of Metric Market. The event will take place between 7 and 11 p.m.
Featured image: The work by Alex Jenkins (detail). All images courtesy of Bizzarre Magazine.