The Projet Venus (Venus Project, in English) was imagined and implemented by the Spacejunk Art Centers in 2009, and it is supported by public institutions. At the beginning, it operated in the area of Rhone and since 2016, the project has reached the department of Isère and it's coordinated by Sophie Cizaire.
Every year, a new edition starts but two main objectives remain the same: on one hand, they try to raise awareness about the importance of preventive breast screenings, attempting to erase the taboo and the stigma; on the other hand, they raise funds to help women affected by breast cancer.
Projet Venus
For this project to work, they have the invaluable help of a big group of volunteers, formed by photographers, artists, and models (mostly woman who have not been affected by breast cancer).
The first step is early in the year, around February, and consists on a photo shoot session, then the artists work with those photos to create something new. Once this is done, many exhibitions are held during the year and most of them are not set in art galleries, but in spots where they can reach a wider and more varied audience, like the hall of a hospital, cultural centers and neighborhood associations.
At the same time, as part of the project, several artistic expression workshops take place. The attendants are women from disadvantaged environments where the access to breast screenings is complicated both because of cultural and financial issues, with the intention of making this part of the society also aware of the importance of these tests because is a preventable cause of death and the sooner a diagnosis is made, the better are the chances for the patient.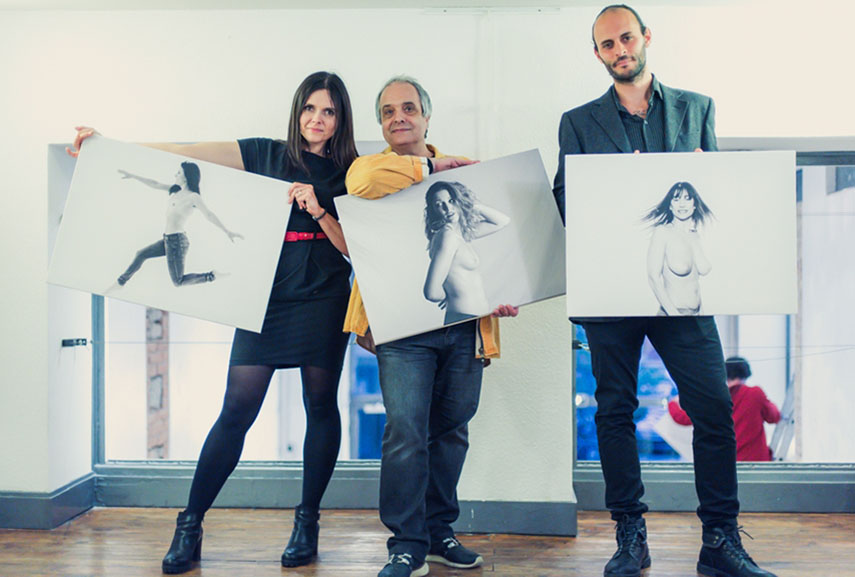 Visit the Exhibition at ARTISA
As we know, the consequences of a breast cancer can affect every aspect of a woman's life, from her family life to her working life, and many of them struggle economically in the aftermath of the treatment. This is when the second objective of the project takes place: all the works created and exhibited are sold in an auction sale that marks the end of the edition.
All funds raised in the auction sale are donated to Espoir Isère Contre le Cancer. The association studies the cases of the patients in need of financial support and distributes the money among them.
The last exhibition of this year's edition will take place from 29th November to 3rd December at ARTISA (Alpexpo Center, Grenoble) and the works will be sold in an auction sale on 1st December, 2017.
Written by Cristina Ahita Sanz.
Featured images: AREPO - Regen 2; Groek, courtesy the artist; Eric Rutten - Eadem mutata resurgo. All images courtesy Spacejunk.