Silence=Death graphic with pink triangle was exhibited at the New Museum of Contemporary Art in New York in 1988. This image and slogan were at the time reproduced on many protest signs that were carried around the city, including the Keith Haring version. He added three linear figures above the letters, a style he was well known for, substituting the triangle that was originally there. However, the message remained the same – we need to act against the silence surrounding the AIDS crisis. Many people wondered about the meaning of the sign. Pink triangle was quickly associated with the pink triangle fastened on gay prisoners during the Holocaust. The silence surrounding the Holocaust and the silence surrounding the AIDS crisis were observed as the same – the first led to death of millions of people, while the second will lead to the same disastrous outcome if we do not act upon it. However, there is a small difference between the two signs. The Holocaust triangle pointed down, while the new one pointed up, in hope.
Protest signs like this one and many more that were created over the decades were imagined, produced, and employed by different social movements, groups, and individuals, including artists, in protest to various political and social decisions. Just last week we saw a dramatic worldwide revolt against the newly elected President of the United States, Donald Trump. The women's marches staged around the world reached global media not just for the sheer numbers of people who attended it, but also for the creativity of signs that people carried around with them. I Don't Like You Mr. Trump, Pussy Power, Still No Emmy, and You Can't Comb Over Misogyny, are just some of the slogans on them. Having words, image, or a combination of the two, protest signs are not just a useful tool for visualizing one's attitudes, but are also today a media in which more and more artists express themselves.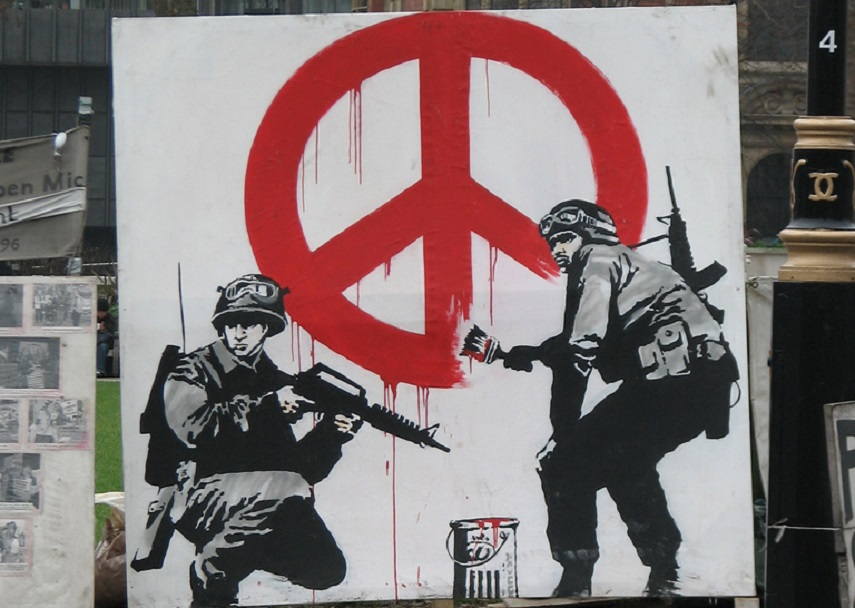 The Art of Fighting for Rights and Protest Art
Protesting against different injustices can rarely go without signs specifically designed to address the issues protesters rally against. Cynicism, humor, and irony are often deployed, as well as caricatures, sketches, photomontages, or collages. Expressing one's opinion in this form adds a visual marker to each protest, making it more engaging and visually striking. Along with demonstrative chants, protest signs further elaborate the issues each individual finds pressing. In Trump's case the abundance of posters shows us the plethora of reasons people find his election problematic – from racism, misogyny, restrictive immigration policies, to disregard of ecology, and attack on different religions. [1] There are many elements to be alert to if a protest is to stir public attention without resolving to violence, that we can talk about the art of protest. In the past as well as today the art of protest also includes the deployment of different artistic practices and media to increase the effectiveness of each demonstration, besides the protest signs. Various social movements use visual arts, literature, songs and music in order to attract public attention and to draw people to join the cause. For the African American civil rights movement in 1950s and 60s street theater was a form of expression; ACT UP organization in their campaign against AIDS experimented with visual arts; Indian Movement used variety of media such as film, video, and rock music, while Chicano movement for Mexican American empowerment fought for its cause also through street art and large murals its artists created.
Read the Signs! - Women's March on Washington
Protest Signs From Dada to Anti-Trump Movement
In the weeks before Trump's inauguration, Women's March on Washington organizers invited artists to contribute to the cause by creating posters that would be printed and given out. Among the over 5,000 submissions eight posters made by Carmen Perez, Paola Mendoza, Cleo Barnett, Swoon, Jexx X. Snow, and Favianna Rodriguez were chosen. They present a combination of visual imagery and text which addresses women's agency and bodily autonomy. Shepard Fairey, a famous American street artist and graphic designer best known for his HOPE Barack Obama posters, made a series titled We The People. The range of posters he created feature different social groups which were either attacked or marginalized by Trump in his speeches, including Native Americans, women, Muslims, and black people. These posters were reproduces in Washington Post on full pages with the aim to be carried as protest sings during the march. These and other similar engagements by artists are not unique or specific to this period.
Looking in the past, we find similar use of art posters as protest signs. John Heartfield, a German Dada artist, started experimenting with photomontage together with George Grosz around 1916. He created numerous satirical anti-Nazi and anti-fascist pieces often featuring Adolf Hitler before the Second World War. Anti-Nazi protesters and Heartfield's supporters pasted his posters on public surfaces around the Berlin in 1930s. Political art of John Heartfield possesses a strong message that is relevant to the present day, as it seems that today more than ever we have politicians who swallow gold and spout junk.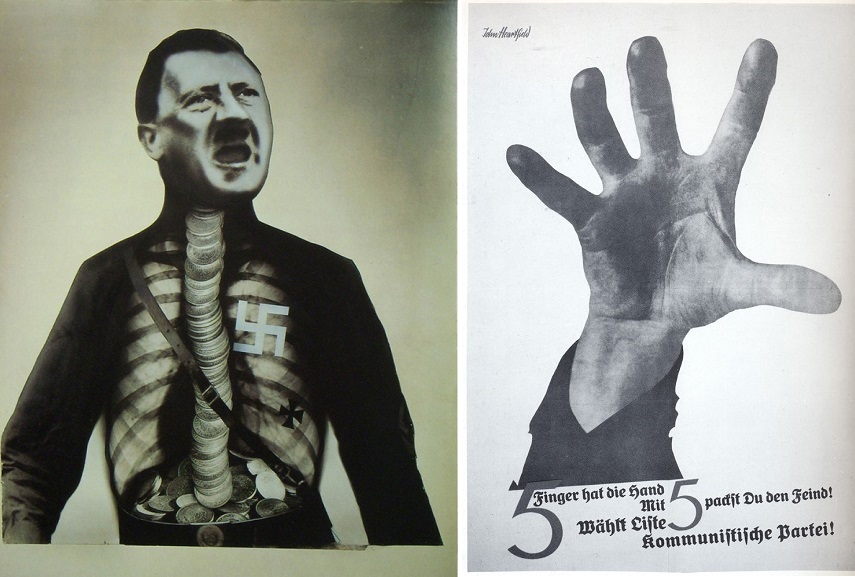 The Enduring Art of Resistance
Although mostly made of ephemeral materials that can be easily destroyed, protest signs are indispensible part of every demonstration. Sarcastic or even caustic, humorous, or deadly serious, they are expressions of individual and group opinions, worries, and attitudes. Done by artists and non-artists alike, these visual protest forms help us amplify our message. Held one next to another, the protest signs also multiply and bring together various voices in a "spontaneous eruption of joy… through the numbing isolation." [2] The last political earthquake of Trump's election which social repercussions are yet to be felt, put the protest signs carried during the women's march in focus. However, their history is long and spans many decades. They were always present when political and social stances were protected or protested against, and they form a part of the enduring art of resistance.
Editors' Tip: The Art of Protest: Culture and Activism from the Civil Rights Movement to the Streets of Seattle
Imagine the civil rights movement without freedom songs and the politics of women's movements without poetry. Or, more difficult yet, imagine an America unaffected by the cultural expressions and forms of the twentieth-century social movements that have shaped our nation. The first broad overview of social movements and the distinctive cultural forms that express and helped shape them, The Art of Protest shows the vital importance of these movements to American culture. Throughout, Reed employs the concept of culture in three interrelated ways: by examining social movements as sub- or countercultures; by looking at poetry, painting, music, murals, film, and fiction in and around social movements; and by considering the ways in which the cultural texts generated by resistance movements have reshaped the contours of the wider American culture.
References:
Vartanian, H., (2017),

Required Reading: Women's March Posters

, hyperallergic.com [January 23, 2017]
Reed T.V.,(2005), The Art of Protest: Culture and Activism from the Civil Rights Movement to the streets of Seattle, p. 255.
Featured images: Keith Haring - Ignorance Fear. Image via widewalls archive; Suffragettes carrying protest signs. Image via altreading.com; Protest sign from the Women's March, New York, 2017. Image via hyperallergic.com; Protest signs from the Women's March, 2017. Image via jezbel.com. All images used for illustrative purposes only.