For the fourth year in a row, Art Basel Miami Beach welcomes its guests to an additional program called Public sector. Curated by the Director and Chief Curator of Public Art Fund, Nicholas Baume, for the second time, Art Basel will transform Miami Beach's Collins Park into an outdoor exhibition space with 26 large-scale and site-specific installations by leading and emerging artists from 13 countries. Under the name Fieldwork, the participating artists will, through their artwork, experiment, try out their ideas and verify them 'in the field'. Produced in partnership between Bass Museum of Art and Baume, the sector will include work by Georg Baselitz, Lynda Benglis, Matthias Bitzer, Sarah Braman, Ana Luiza Dias Batista, Sam Ekwurtzel, Elmgreen & Dragset, Faivovich & Goldberg, Nuria Fuster, Ryan Gander, Jeppe Hein, Jessica Jackson Hutchins, Alfredo Jaar, Gunilla Klingberg, Jose Carlos Martinat, Justin Matherly, Olaf Metzel, Sam Moyer, Ernesto Neto, Ugo Rondinone, Nancy Rubins, Yinka Shonibare MBE, Jessica Stockholder, Barthélémy Toguo, Tatiana Trouvé, and Hank Willis Thomas with Ryan Alexiev and Jim Ricks.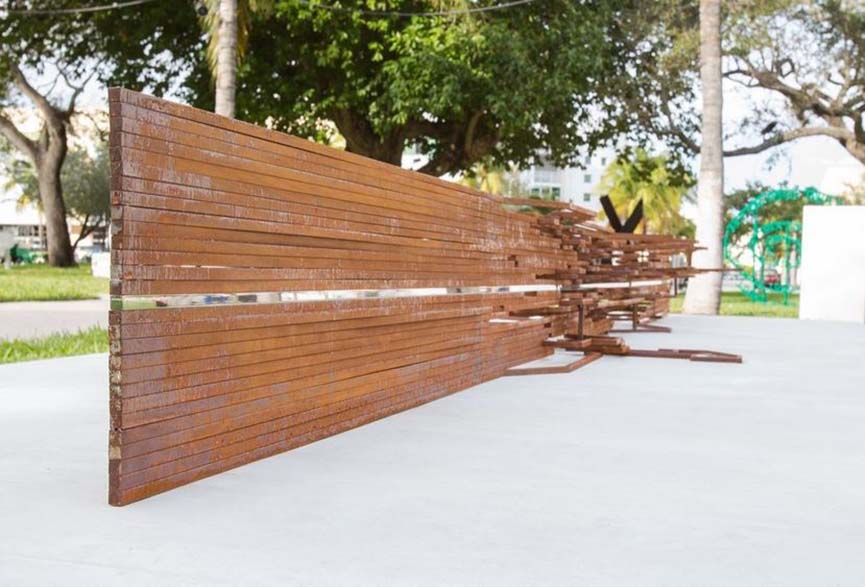 26 Artists, 13 Countries
This year's Public sector will include several site-specific works conceived especially for the exhibition by Ryan Gander, Sam Moyer and Jessica Stockholder. Some of the selected works will engage with the architecture of Collins' Park, like Ugo Rondinone's intervention on the Bass Museum façade or Alfredo Jaar's on the park's rotunda. For the first time this year, the sector will extend beyond Collins Park to include a Gunilla Klingberg's performance-installation on the nearest beach, where a complex geometric pattern will be engraved into the sand every morning, and then gradually being erased over the course of the day. Artists Lynda Benglis and Tatiana Trouvé will exhibit works that reconceive the classical fountain, while Nancy Rubins' and Nuria Fuster's works will give new meaning to found objects and scrap materials.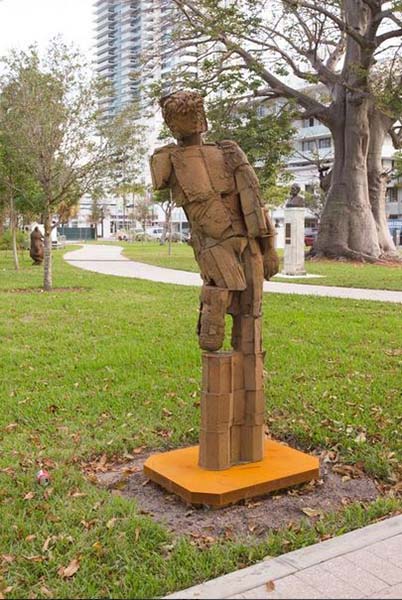 Familiar images will shift scale and significance in sculptures by Yinka Shonibare MBE and Barthélémy Toguo, while perceptions of space and form will be challenged by Matthias Bitzer, Sarah Braman, Jeppe Hein and Jessica Jackson Hutchins. Georg Baselitz' will display one of his rare bronzes, while Ana Luiza Dias Batista prepared a scaled replica of a popular 1980's Brazilian amusement park attraction. Elmgreen & Dragset decided to show to the Art Basel audience their formal golden-bronze equestrian statue of a young boy riding a rocking horse, which is a scaled version of the artists' Fourth Plinth commission in London's Trafalgar Square. Nós sonhando or Spacebodyship in English is the name for the Ernesto Neto's sculpture that functions as a playful double hammock for two, giving visitors the opportunity to slow down and pause. Sam Ekwurtzel's mole tunnels cast in aluminum and Jose Carlos Martinat's cacophonous audio-mechanical installation will reflect on art history. Faivovich & Goldberg's sculpture will try to combine history and politics, while Olaf Metzel's piece is revolving around recent American history. Also in the Collins Park, Hank Willis Thomas and collaborators from the Cause Collective will install a Truth Booth in the shape of a giant cartoon speech bubble where all the visitors can record their own truths.
Free And Open to the Public
Just like the past two years, due to improved financial situation, the artworks installed in the park will remain there for the viewers all the way until March 2015, as part of tc: temporary contemporary, which is presented by the Bass Museum of Art in partnership with the City of Miami Beach. Public Opening Night is free and open for everyone, just like the whole Public sector. It will take place at the Collins Park on Wednesday, December 3, from 8.30 pm to 10pm. The Public sector will be open and free to visit from 4th to 7th December, just like the major event, Art Basel Miami Beach.
If you love art fairs and know more about it, sign up for My Widewalls today!