PULSE Art Fair concluded its 15th anniversary presentation with the new (acting) director, Cristina Salmastrelli at the helm.
The Fair included new activations including bilingual programming and onsite restaurant, Malibu Farm.
While there was a lot to see and experience, a few artists captivated fair-goers attention. Here are five of them.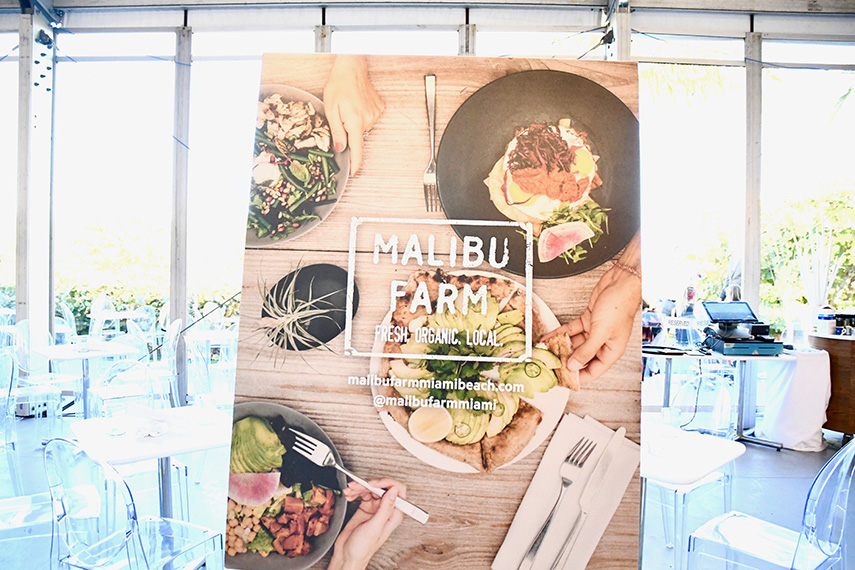 Nil Gallery (Paris) - Prince Gyasi
Not having the right equipment and tools did not stop twenty-three-year-old Prince Gyasi from making art. Beginning just with an iPhone, Gyasi set out to express through vibrant colors and precise composition stories of marginalized individuals, mostly from his hometown of Accra, Ghana. His emotionally charged works document the resilience of the human spirit.
Determined to tell his story through art and break the elitist barriers that may frustrate other young artists, Prince Gyasi has taken his Instagram fame into the art gallery world where he is garnering critical success.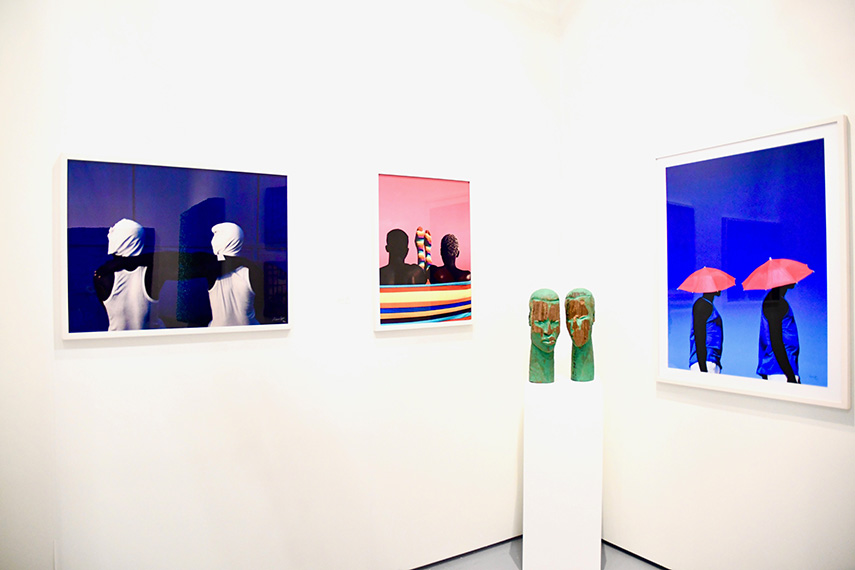 Art Mur (Montreal) - Nicholas Crombach
Nicholas Crombach is an artist working in Toronto and Kingston. He participated in a year-long studio residency at The Florence Trust in London, UK, and will be participating in the MASS MoCA studio residency in 2020.
Works from Crombach's Captured series were on view at Art Mur. Crombach juxtaposes human figures, animals and objects to create unexpected narratives. He explores the conflicting relationships humans have with the animal world. Growing up on a rural dairy farm, Crombach himself would amuse himself by capturing and building enclosures for small animals for fun, but never without a sense of shame.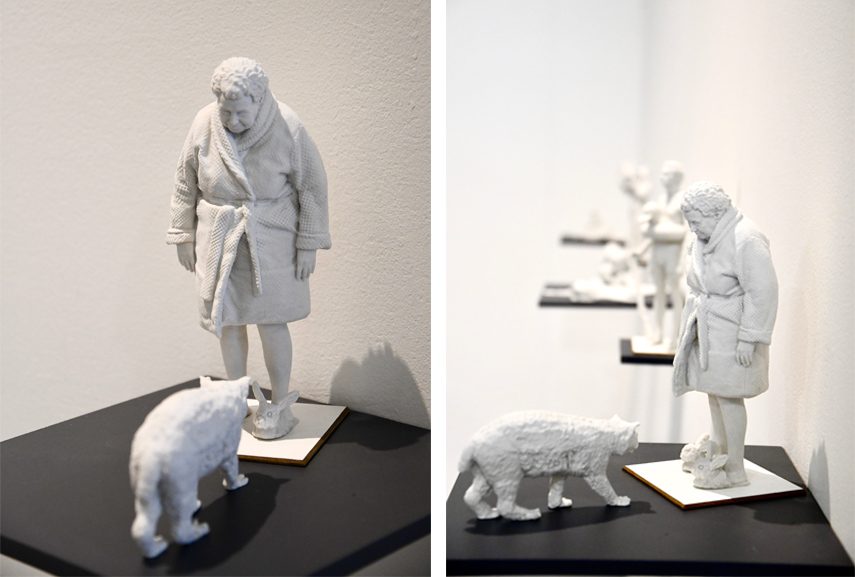 Jennifer Balcos Gallery (Atlanta) - Julie Torres
Jennifer Balcos Gallery presented new works by Julie Torres. Made of woven silkscreen, gold leaf and cut paper from Constitutional Law, Torres explores the delicate balance between various systems: natural, artificial, societal and legal. She holds a Juris Doctor from the University of Florida and most recently Bachelor of Fine Arts in Printmaking from the Savannah College of Art and Design (SCAD).
According to a statement on Torres' Instagram, both of her works that pay tribute to Ruth Bader Ginsburg, Associate Justice of the U.S. Supreme Court were sold on opening night. Strips of text referring to Ginsburg and exemplifying her success fighting for gender equality, are woven into the 'fabric' of Torres' A Judge Grows in Brooklyn. Some words fade behind a strip, but the message emerges triumphantly with a poignant call for democracy.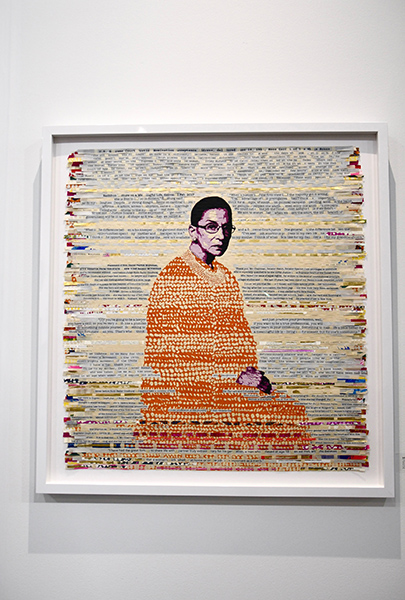 Artemisa Gallery (New York) - Vicky Barranguet
Look up or down and sideways too at the long paintings of artist Vicky Barranguet and the viewer becomes part of her world. Becoming a part of the artistic process is exactly what this artist hopes for. One can purchase a piece of it by the yard or buy the whole scroll and then once home, hang it sideways or anyway the collector wishes. Barranguet's paintings draw the viewer in and her work is lyrical, spontaneous and free.
Inspired by the poetry of Jorge Arbeleche, Vicky says this of her work:
Art is about love and emotions... we certainly cannot buy or sell love, patience, kindness, solidarity, compassion. Buying a yard of art means much more than just acquiring a piece of canvas with some paint. It contains essential values, contrast, darkness and light, dreams, reality and life.
Barranguet was born in Montevideo, Uruguay in 1973. In 1996 she moved to Boston and in 1997 to New York, where she studied with Larry Poons, William Scharf, and Frank O'Caine at The Art Students League of New York in Manhattan.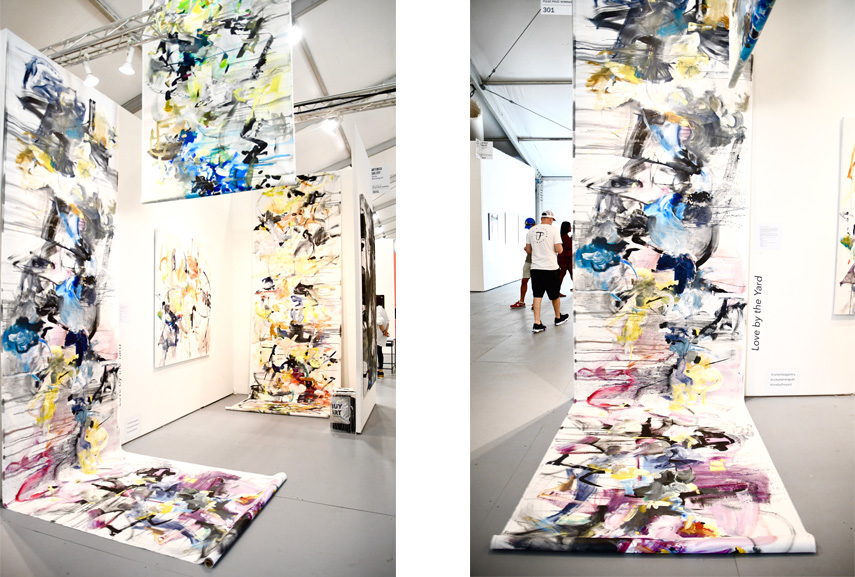 Anna Laudel Gallery - Ardan Özmenoglu
Ardan Özmenoglu is a versatile Turkish contemporary artist who works in a wide range of mediums including large-scale glass sculptures, works on Post-It® notes and neon lighting. Since her first exhibition in 2006, her unique work has been featured in over forty exhibitions in the U.S. and abroad including Istanbul, Berlin and Croatia. Although her work is playful there is always an underlying sociopolitical commentary that challenges the viewer to reconsider familiar images, products and ideas.
Whether it's paper or glass, Özmenoglu repeats one method several times and her sculptures are made of multiple glass sheets. Her works address contradictory ideas such as creativity and consumerism; repetition and individuality; and the whole and the fragmented.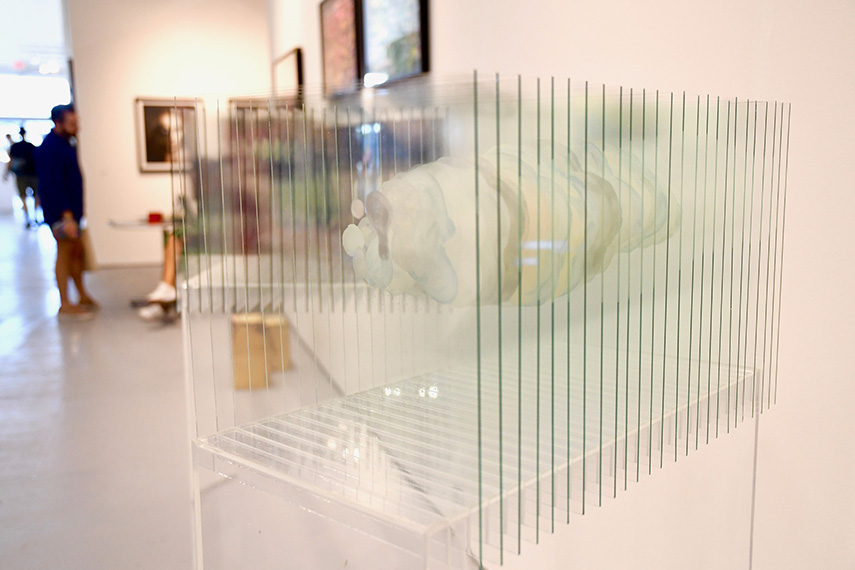 All images courtesy the author.