A dynamic platform for its international community of emerging and established galleries, the PULSE Contemporary Art Fair returns to its oceanfront home at Indian Beach Park to celebrate its 15th anniversary. Taking place under the theme The Calm in the Palms, PULSE Miami 2019 will present a pleasant oasis in the overwhelming environment that is the Miami Art Week.
This year, the fair brings together 63 international exhibitors, accompanied by innovative programming. The 15th edition of PULSE saw Cristina Salmastrelli as the Acting Fair Director, who had filled the position on an interim basis. Now being replaced by Kamiar Maleki, who has been appointed Fair Director of VOLTA and PULSE Art Fair, Cristina will now be able to devote herself to her role as the US Managing Director of Ramsay Fairs, PULSE's parent company.
Meanwhile, we had a chat with Cristina Salmastrelli to find out what's cooking at this year's PULSE Miami 2019. Salmastrelli talks about her position, the fair's anniversary, this year's program, collecting at PULSE and much more.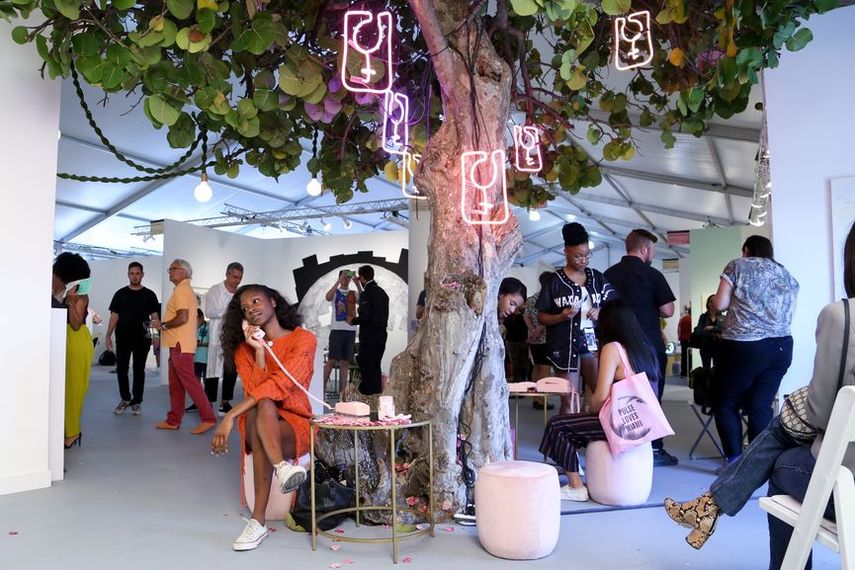 The 15th Anniversary of PULSE Art Fair
Widewalls: You have 14 years of experience producing national and international art fairs. How did you decide to become part of the PULSE Art Fair?
Cristina Salmastrelli: At Sanford L. Smith and Associates, I had the pleasure of learning from two of the best in the national art fair business, Sanford Smith himself and Sugar Barry, which gave me the foundation for the next step in expanding my professional horizons. I was able to discover the international side of the art world through PULSE at Ramsay Fairs.
The world's cultures, traditions, sceneries all became attainable, reachable and achievable through PULSE for me. I am forever thankful for that.
Widewalls: This year, the fair celebrates its 15th anniversary. What do you think is the secret to its longevity?
CS: PULSE's commitment to a positive and memorable experience for exhibitors, partners and especially visitors is our secret and is what sets us apart from any other art fair you will have ever been to. We will go out of our way to make sure that our exhibitors feel supported and nurtured in our care as this is integral for the visitor experience. The energy that is absorbed by the audience starts with us! We stand out in everyone's mind and I like it that way.
Widewalls: The overarching theme of 2019 will be "The Calm in the Palms." Could you tell us more about this concept and how will it be reflected in the fair?
CS: With over 25 fairs happening in Miami at the beginning of December, it's essential for me to create a calm and welcoming atmosphere for my visitors. It's a hectic week and a stressful one, so PULSE is here to help to relax the mind so that the eye can actually ingest the beautiful art we are presenting.
There's an abundance of ways you can take some time out at PULSE to relax, even if it's simply taking a moment to reflect on our oceanfront view. Whether it's through our onsite restaurant catered by the Eden Roc Hotel group or in our Wellness Lounge, I will revive and reinvigorate my visitors for the many inspiring artworks and activations we have to offer!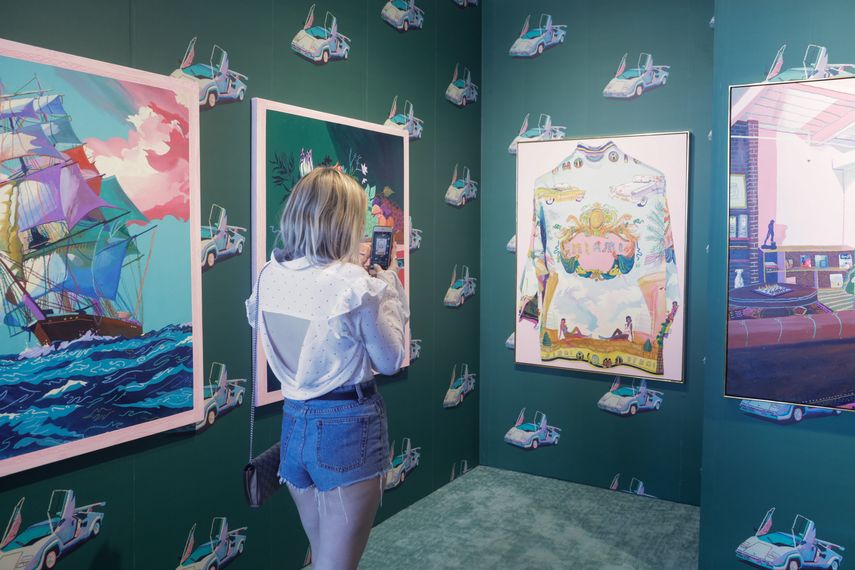 The Program
Widewalls: The fair will welcome 65 international exhibitors. Are there any highlights you would like to mention?
CS: I want to direct your attention to our website as we have all of our galleries and their artists displayed exquisitely here for you to dive into.
One project that I want to highlight is The Cost of War by Joseph Guay who is represented by the Jennifer Balcos Gallery out of Atlanta, GA. The project, a Humvee, is a protest piece to the ongoing wars America is involved in the Middle East. It's covered with 25,000 plastic toy soldiers, all individually hand glued in place and sealed by the artist to bring awareness to the lives lost during this ongoing war. Many hear the "cost of war" and think dollar signs, but the real cost is the number of lives lost that will never be replaced. Both lives born on American soil and in foreign countries. Twenty percent of the sale of this exhibition will be donated to the Gary Sinise Foundation to help victims, families and disabled veterans in the United States.
Widewalls: You will spearhead PULSE's newest elective, PULSE Perspectivos, a dual-language programming series presenting talks and tours in both English and Spanish. What can the visitors expect from this programming?
CS: Visitors can expect a variety of conversations in both English and Spanish to entice many different communities to the fair as my goal is to expand my audience through our diversity. Having discussions on current topics the art world is facing in two languages helps incorporate more opinions and allows the audience to understand any discussion in a more impactful way. Please see a full list of panel discussions here:
Friday, 11 a.m. Miami Magazine English Conversation: Investing in Art - The hows/whens/whys of investing in art.
2 p.m. Miami Magazine Spanish Conversation: The Art of Design - How to Incorporate art into the design of your home. From purchasing to placement and how it relates to interior design.
Saturday, 11 a.m. Art Hive Magazine with Angela and Ralph Ziman, PULSE Project Artist on The Casspir Project
2 p.m. Spanish Conversation: On Identity in the Arts: What Does It Mean to be Latino/a? Latino, Latina, Latin(x), Hispanic... what do these labels mean? to whom do they apply? are the labels universally embraced by the labeled? For the last decade or so, Washington, DC area artist, art critic, writer and blogger Florencio Lennox Campello has been holding interactive events discussing these issues and will offer a fascinating perspective on these contemporary topical art issues.
Speakers: Lenny Campenello, Artist and Founder, Alida Anderson Contemporary, Tessie Penin, Associate at Uprise Art, Sandra Ramos, Cuban Artist and Alessandra Torres, Artist
Sunday, 11 a.m. Discussion with Jessica Yatrovsky, artist and gallerist at PULSE Art Fair. Book signing by Jessica Yatrovsky to follow conversation.
2 p.m. Spanish Conversation: How technology empowers artists? New technology changes the way artists create, network and get financially compensated for their work. In this discussion, we will cover unique opportunities and challenges of creating and sharing art in the digital age.
Moderator will be Nahila Campos - Newlink Digital Marketing Director and speakers are Andrea Steuer - CADAF (Contemporary and Digital Art fair) Associate Director, Sebastian Sanchez - artxcode Gallery, Judy Mam - Co-founder Dada.nyc and Ysabel Pinyol - Mana Contemporary, Curatorial Director.
Widewalls: The fair continues with PULSE PLAY, the fair's annual platform for video art. How would you describe the medium's position in the contemporary art market?
CS: Video art has always been a staple of PULSE and we are ecstatic to see this audience sector grow with more and more collectors acquiring works in this medium. We are even seeing fairs develop completely dedicated to digital works, which is long overdue, in my opinion.
For our 15th anniversary, we could not be more excited to have Black and White Gallery / Project Space present the works by Gregory Perkel. Perkel will debut the Savonarola Suite installation for the first time at PULSE. This ambitious cross-media installation offers viewers the opportunity to interpret recent art market history from multiple perspectives of its various protagonists. The installation consists of two elements: a diptych of large-scale, visually stunning video works and a set of photographs to reinforce the installation's visual language.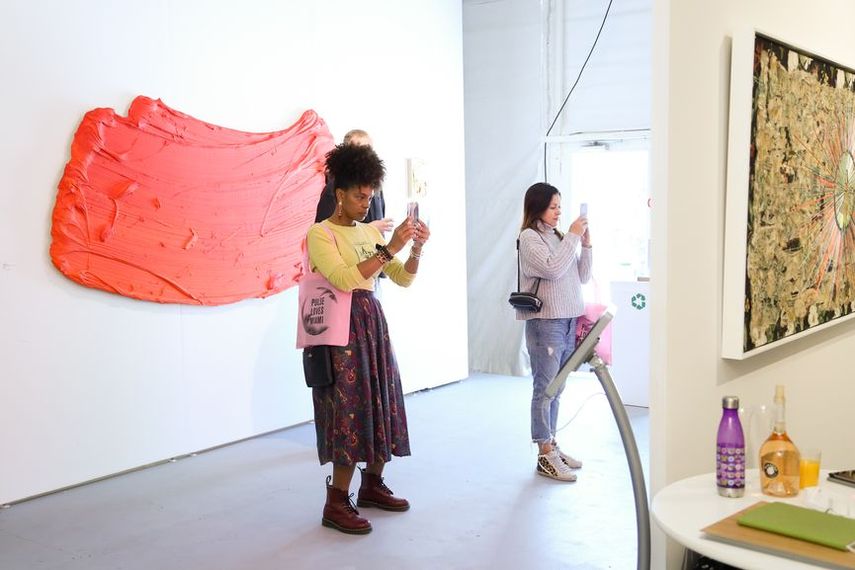 Visiting PULSE
Widewalls: What would be your advice to starting collectors visiting PULSE?
CS: First timers to PULSE can expect to be welcomed with open arms and simply need to be prepared to make themselves feel at home. For 15 years, the feedback we've received most has always been about our friendly staff and our ability to make visitors comfortable in a setting which for many can feel intimidating and restraining.
Expect to interact with our gallerists and their artists. Even our team will be there to participate in any conversation. We have spent all year preparing for this fair and we want to share our knowledge, our passion, and our presentations with you!
Widewalls: How do you see the fair grow and evolve in the future under your guidance?
CS: Since coming to PULSE in 2011, it's been amazing to see how our fair has helped to shape the preeminent global art week into what it is today. While each fair will follow its own path and grow, modify, expand, and develop differently under my guidance or not, we need to always remember what our core purpose is; Art allows one's mind to think outside the box, appreciate the unusual, and discover something about one's self. Let's remember that is why we are all here producing art fairs, we are here to expand and improve ourselves and our community through the discovery and knowledge of art.
Under my guidance, this core believe will always be at the forefront of any fair I produce.
Featured image: Cristina Salmastrelli. Photo courtesy Ramsey Art Fairs.