Charles Uzzell-Edwards, better known to street art enthusiasts by the moniker Pure Evil is currently in Rome, where his solo show is about to begin. Entitled Echoes the exhibition will encompass various series from Pure Evil's opus, the artworks well-known to our readers, as well as those which were never-before exhibited. In collaboration with Wunderkammern Gallery, the proud host of the exhibition, one of Britain's most prominent graffiti artists has also put out some great live 'street printing' performances for the citizens of Rome and you can enjoy the photos from his recent public art endeavors.
In the wake of his Echoes exhibition, we had the opportunity to talk to Pure Evil about the show itself, and many other interesting subjects. We recently debated the message of Banksy's Dismaland Bemusement Park, and as one of Banksy's fellow artists and one of the participants in the project Pure Evil shared his thoughts on this controversial initiative. We also found out that he is a passionate reader, discovered who are his favorite artists working today and a lot more about his work and the idea behind Pure Evil Gallery.
So without further ado, scroll down and read our interview with Pure Evil…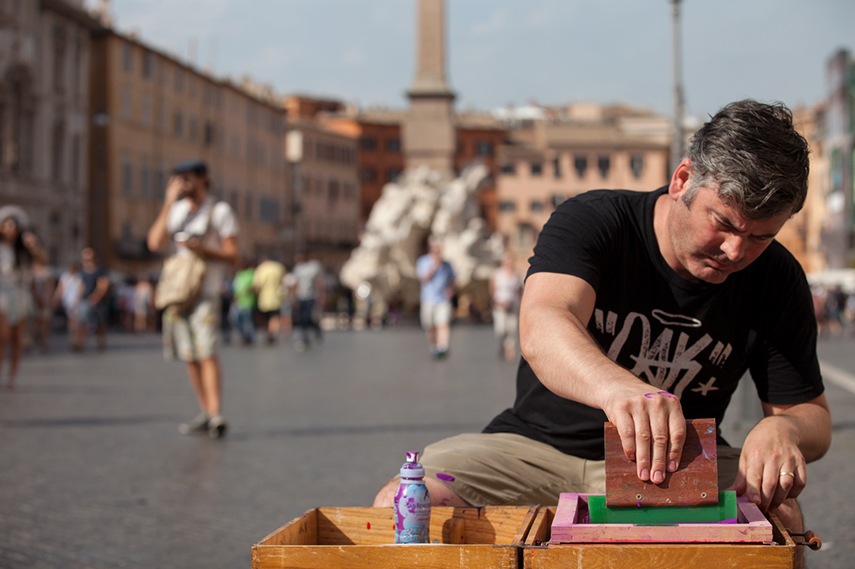 Decision to Become a Graffiti Artist
Widewalls: You were introduced to the art world at an early age, primarily through the work of your father, and you also have an educational background in fashion and design. Why did you choose street art and graffiti as your preferred medium of expression and not fine arts or design?
Pure Evil: Fine Art is just bloody boring, and graphic designers are too cerebral. The best art is low art because it's from the heart. Painting walls is just a lot more fun than anything. The walls bleed paint. My dad is a self-taught artist and he hated 'bloody academics' so I guess that taught me to avoid institutions and people who use phrases like 'my curatorial practice'. I tried shopping my dad's art to some galleries in London and they told me to come back when he was dead... I mean, it doesn't really give you much faith in the art world, does it? Banksy's first London show, which was underneath a bridge on the walls of a street kind of changed what I wanted to do, it made me realize street artists didn't need the art world in order to survive, we could create our culture and places to show art.. That was important. It related to the DIY sound system culture that I had been part of on the West Coast. There's a great Polish poster from '44 that sums up what it's all about... 'We Do Not Beg For Freedom - We Fight For It'
WW: You've spent a lot of time in California and recently in Asia. How would you describe the vibe of those art scenes compared to Britain's?
PE: COR Blimey! That's a bit of a big question, do you have a week, I can work on an answer for you. Can I pretend the question was actually:
Widewalls: What do you think about Reincarnation?
PE: That's funny you asked that because it has been on my mind a lot recently. I don't believe anyone truly dies. I don't believe when we die, our soul or life force ends, I just believe it goes somewhere else, even though our body, the spaceship for our soul, does end up in the ground. I think we constantly keep renewing and having multiple lives. It's nice to think that we've all probably had multiple past lives. I kind of see the soul as a diamond, with different facets that can be in different places at the same time. Sorry for that digression but I think it's a good topic.
The Roots of Dystopian Imagination and Collaboration with Banksy
WW: I've read on your website that you are actually a descendant of Sir Thomas More, the author of "Utopia" and that it came naturally for you to explore the same theme. How often do you have a chance to read and do you have any other favorite literary works on the subject?
PE: I usually have about 4 books on the go at the same time, I just can't get enough... Here are some recommendations…
John N. Gray - Black Mass: Apocalyptic Religion and the Death of Utopia
Simon Sebag Montefiore - Young Stalin
Matthew Carr - The Infernal Machine: A History of Terrorism
Peter Arnett - Live from the Battlefield: From Vietnam to Baghdad, 35 Years in the World's War Zone
WW: While we're talking about utopian/dystopian inspiration, we have to mention your participation in the Dismaland project. There were lots of polemics recently, regarding the message of Dismaland and the initiative itself. What are your thoughts on Banksy's Bemusement Park and how do you see your part in it?
PE: I think it was bloody Genius to make a huge art exhibition like that and make punters think they were going to a funfair. There was so much to see, and it was great that so many people were invited to be a part of it. Jeff Gillette? Paco Pomet? They should have called it: Somanygreatartistsinoneplacemaland, but that would have been a shit name. It could have been a massive Banksy show like Bristol, but instead it was a platform for so many artists, and agitators and just straight up extremely nice tea drinking anarchists. What was interesting about Dismaland was the connection it had with Glastonbury Festival, it is part of Banksy's DNA really. When the sun went down on Dismaland and the twinkly lights came on it felt like you were off your tits in a strange area in a festival without a bunch of bloody students, where everything was twisted and cruel and bizarre. It was quite a savage commentary on society as a whole. I was so stoked to be a small part of it, and have a few of my posters up there among all that carefully orchestrated mayhem. It cost an absolute PACKET to make that happen. Just look at that bloody big S-Shaped Monster truck. That alone cost 100's of thousands to bring to Weston Super Mare. Thanks Banksy.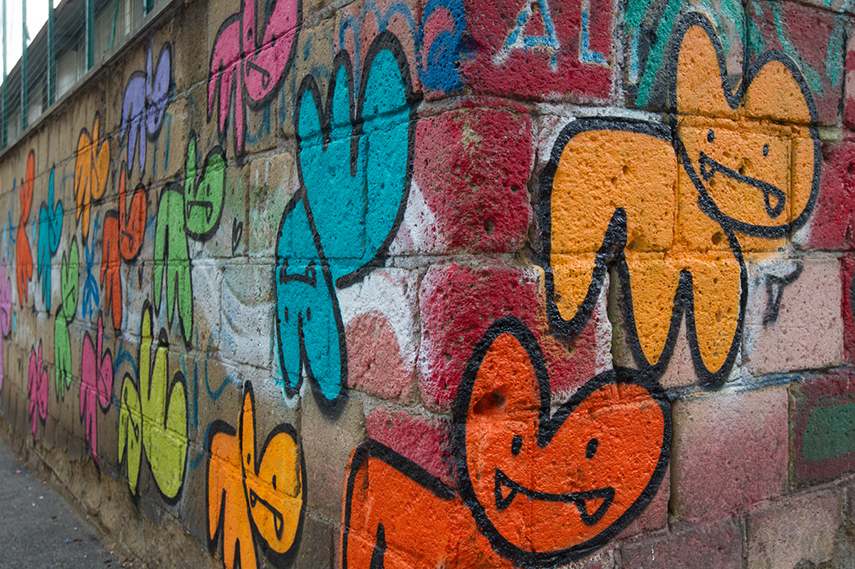 Echoes Exhibition in Rome
WW: You are currently preparing your "Echoes" exhibition at Wunderkammern Gallery. Can you tell us something more about the exhibition? What is the inspiration behind your latest body of work and will it differ in style from what we're used to seeing?
PE: Its been really interesting to work with Wunderkammern Gallery on the show because they have had a lot of input and ideas, which is a really nice experience for me. They wanted me to show some of the older work from around 2008 / 2009 which is very cool. I had a nice dig around through my crypt for that, which was quite inspiring. Having 2 weeks being in town to prepare the show is great too, it has given us time to eat some great food and also get a lot of preparation done, and also to paint walls in Rome, and to do some Streetprinting. It's a little box I have converted into a mini screenprinting unit, with paper, screen, squeegee and ink, and I can just rock up anywhere and make a few prints. Street Art meets Screenprinting = Streetprinting.
I have been going through Hell recently. The only thing that has kept me from going out of my mind with grief has been painting … "when you are going through hell, keep painting" rings pretty true for me. The show is a mix of all the different things I am currently working on, some of it inspired by travels in Sri Lanka and Singapore, some of it inspired by children's books, and some of it from the Nightmare series which is pure eye candy. It's a nice crazy mix, a bit of a retrospective and a wonderful cabinet of sparkly new artwork in fabulous colors covered in Hot Rod Flake.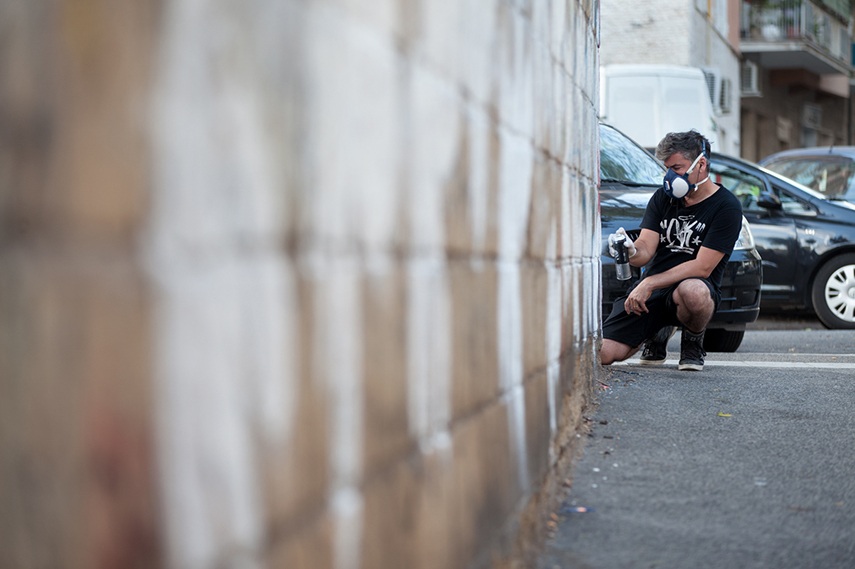 Pure Evil - Favorite Artists and Future Plans
WW: You also run your own gallery and have the opportunity to work with many established artists and emerging talents. Who are some of your favorite artists whose work you admire or with whom you especially like to collaborate with?
PE: ROA is pretty amazing, I like him as a friend and I like his dedication to his art very much. Having the gallery means I am constantly working with other artists and that's a real education. SOWAT & LEK are doing some awesome stuff right now, they are doing a one year residency in Rome right now, the last time I bumped into them they were in the Palais de Tokyo doing an incredible project. I get a buzz from artists who are constantly in a state of flux. It's edgy and exciting.
Daniel Arsham is doing some pretty amazing work at the moment, I really like what he is doing and the materials he is using for his art, but out of everyone on the planet? I'd like to hang with James Rosenquist and make some art. I bet he has got some stories. It's a bit like talking to Peter Blake, you mention the Warhol show at the Ferus Gallery in '62, and he'll go "oh yes, I think I was at that opening"... EPIC
WW: After the Echoes exhibition, what will your next project be, and do you have any other interesting plans for the future that you would like to share with our readers?
PE: Somebody just asked me if I fancied going to do some painting in Indonesia, I said yes please… Once that James Bond style mission is up, I am going to start working on a solo at The Saatchi Gallery, and then another solo in Sri Lanka. I think it lacks imagination when people refer to their lives as being like a 'rollercoaster ride'... rollercoaster rides are fixed and predictable and the same each time. I much prefer the extreme chaos of just heading off into the unknown. It's a good life.
Enjoy our talks with your favorite artists and create your profile via My Widewalls for FREE!
Scroll down for a glimpse of the artworks featured in the Echoes exhibition...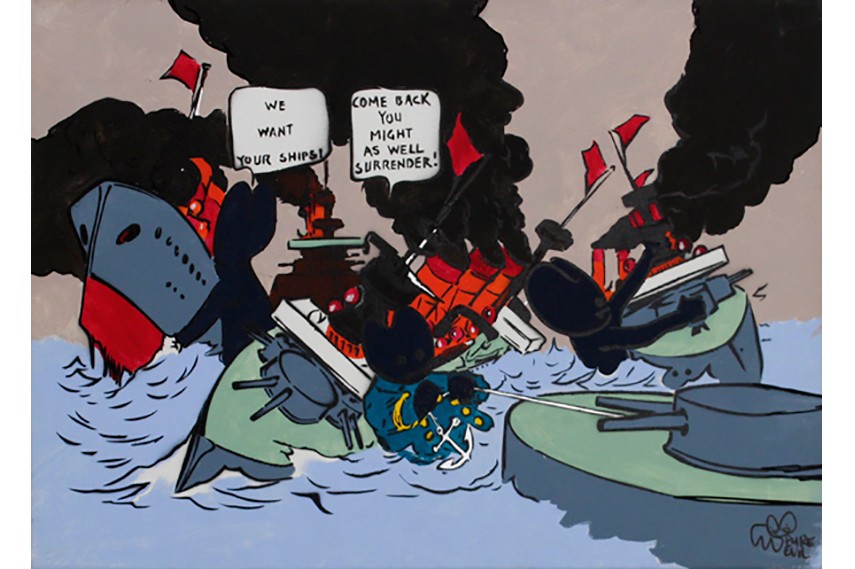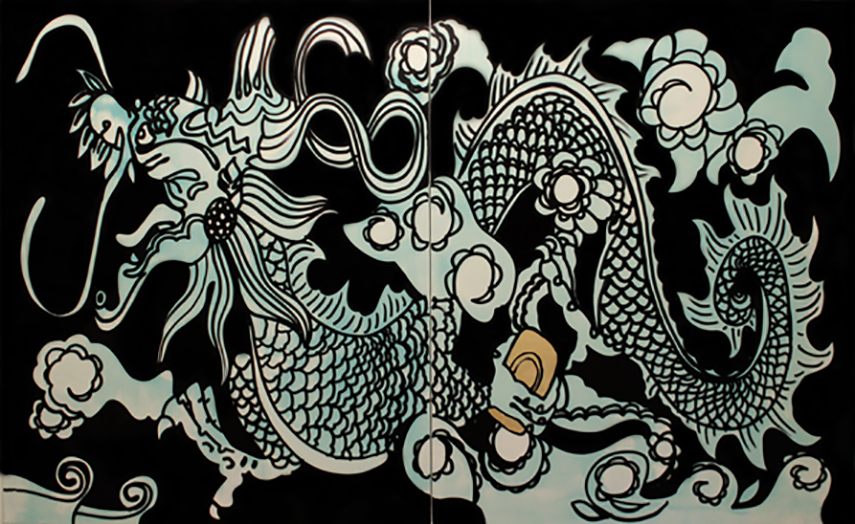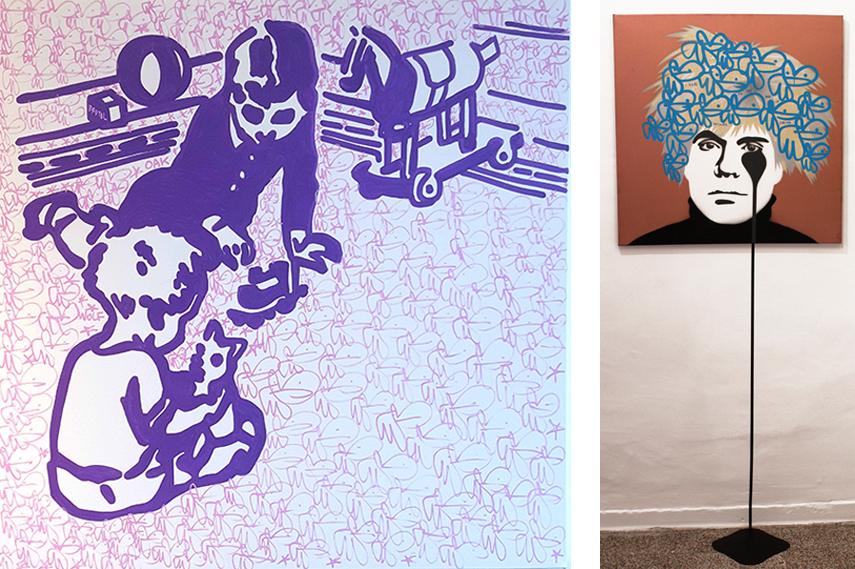 All images courtesy of Wunderkammern Gallery