Political world leaders spark a lot of controversy, their decisions may affect even the whole world sometimes, so they have grown to be not-an-uncommon inspiration for artists. Usually having more freedom to express their vision of the political figures through art rather than through a civilian conversation, artists do not hold back when it comes to portrayal of (in)famous political leaders. The latest global media attraction was created by a young Ukrainian artist Daria Marchenko, and the subject was, you probably guessed it, Vladimir Putin.
Political leaders are, once again, the theme of socially active artists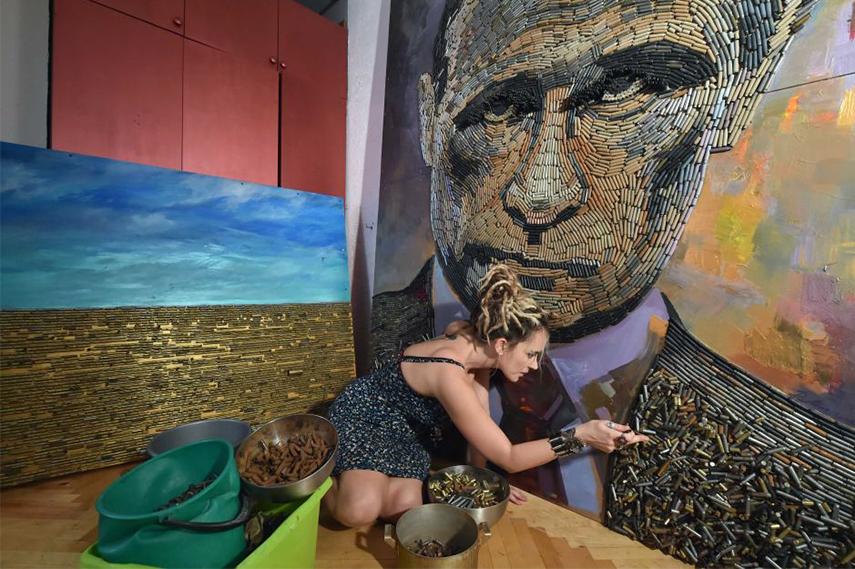 The Face of War
Her art piece, named The Face of War, cleverly utilizes bullet shells in order to form the face of the Russian President. More precisely, 5000 bullet shells were collected in the separatist east of Ukraine and used for creation of this unique artwork. Having a two meters (almost 7 feet) tall depiction of Putin in her workspace was a bit scary for the artist, as she was also sleeping in the same room, but eventually she god used to it. Not afraid to express her view, the artist stated her suspicion that Putin was personally responsible for instigating a conflict which resulted with nearly 7000 people killed since breaking out after Kiev's ouster of a Kremlin-backed president. At the same time, the artist intentionally produced the effect of Putin changing facial expressions under different lighting, which, according to her, reveals certain things, as she reflects that this war is different from others, because it was built upon a lie.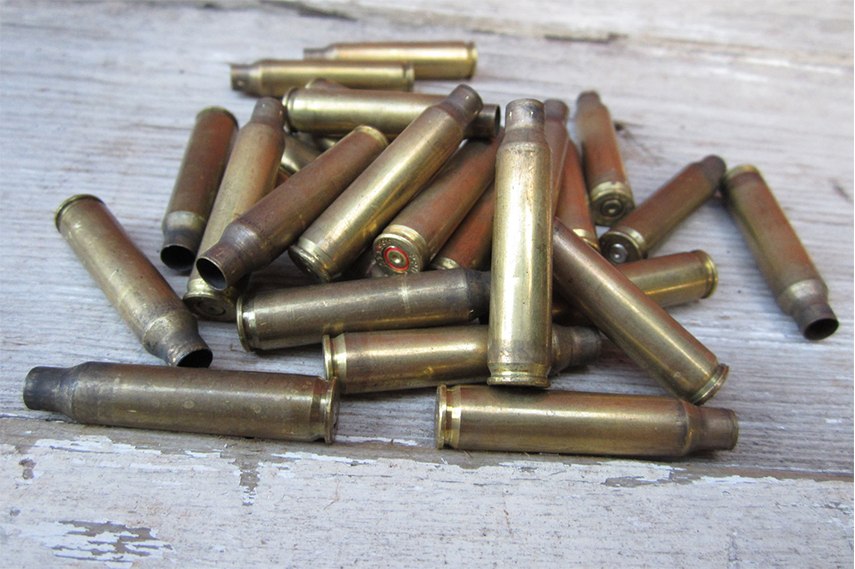 A Bullet Telling Stories
Marchenko's boyfriend was the one who brought her the first handful of shells. Being an active member of the Euromaidan movement that successfully brought down the corrupted and unpopular president Viktor Yanukovych, her boyfriend is no stranger to the horror these little shells can cause. After a while, the unusual art supplies Daria Marchenko uses now come from friends fighting all over the war zone in eastern Ukraine. She observes this small tool of destruction as a symbol of an interrupted life. As Marchenko stated herself, war provides artists like her a lot of material to work with. A gravely true statement that only empowers the heavy message these art pieces convey.
Connect with the recent global art news through Widewalls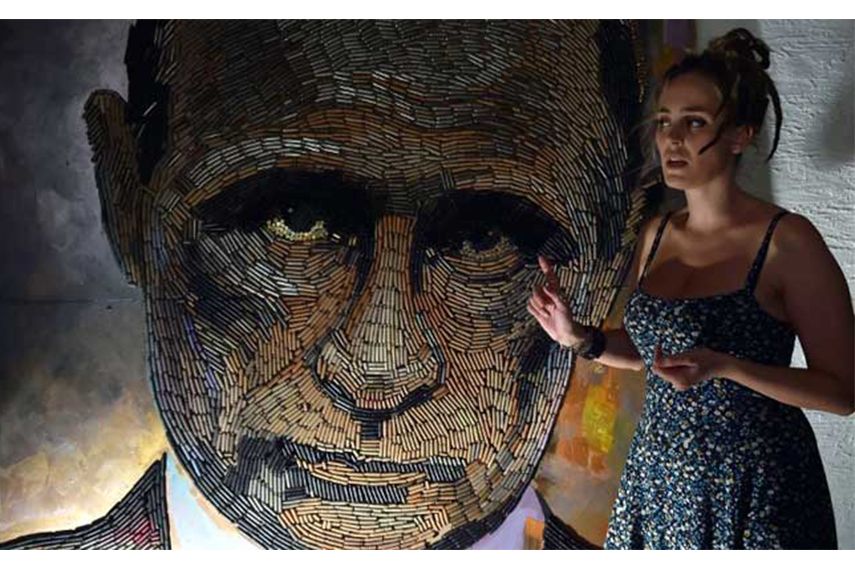 Daria Marchenko Continues her Series of War-Inspired Artwork
It came as no surprise to art enthusiasts that this story received almost no coverage in Russia. Although barely mentioned in Russia, the artist was featured in Britain's top media as well as major European and Australian newspapers and TV channels. This, of course, does not deter Marchenko to continue her series under the name of The Five Elements of War. Two other artworks are in plan, perhaps to be produced from weapons or other remnants from the battlefront, depicting the heart and spirit of warfare as the artist said.
All images used for illustrative purposes only
Share your opinion on this news and other popular stories, on our Facebook Page.