True passion and the driving force of a creative necessity is an integral part of the artist Lin Felton a.k.a QUIK. This African-American painter, born in Queens, NY in 1958 started tagging around his neighborhood in 1970's, soon became one of the most important graffiti and street art figures. This time, at the Green Flowers Gallery in Boulogne-Billancourt, QUIK's stunning exhibition, MAP KINGS will feature a new series of paintings combining metro maps of the New York City and his favorite characters Felix the Cat, as well as the romantic pin-up images.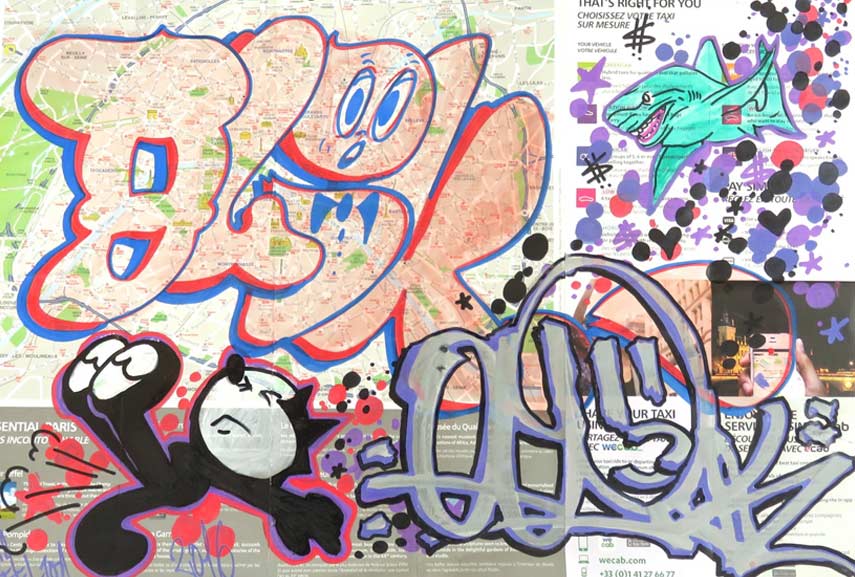 The QUIK Energy
On a fast moving metro trains, during the birth of the street and graffiti art in New York, the tag QUIK dominated the scene. This tag and various images, which became masterpiece examples of the new art movement in a vibrant city, numbered in thousands and could be found in each subway line. The satirical and arrogant comic paintings, romantic and gloomy pin-up girls along with the graffiti lettering earned QUIK international recognition. In 1982, Kornblit Yaki, renowned Amsterdam art dealer, via the efforts of FUTURA 2000 and the momentum created by the SOUL ARTISTS painting association, discovered QUIK and provided the needed turn to Europe. This turn, the artist used to better reflect on the racial and social inequalities in the United States, a recurring theme in the artist's work.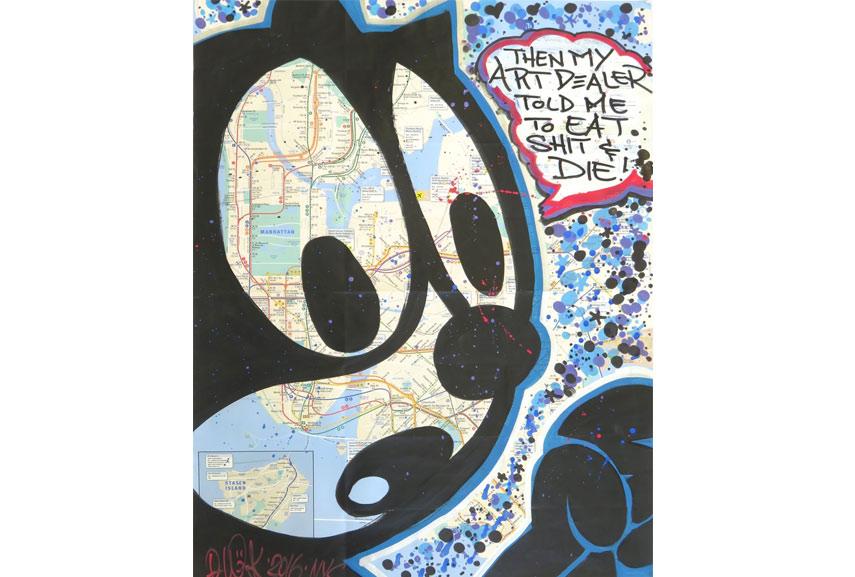 The Fusion of The Blues and Cartoons
" I paint sounds, I paint the Blues " QUIK responded in one of his interviews when asked about his thematic development and his professional career. But the Blues is not the only thing that the painter paints. His work expresses the energy of life in a vibrant city, of its movement and its fierce lifestyle but also, as mentioned above, reflect on some of the burning questions of our time. The new series of paintings featured in this exhibition reflect the ongoing love between the artist and the graffiti art movement, but this time, they also represent a modern day collage depicting images from pop culture, found maps, and beautiful lettering.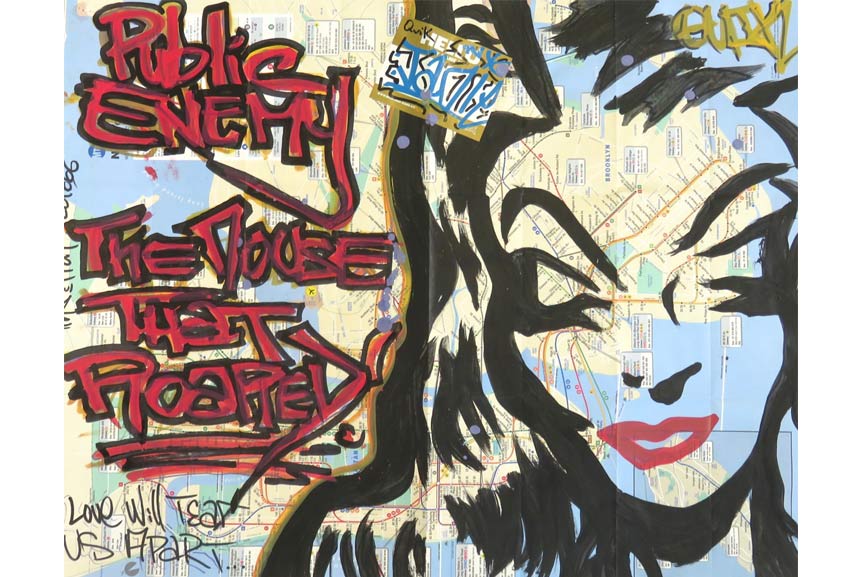 QUIK Exhibition MAP KINGS at Green Flowers Art Gallery
The long lasting relationship between the Green Flowers Art Gallery in Boulogne-Billancourt and the famous painter QUIK is now in its tenth year. The new solo exhibition MAP KINGS is, in fact, the seventh exhibition during this long and still on-going collaboration. Lasting from June 10 to July 9, 2016, the public will get a chance to feel the energy of one of the most cosmopolitan cities in the world, and the pure force that drives one of the most influential graffiti artists today.
All images courtesy of the artist and Green Flowers
Art Gallery. Featured image in slider: QUIK – NYC Map, QUIK in Pink, detail.