Perhaps the most prominent of the American underground cartoonists of the 1960s, Robert Crumb aka R Crumb has created a unique body of work which blends traditionalist cartoon illustration with a trippy sensibility and untethered libido. Throughout his decades-long practice, he has helped challenge and expand the boundaries of the graphic arts and redefined comics and cartoons as countercultural art forms. The extraordinary world he created is populated with now iconic characters such as Fritz the Cat, Mr Natural, Snoid, Shuman the Human, Flakey Foont and a range of bodacious and bold female characters. He once explained:
When people say 'What are underground comics?', I think the best way you can define them is just the absolute freedom involved... We didn't have anyone standing over us.
David Zwirner is currently hosting an exhibition which explores the mind and career of Robert Crumb. Titled Drawing for Print: Mind Fucks, Kultur Klashes, Pulp Fiction & Pulp Fact by the Illustrious R. Crumb, the show features a wide array of printed matter culled from the artist's archive: tear sheets of drawings and comics, taken directly from the publications where the works first appeared, as well as related ephemera. In addition to these stunning works on paper, on display is a selection of rare sketchbooks and original drawings, further illuminating the practice of this cartoon legend.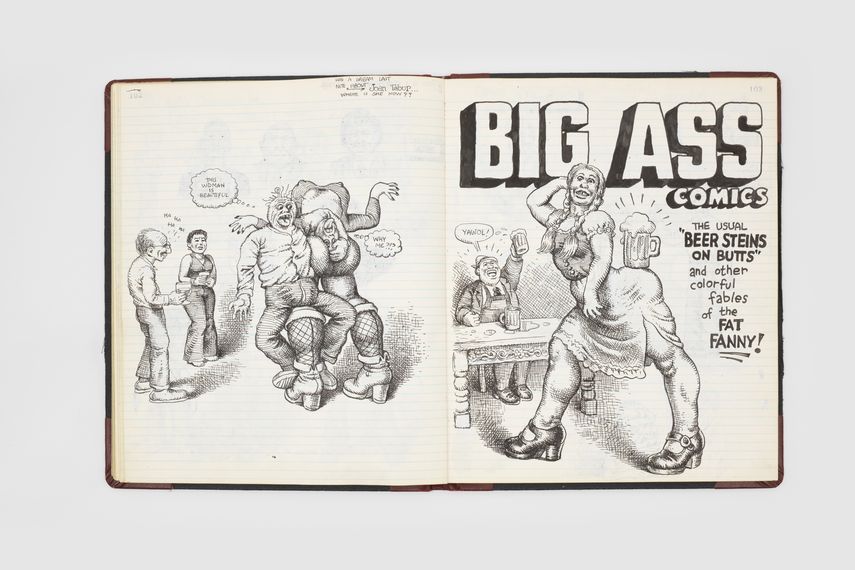 The Uniqueness of Robert Crumb Art
Emerging during the 1960s, the American cartoonist Robert Crumb was instrumental in the formation of the underground comics scene of the period. Drawing extensively since he was a child, Crumb didn't find many outlets for his work until he founded Zap in 1968, his iconic comic anthology which paved the way for many underground comics to come.
Savagely satirizing the culture and values of contemporary America, often with a psychedelic twist, R Crumb's art directly addressed political disillusionment, the never-ending battles between "squares" and bohemians, racial and gender stereotypes, sexual fantasies and fetishes, and the absurdities of social convention and conformity—themes that he also often explores through disturbing but hilariously abject self-caricature that dramatizes incidents in his own life and surroundings.
Most of my adult life, I had this towering contempt for America.
Strange, hilarious and often obscene, these comic books often possess a personal touch, related to the artist's own experiences and personal life. As he once explained, comics are "where all the crazy subconscious stuff comes out." R Crumb's art centered around his fascinations and fixations on large, sturdily-built women and the American culture of the 1920s and 1930s. Muscular yet vivacious cavewoman, gymnasts, and yetis are reoccurring motifs in his drawings, as are his sexual fantasies of being overpowered by strong women and his depiction of "little guys" crushed and infantilized by their own desires. He often collaborates with his wife and underground comic artist, Aline Kominsky-Crumb.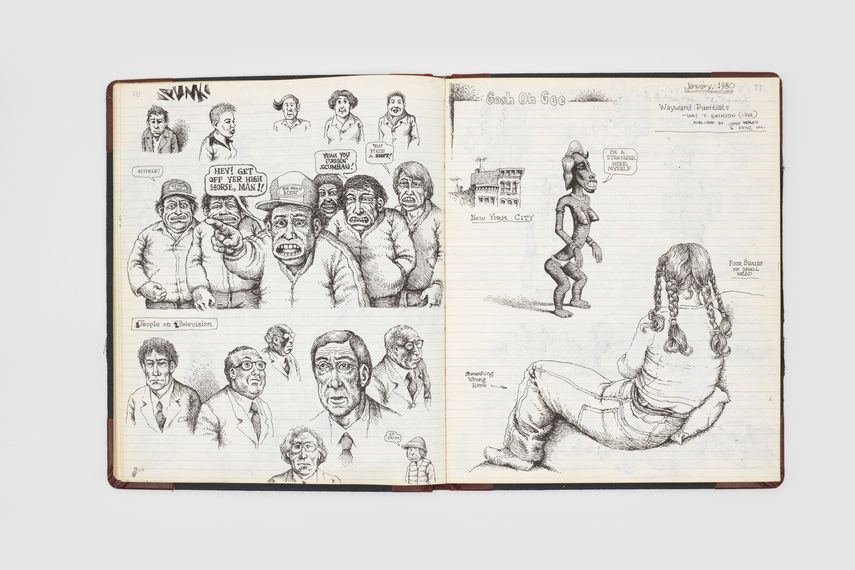 Exhibition Highlights
The exhibition in New York will feature tear sheets which span the entirety of R Crumb's prolific career, encompassing numerous pages from his comic books, several of his magazine and album covers, sixties- and seventies-era broadsides, and tabloids from San Francisco's Haight-Ashbury, Oakland, Manhattan's Lower East Side, and other counterculture enclaves as well as exhibition ephemera and other printed matter.
On view, there will also be several rare sketchbooks from as far back as the 1950s, reproduced on digital screens alongside the original works. These will provide the audience with an opportunity to explore the artist's development as well as his early exemplary skill as a draftsman.
Among highlights is a selection of drawings from Crumb's Art & Beauty Magazines, which emulates the format of a publication of the same title from the 1920s. Challenging social mores and expectations of propriety around the female form, R Crumb created a cast of female figures from tabloid celebrities, sports stars, life models, friends, and strangers, and accompanied them with journalistic-style commentary and quotations from other artists like Leonardo da Vinci, Paul Cézanne, and Andy Warhol.
The showcase also includes a group of historical works on paper by English and American satirists and illustrators including William Hogarth, James Gillray, Thomas Nast, and Art Young, offering a unique opportunity to understand Crumb within the great traditions of social critique that extend back to the eighteenth century.
The audience will also have an opportunity to see director Terry Zwigoff's acclaimed 1994 documentary, Crumb, screened continuously throughout the run of the show. The documentary is a complex but affectionate portrait of Crumb, the director's longtime friend, exploring the artist's life, career, and family.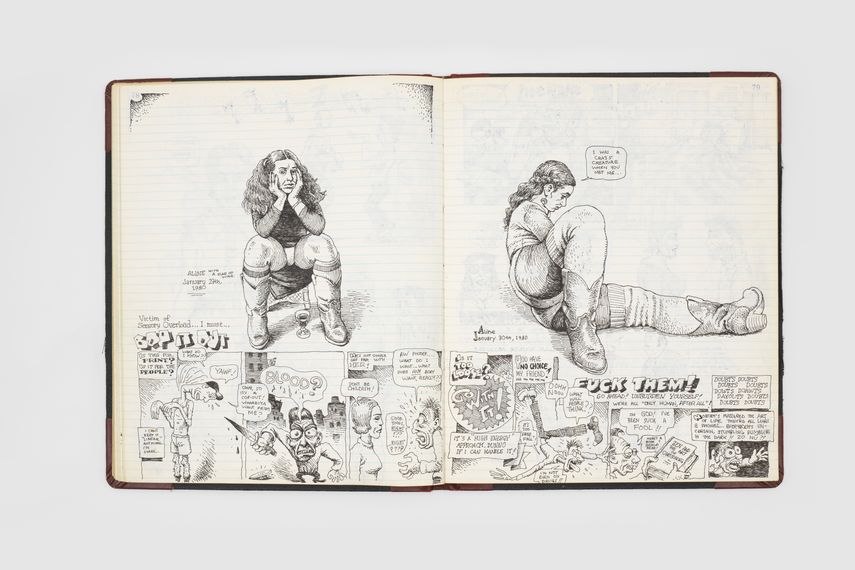 R Crumb Exhibition at David Zwirner
R. Crumb's oeuvre is extensive, and his work is recognized as a major cultural zeitgeist spanning over half a century.
Since the heyday of underground comix, Robert Crumb has continued to produce art, drawing countless record covers, editing the alternative comix magazine Weirdo, collaborating on various comic books with his wife, Aline Kominsky-Crumb, and even illustrating the complete story of Genesis. In 1991, he was inducted into the Will Eisner Hall of Fame. Crumb joined David Zwirner in 2006, where he has had three solo exhibitions.
The exhibition Drawing for Print: Mind Fucks, Kultur Klashes, Pulp Fiction & Pulp Fact by the Illustrious R. Crumb will be on view at David Zwirner in New York until April 13th, 2019.
Featured images: Spreads from R. Crumb, Sketchbook, 1971 © Robert Crumb, 1971. Courtesy the artist, Paul Morris and David Zwirner.