A remarkably talented Brazilian graffiti painter, Rafael Sliks plays with the graffiti language seeking to push its boundaries. His abstract works are inspired by the intense urbanization and modern city life in general.
His latest body of work will soon be on view in a solo show at Vroom & Varossieau Gallery. Titled Motion, the exhibition will present the artist's universe, reflecting the tension between the physical chaos in the urban jungle and the spiritual introspection he experiences in nature. In addition, Sliks will collaborate with KAZMOK, the project of Amsterdam-based and award-winning industrial designer Dinand Stufkens.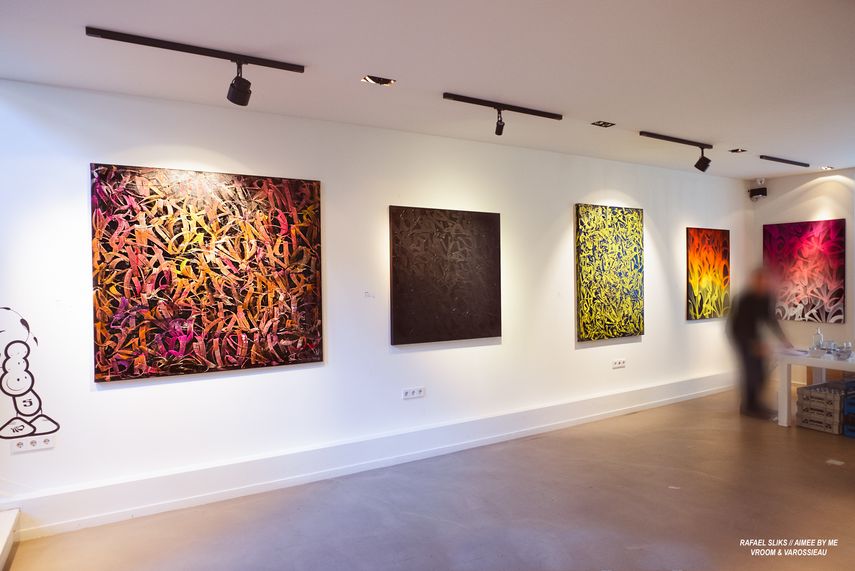 The Practice of Rafael Sliks
Coming from the neighborhood of Bela Vista from São Paulo, Rafael Sliks initially drew his inspiration from the comics before he started to notice the city around him. After getting to know his city thoroughly, he immersed himself in the local graffiti scene.
Continuously working on his style, he aims to challenge himself by testing new techniques and experimenting the unlimited possibilities of the artistic expression.
His unique style combines different elements from movements that inspired him along the way - Abstraction, Calligraphy of Oriental films, Art Nouveau, Surrealism and of course, Graffiti. Constantly experimenting with calligraphy and typographies, he created a universe characterized by colors, repetitions, overlaps, movements, nature and musical beats.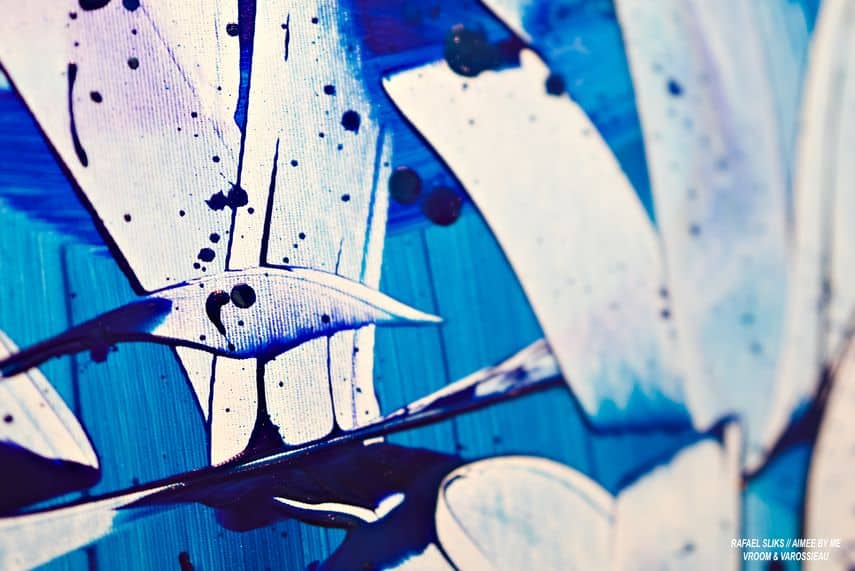 The Motion
In this show, the artist interprets the idea of the motion as the changing movement that allows a body to be in many different places in a space. Reflecting the tension between the city chaos and nature, the artist relates to different elements to express all the dynamic characteristics of life.
The exhibition will also present a series of works that resulted from Rafael Sliks's collaboration with Dinand Stufkens. The designer has spent the last five years searching, collecting, testing and optimizing all sorts of raw and used materials that could be sourced for the creation of his KAZMOK product line.
The result is a series of truly unexpected products.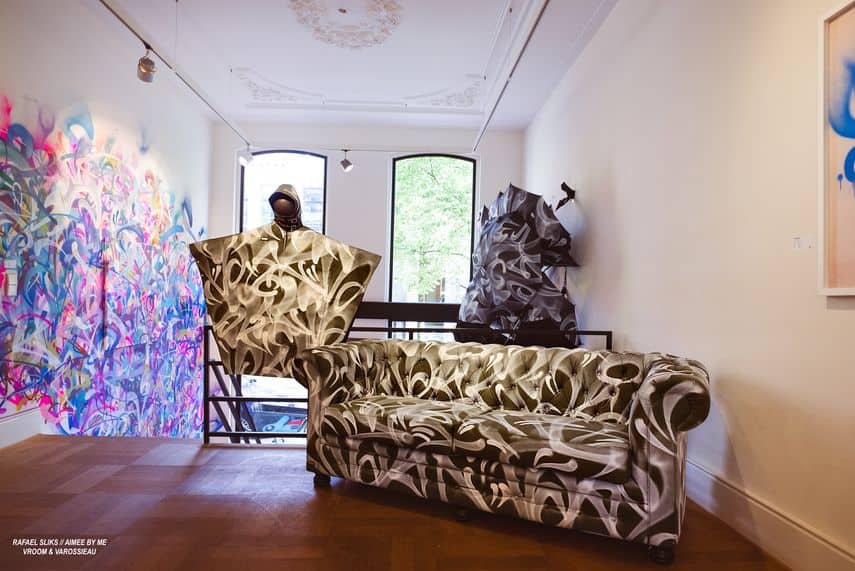 Rafael Sliks Art Exhibition at Vroom & Varossieau
Playing a forward thinking and leading role as a curator in a variety of international urban art and street art related projects, Vroom & Varossieau actively works with both emerging artists and bold names in the field. After several works commissioned in the city of Amsterdam, this exhibition is a unique opportunity to explore the world of this highly talented Brazilian artist.
The exhibition Motion will be on view at Vroom & Varossieau Gallery in Amsterdam from May 18th until June 17th, 2018.
Featured image: Rafael Sliks, Motion at Vroom & Varossieau, Installation view. All images by Aimee by Me, Courtesy of Vroom & Varossieau.