One of the major figures of contemporary art scene, Ragnar Kjartansson is an Icelandic performance artist, musician, film-maker, sculptor and, in his own words, "may only be playing the part of a painter". Live endurance performances, photographs, drawings, paintings as well as captivating video instalations all feature prominently in his work.
Starting with his Icelandic debut in 2000, Kjartansson soon rose to the limelight of the art world, the youngest artist ever to represent his own country at the Venice Biennale in 2009, and has recently had solo shows at such prestigious venues as Paris's Palais de Tokyo, New York's New Museum, Museum of Contemporary Art Detroit and, this year, London's Barbican Art Gallery. At the end of September the first major survey of the artist will finally come to the US, to the Hirshhorn Museum and Sculpture Garden.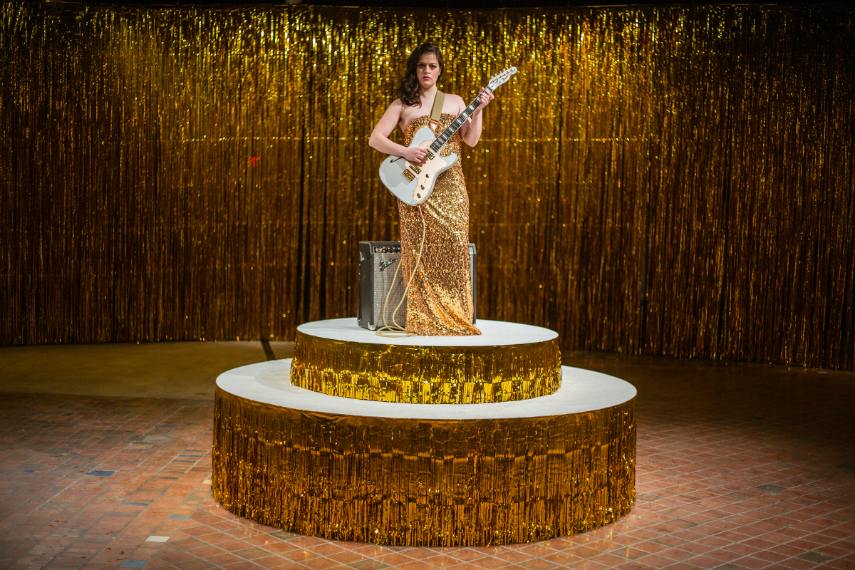 The Most Celebrated Artist from Iceland
Born in 1976 in Reykjavík, a city he still calls home, son of an actress and a theater director, the stage has always been a place Kjartansson could feel comfortable being either on or behind. Even though he initially studied painting at the Iceland Academy of the Arts, he quickly turned to performance art in all its versatility. Brief stints at rock bands Sigur Rós and Trabant helped hone his sense for the eye-catching, the attention-grabbing, the fun and the disturbing. Thus a lot of Kjartansson's work combines intimate knowledge of stage traditions coupled with experiments in in repetition and endurance. The multi-sensory experiences draw the viewer into exploring society, family and contemporary culture with poignacy, flair and good humor. Large-scale video installactions, drawing, painting, photography and live endurance performance all are but mere vehicle for this versatile man's expression.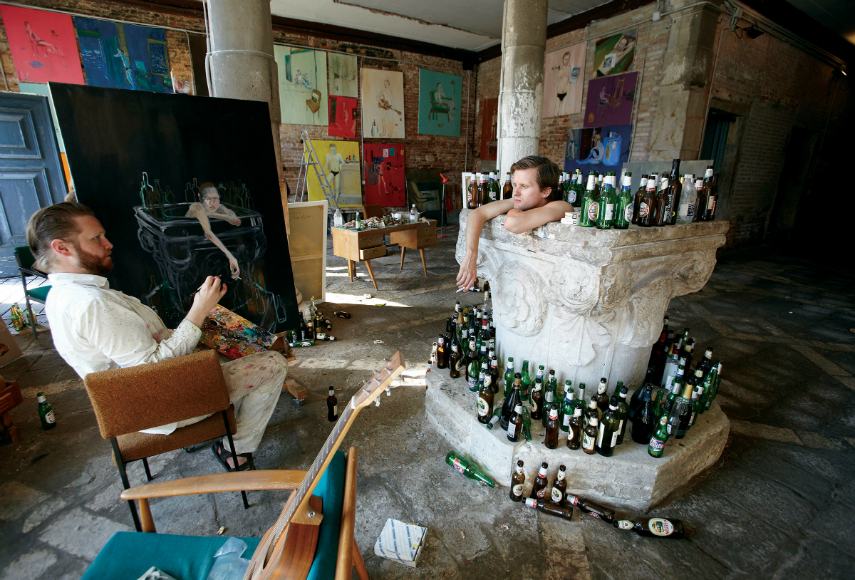 Music, Endurance Performance... - Painting is Simply Not Enough for Some Artists
Some of the more prominent installation works to feature at the upcoming Hirshhorn exhibition are, at the same time, the Iceland artist's finest. The most recent "Woman in E" (2016) poses a woman in a gold sequened dress, on a gold-tinseled stage, endlessly strumming an E minor chord, conveying a melancholy, reflective feel while also offering an almost subconscious visual commentary on the objectification of women in society.
In one of his older art works, "Me and My Mother" from 2000, Ragnar Kjartansson appears with his mother, in a series of videos made during a five year period, where she repeatedly spits in his face for several minutes. Family relationships, the passage of time, as well as the artist's and his actress mother's private and professional faces are all addressed in this odd yet somewhat humorous piece.
"The Visitors" (2012), possibly Kjartansson's most famous art work to date, is a series of nine life-size video tableaux. Staged at the Rokeby Farm in upstate New York, it shows various musicians (each recorded in a separate space on the farm) repeatedly singing "Once again I fall into my feminine ways" for well over an hour. "The End" (2009), a series of 144 paintings created during the 2009 Venice Biennale all show a young Speedo-clad model, holding a cigarette and a beer, putting Kjartansson in the role of a bohemian artist on a test of creative endurance.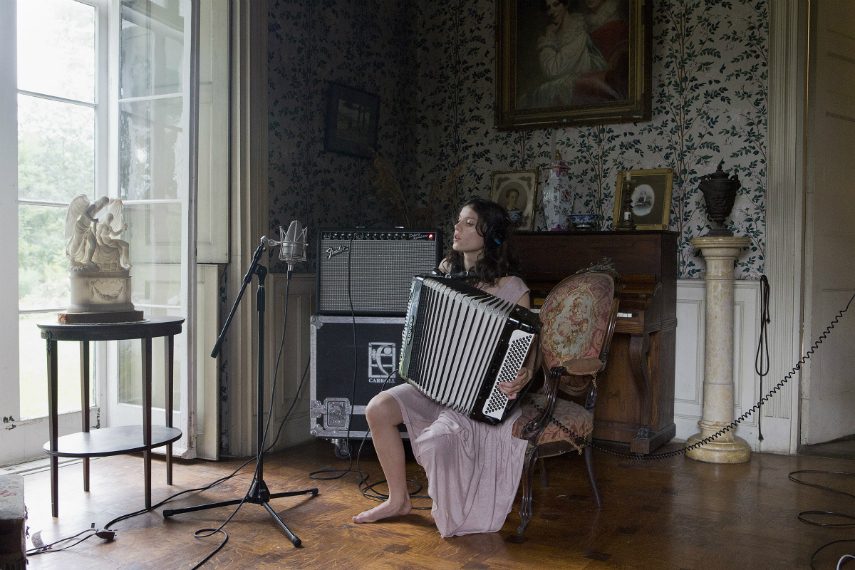 Ragnar Kjartansson at Hirshhorn
After a run at the London Barbican, the first major survey of Ragnar Kjartansson runs October 14, 2016 to January 8, 2017, at the Hirshhorn Museum and Sculpture Garden. Part of the Smithsonian, the gallery is located on the National Mall in Washington, D.C. On October 14, the opening for visitors will feature an evening discussion with Kjartansson and musician and essayist Ian Svenonious, as well as a daylong fall festival filled with music by local bands. A fully illustrated catalog published to accompany the exhibition features aessays by Markús Andrésson, curator Kelly Gordon, Artforum writer Jeffrey Kastner, and Canadian essayist and poet Anne Carson.
Featured image: Ragnar Kjartansson - Scandinavian Pain (twilight), 2006, C-print, 20 x 30 cm. Courtesy of the artist, Luhring Augustine, New York and i8 Gallery, Reykjavík