People in California have been desperate for rain for so long now, due to the unprecedented drought in the entire region. Fortunately, those living in Southern California will finally have an opportunity to see the rain if they visit the Los Angeles County Museum in the coming days. The famous Rain Room came to LA. An impressive installation, created by Random International, makes its West Coast debut – it will be on display for four months, still, you'll have to hurry up, because the tickets are selling out. The Rain Room at LACMA will be a perfect opportunity for everybody to experience this mind-blowing piece of art; a piece of art that is absolutely unique. Don't worry – you don't have to bring an umbrella with you; while you are "inside" the Rain Room (with heavy rain), you will remain dry!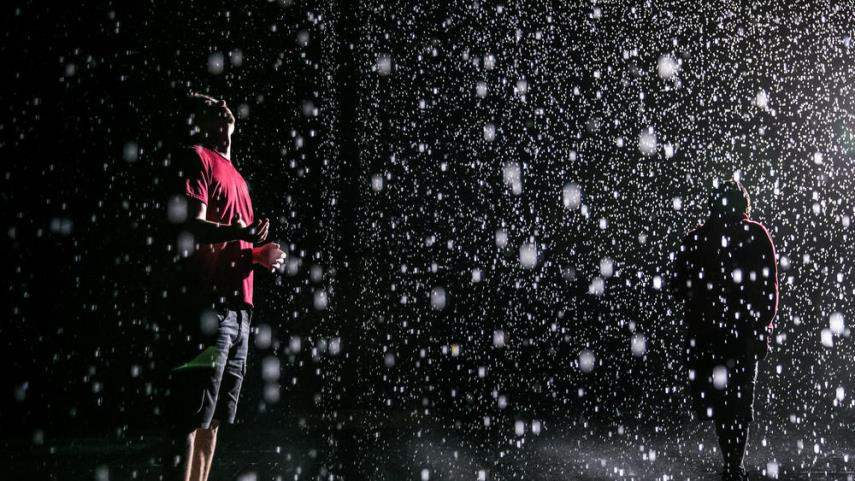 Rain Room Installation
The Rain Room installation provides a unique experience, leaving everyone breathless. The installation offers visitors an opportunity to experience what is seemingly impossible: the ability to control rain. It is an environment of falling water through which it is possible to walk, trusting that a path can be navigated without being drenched in the process. So, as you progress through the space the sound of water and a suggestion of moisture fill the air, before you are confronted by this carefully choreographed downpour that responds to your movements and presence. How is that even possible? There are sensors that detect visitors' presence and the rain directly above them pauses as they pass below — there's always a roughly six-foot radius of dry clearing around each person. The installation uses 528 gallons of filtered, recirculated water. This amazing installation represents a perfect mixture of visual art, technology and science.
Rain Room at Barbican, London, 2012
Rain Room at the Barbican, 2012 from Random International on Vimeo.
Random International
The Rain Room is created by Random International, or more precisely by designers Hannes Koch and Florian Ortkrass, co-founders of this London-based art collective. Their work was hugely influenced by California Light and Space movement of the 1960s — including the work of Robert Irwin and James Turrell. Koch and Ortkrass are also interested in performance art and architecture, while their work (including the Rain Room) examines the way human beings coexist in an increasingly digital universe. The installation itself is questioning position and reactions of the audience as well (something similar to Marina Abramovic's work); the way how visitors interact with installation. It's also important to mention the sound, which plays an important role in this installation. Finally, we could say that the Rain Room is also a great piece of digital art, since the installation uses the latest digital technology: custom software, 3D tracking cameras, but also steel beams and pressure regulators.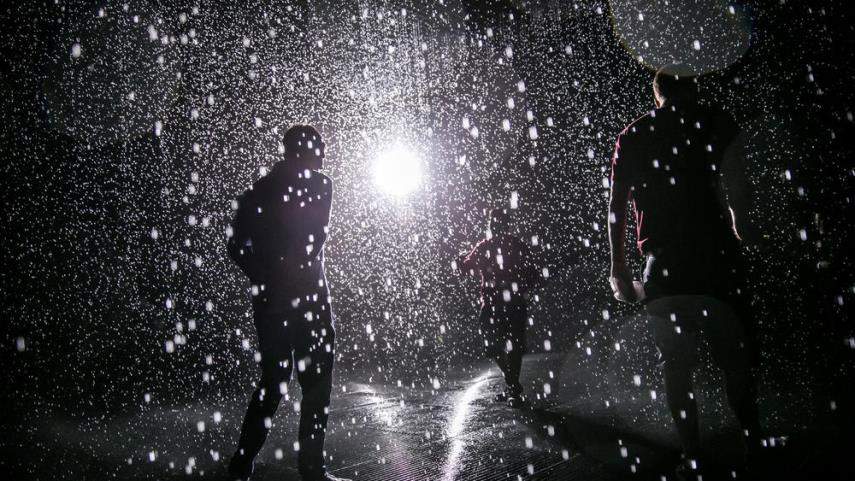 Rain Room at LACMA
After being displayed at Barbican Centre, London and Museum of Modern Art, New York (among others), the Rain Room is finally coming to Los Angeles. Tickets are a $10 or $15 upgrade to an existing general admission ticket (or a Frank Gehry ticket) for a 15-minute experience. But, you have to be fast if you want to get a ticket. Weekend slots to see the installation are already booked until January. Opening in November 1, 2015, the Rain Room will be on display at LACMA until March 6, 2016.
We would like to hear your opinion! Please comment on our Facebook Page!
For the latest new from the world of contemporary art, sign up for My Widewalls! It's free of charge!
Featured Images: Rain Room - REUTERS, Lucy Nicholson (courtesy of n1)
All Images used for illustrative purposes only.