Berlin-based NOME Gallery is organizing Ralf Baecker exhibition showcasing a new installation by this great German artist. And, yes, we got used to see great shows at NOME - Nils Völker's exhibition titled Bits and Pieces has just been finished on April 16. We also had an opportunity to enjoy new works by Italian artist Quayola in the exhibition titled Iconographies. In case you didn't manage to come to Berlin and visit the gallery, NOME is presenting its artists at art fairs – this winter, NOME participated at London Art Fair 2016. But, in this article, we are focusing on the upcoming exhibition of Ralf Baecker. The show is titled Order+Noise.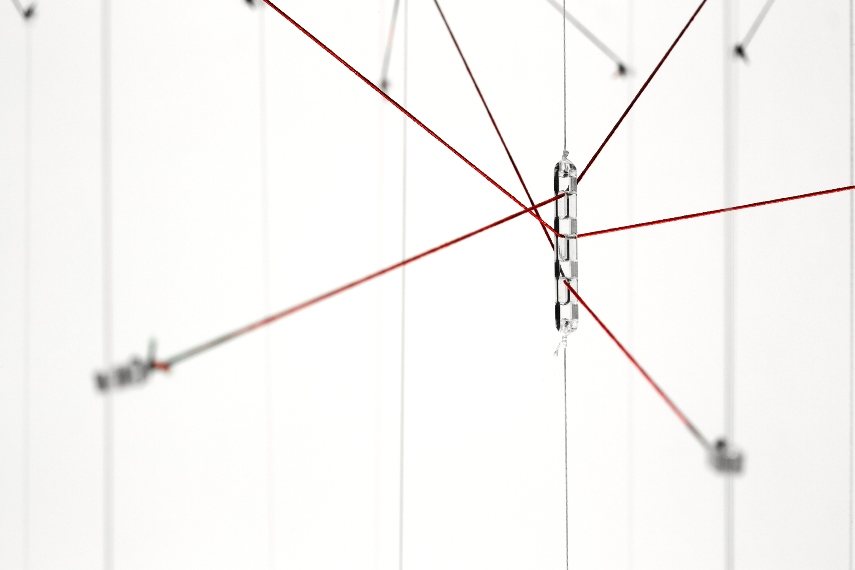 Art and Technology – Ralf Baecker
Born in Dusseldorf in 1977, Ralf Baecker is an artist with a background in computer science; more precisely, he worked as a programmer. This is very important to mention, since his art practice is influenced by his great knowledge in computers. In his practice, Baecker brilliantly puts technology into a cultural context – he connects technology and culture. His art represents the very core of the concept of digital art – not aesthetically, but conceptually. Baecker tries to show that machines are not just pure tools – they can be understood as epistemological objects as well, or part of the systems that expose the connection between thinking and the world. Baecker's educational background speaks a lot about his art practice – the artist enrolled into the University of Cologne in 1999, with Computer Science as his major. In 2007, Ralf received a diploma from the Academy of Media Arts in Cologne, where he studied audiovisual media at the Media Art Department. His most recent work - Order+Noise (Interface I), that will be exhibited at NOME Gallery examines the border between two interacting systems.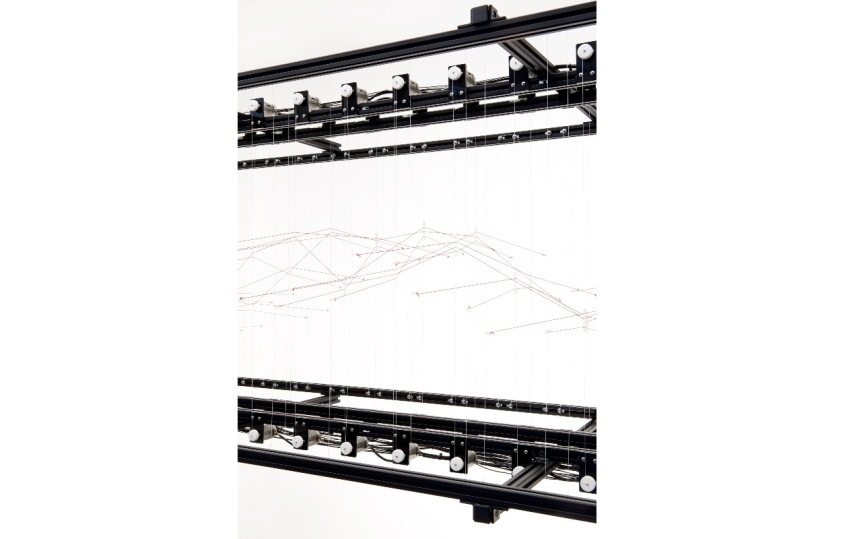 Order+Noise (Interface I)
It's not easy to explain the concept of the installation Order+Noise (Interface I). Motors, strings and elastic bands are set in motion by the random signals of Geiger-Müller tubes which pick up the natural ambient radiation of the earth. How these elements interact and influence one another is a central point of the installation – through this interaction, space and time have been reproduced in constantly shifting configurations. And precisely here we can identify the central interest of the artist – to give an aesthetical meaning to the material and technology. By giving the aesthetical meaning, the artist is also engaged in a knowledge production, where data space is transformed into real space. Researches that led to the creation of the installation have been part of the Baecker's research project Time of Non-Reality.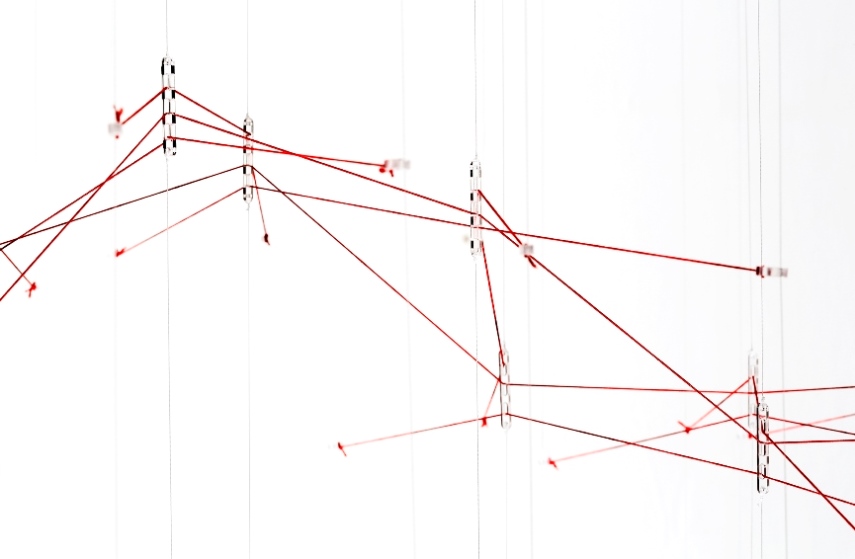 Ralf Baecker exhibition at NOME Gallery
Ralf Baecker has been exhibited widely across the globe. Some of the most notable exhibitions include those at the International Triennial of New Media Art in Beijing (China), Malmö Konsthall (Sweden), Künstlerhaus Wien (Austria), Martin-Gropius-Bau in Berlin (Germany), Center for Contemporary Art WINZAVOD Moscow (Russia), and many more. Now, we can enjoy Baecker's work in Berlin, so be sure not to miss this show. The exhibition Order+Noise will be on view from April 23 until June 17, 2016 at NOME Gallery in Berlin. The opening is scheduled for April 22, 6pm.
Featured Image: Ralf Baecker - Order+Noise (Interface I), 2015. Aluminum profiles, dyneema strings, elastic bands, DC motors, Geiger–Müller tubes and custom electronics. Photo by Photo by Bresadola+Freese/drama-berlin.de. All Images courtesy of NOME Gallery.