When we talk about the New York graffiti scene, we can't not talk about that one distinguished figure in particular, the one that appeared in Charlie Ahearn's legendary film Wild Style.
But the truth is that Rammellzee left a mark on the city's entire artistic and even musical scene, becoming a cult icon and influencing generations of those who came later. Yet somehow, his art never made it much further than his renowned loft.
This summer, one splendid exhibition will showcase a great part of the late artist's oeuvre, to coincide with the opening of Red Bull Music Festival New York for the first time.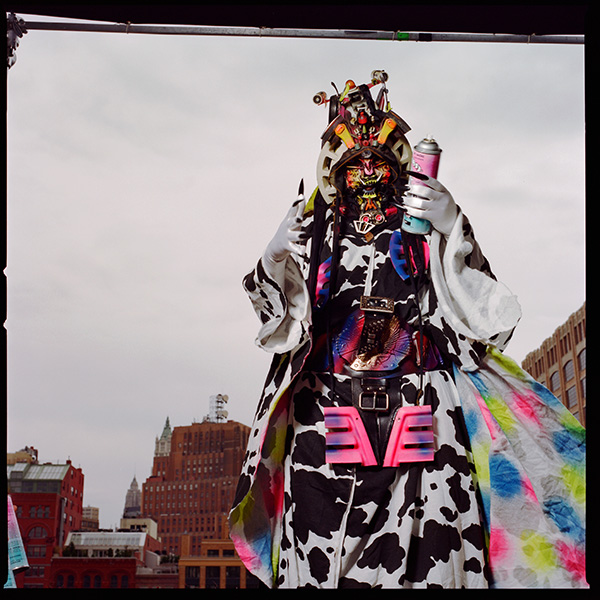 The Making of a Legend
An artist, graffiti writer, hip hop pioneer, Gothic Futurist theoretician and a personality to remember, Rammellzee rose to prominence in the late 1970s, as part of the graffiti and hip hop communities. Within the circle that was becoming wider by the day, he was known as "King of the A Line", gradually making acquaintances that came to define his career.
Among these, there is the aforementioned appearance in Wild Style, his cameo in Jim Jarmusch's Stranger Than Paradise, and his portrait Hollywood Africans created by his one-time collaborator Jean-Michel Basquiat. Basquiat also produced his seminal record titled Beat Pop, still considered as one of the most important tracks of early rap.
An unforgettable character that almost never made an appearance without wearing one of his complex, vibrant costumes and masks evidently inspired by sci-fi culture, Rammellzee withdrew from the art world at the height of his career. He moved his production to his infamous TriBeCa loft, which appropriately became known as the Battlestation, where he created two seminal bodies of works, Letter Racers and Garbage Gods, among others.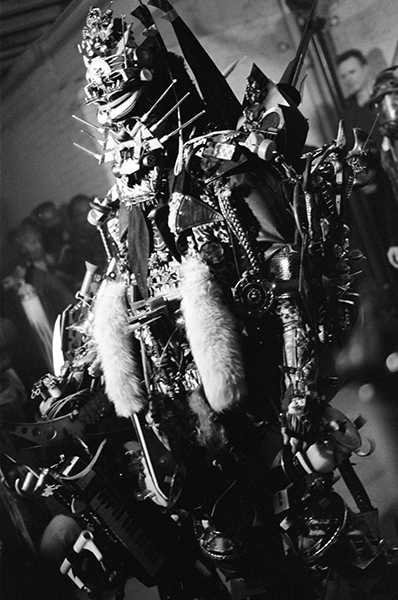 RAMMΣLLZΣΣ: Racing for Thunder
An expansive survey not to be missed, the RAMMΣLLZΣΣ: Racing for Thunder exhibition will feature artworks coming from different sources around the world: the artist's estate, public and private collections, and oral histories recently commissioned by Red Bull Arts New York.
We can expect important artworks and sculptural series created primarily in the Battlestation over the last two decades of Rammellzee's life, as well as the seminal post-graffiti works and rare, yet robust formal outputs from the 1980s.
On view, there will also be the said Letter Races piece, representing assemblages which combine the dynamic formalist of Italian Futurism with accumulated elements of street pop culture, all mounted on the chassis of remote-controlled cars or skateboards.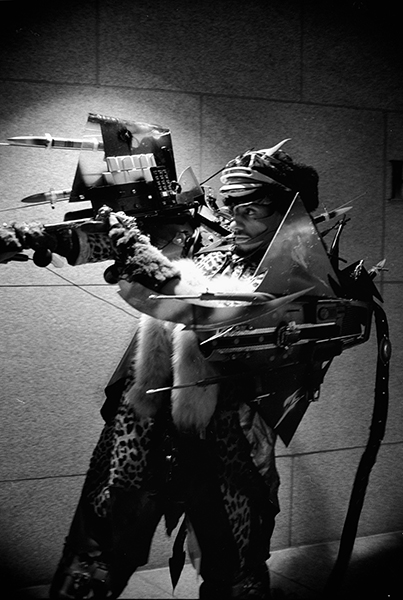 Rammellzee at Red Bull Arts New York
A historic exhibition, RAMMΣLLZΣΣ: Racing for Thunder aims to introduce this artist-prophet to a new generation, getting it acquainted with an eclectic body of work and a man who was, again and again, in the center of everything.
The show will be on view at Red Bull Arts New York at 220 West 18th Street from May 4th through August 26th, 2018.
It is organized by Red Bull Arts New York Chief Curator Max Wolf and cultural critic Carlo McCormick, with Associate Curators Christian Omodeo, Jeff Mao and Candice Strongwater.
RAMMELLZEE: It's Not Who But What
Featured image: RAMMΣLLZΣΣ as 'Chaser the Eraser', Tokyo, 2004. Photography by Mari Horiuchi. All images courtesy Red Bull Arts New York.