After nearly five years on Santa Fe Drive the Black Book Gallery has moved to a more refined space at 304 Elati St. in the historical Baker neighborhood. The gallery will open their new location with a very powerful and unique exhibit The Calm. It will feature new work by Ravi Zupa (b.1977), a very skilled emerging contemporary artist from Denver. Ravi Zupa is known for his mastery of a broad range of media and techniques: drawing, painting, screen and relief printing and sculpture. He has also exhibited in London, Montreal, Los Angeles, Chicago, Denmark, Mexico City and San Francisco and his work has been acquired by prominent art collectors across the globe.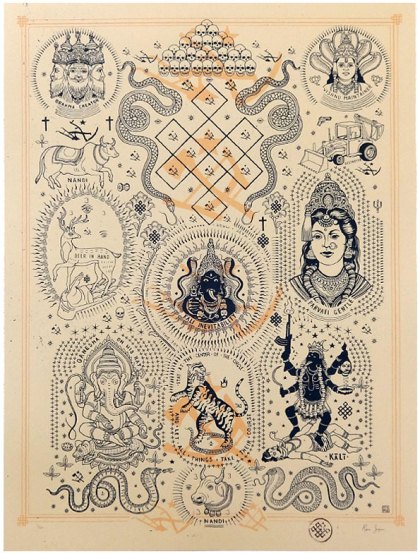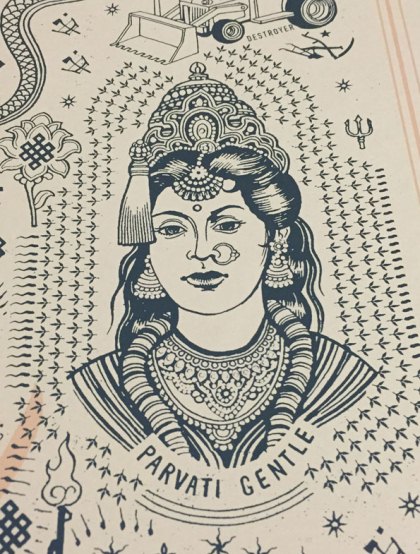 Mightier Than Series
Mightier Than is a series of sculptures, or better yet, weaponry constructed by Ravi Zupa. What looks like a firearm at a first glance, becomes something else once you get agrip of the details. Each piece is constructed primarily of disassembled antique typewriters, but also stapler and scrap metal components. Everything is held together with welds, bolts and rivets. The stocks and wooden handles were all shaped from salvaged oak. Each gun is hand etched by the artist with his signature saw and hatchet symbol. The ammunition is comprised of Speedball pen nibs and used ammo cartridges of various sizes.
Ravi Zupa has been creating these typewriter firearms since 2007 but until recently they were elements incorporated into sculptures and installations. In 2013, Ravi decided to have them stand alone as individual works. Last year he was invited by Shepard Fairey to participate in The Provocateurs art exhibition in Chicago, where the Mightier Than series had been unveiled.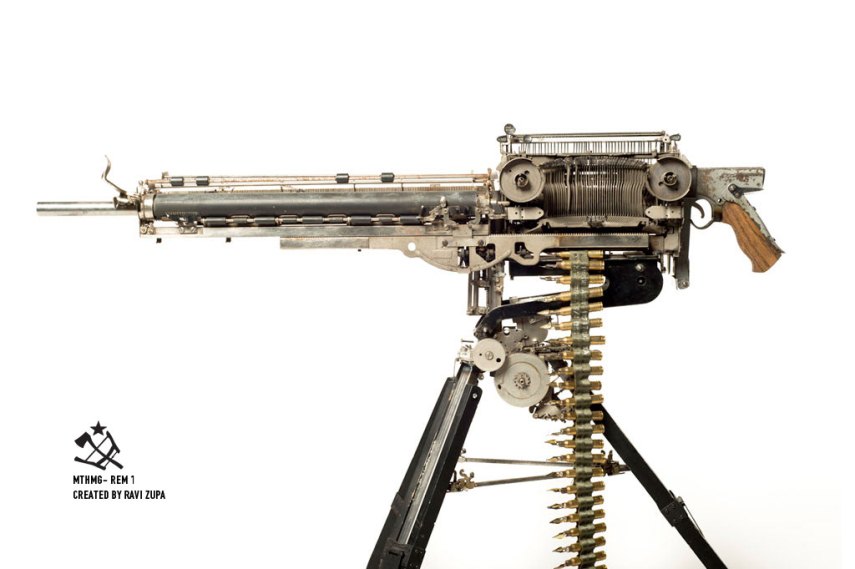 Ravi Zupa's Artwork
Before they were scuptures as such, or parts of his installations, firearms and various weapons could be seen in the hands of different human and animal characters in Ravi's paintings, where he combines imagery from different cultures and epochs to create unique images. He considers books the best way to experience art and has spent decades studying art from cultures and movements that span history and originate from nearly all geographical regions. Being entirely self-taught, he looks for inspiration in works by German Renaissance print makers, Flemish primitives, abstract expressionists, Japanese woodblock artists, Mughal paintings, religious iconography from Europe, Asia and Pre-Columbian Latin America, and revolutionary propaganda from all over the world. With a distaste for ironic art or the thoughtless appropriation of culture, he integrates seemingly unrelated images in search of something universal.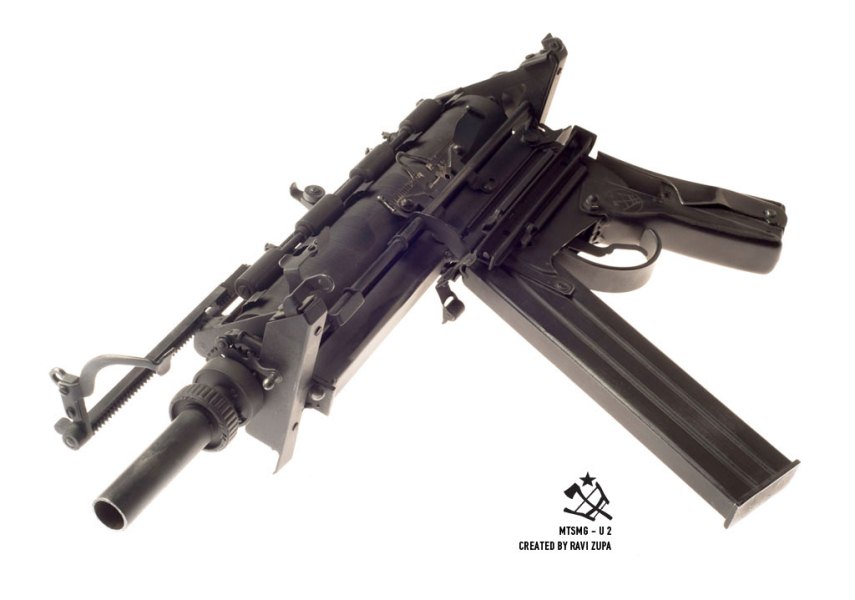 Calm at Black Book Gallery
For his upcoming exhibit The Calm, Black Book will present a juxtaposition of Ravi's paintings and his Mightier Than sculptures throughout the entire gallery. This is the first appearance of the 'Mightier Than' sculptures in one of Ravi's solo exhibitions. As the artist himself explained: "Anyone who has ever shot a firearm with the intent to hit a target knows the importance of stillness before squeezing the trigger. After the crack of a weapon, a similar stillness follows even deeper and more intensely quiet than the first. The same stillness is needed before and subsequently follows immediately after forceful words and ideas are spoken. Every piece of art that is worth looking at has in it a space where the viewers' eyes are given a moment of rest. It is in this space that the madness and activity is truly felt. – This is The Calm."
Ravi's fifth exhibit with Black Book Gallery opens on March 14th and runs through April 5th.
Make sure you stay informed about more exciting shows and artists by signing up for My Widewalls!