Ravi Zupa exhibiton presented by The Black Book Gallery demonstrates mastery in renaissance painting style, collage and drawing. The exhibition title Strike Everywhere refers to a new series that describe Ravi's production. Rich fusions of old techniques in his works are all rendered by Ravi itself. Being self-educated, he incorporates books of art, cultures and movements that changed the course of history and come from all over the world. Ravi Zupa finds inspiration in works by German Renaissance print makers, Flemish artists, Japanese woodblock artists and religious iconography from Europe, Asia and Pre-Columbian Latin America. In his works Ravi Zupa is trying to find a new way of expressing some universal principles. His art is not ironic or just an appropriation of culture - his art is an exploration of something universal.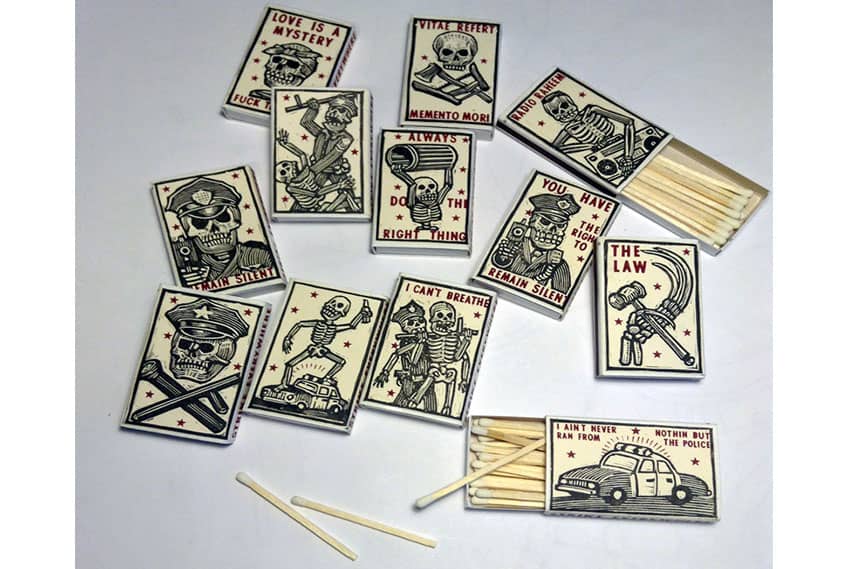 Art for Breakfast
Ravi Zupa, born in 1977 is a Colorado based multidisciplinary artist working on paper, canvas, and sculpture with a wide range of techniques. All of his images are hand drawn and hand painted. Growing up with parents that were also artists, Ravi was encouraged to explore the artist in him. According to Ravi, completely self-taught artist, art was like breakfast in his house, a part of their life. Ravi demonstrates mastery in a wide range of media, employing recycled materials such as old letters, envelopes, and blueprints. He is working as an animator and elementary school art teacher. He has had exhibitions in Denver, as well as cities across the globe such as London, Copenhagen and Mexico City.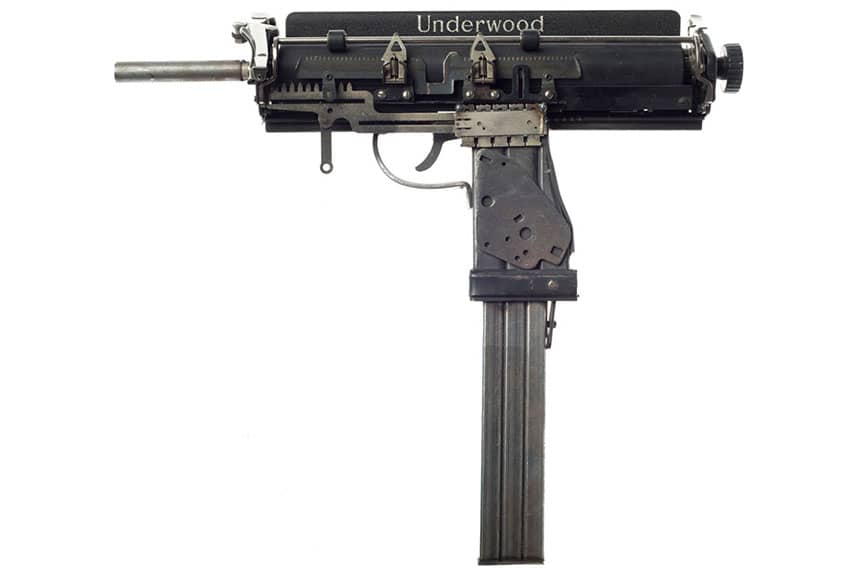 War of Words
The exhibition that was quite interesting to art critics is Mightier Than series of weapons constructed from antique typewriters. The exhibition title refers to a saying that pen is mightier than a sword. By the title itself it is clear that Ravi Zupa is encouraging conversation as a settling agreement rather than violence.
His machine guns and rifles are parts of recycled material that Ravi collects. Bullets for these machines are constructed from pencil stubs and the pointy parts of pens. According to Zupa there is a fine line between not making them too much like real guns, or typewriter. This exhibition was the center of attention at the Art Basel Miami when some neighbours mistakenly thought his works were really guns, and alerted authorities. Many critiques at the exhibition reacted differently, which means his art really made a difference by pushing people to reconsider a weapon as a piece of art which has a positive connotation. Like many artists Zupa does not over-explain his work and gives the viewer a chance to construct their own opinion into the artwork. Conceptually his series Mightier Than is very much similar  to artist Kata Legrady, who gained recognition of the art world with her series of Guns & Candies - covering guns, grenades, and handguns with Smarties candies.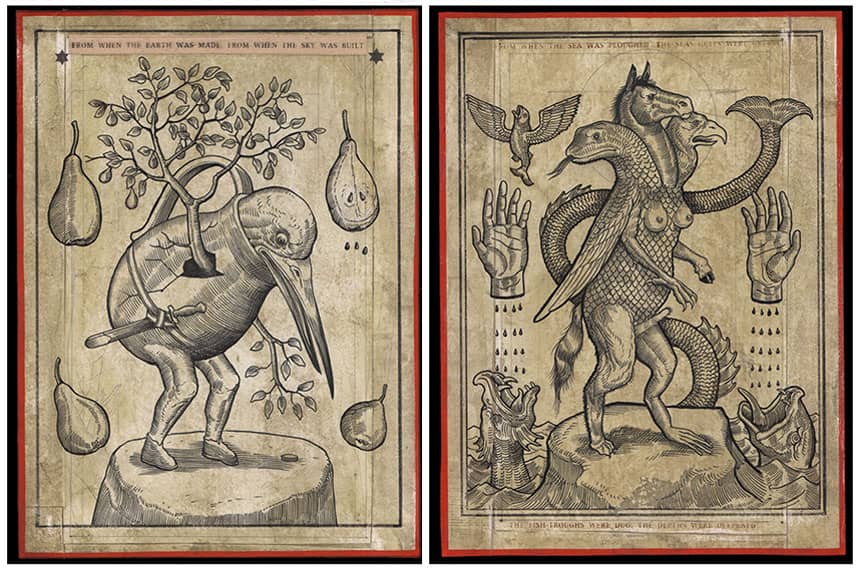 Ravi Zupa Exhibition at The Black Book Gallery
In this exhibit, entire range of Ravi's abilities are incorporated into several series that show his multidisciplinary interest and work.
Strike Everywhere is inspired by the early art of decorating match boxes. It's a collaboration work between Arna Miller and Ravi Zupa. Old match boxes are by itself an odd subject. For this series Zupa depicted scenes of current social and political importance such as justice system, social inequality, police violence in characteristic Mexican art style. The images are relief prints that are printed on an antique printing press with later added screen-printing text. The Exhibition Opening in The Black Book Gallery in Denver is scheduled for 19th March and the show will stay on view until 9th April 2016.

Editors' Tip: Joonie And The Great Harbinger Stampede
Ravi Zupa's cover illustration for Mythology and Folk Tales book Joonie And The Great Harbinger. From author Daniel Landes and artist Ravi Zupa comes this beautiful myth of worlds in transition and the cataclysmic metamorphosis that threatens to consume all creatures in its wake. They are coming, and a lone rabbit must gather his courage and his friends to face the Great Harbinger Stampede. In the fertile crescent of folklore, the fruit of knowledge is plucked. At that same moment, on the other side of the world, a rabbit named Joonie is born, nearly lifeless. Nurtured by the Sun and the Moon, Joonie must learn to understand his destiny while thundering clouds of change gather across the front range.
Featured images by Ravi Zupa, Images courtesy of The Black Book Gallery, Denver