Having spent decades studying books about the art, mythology, religion, and history of cultures from across geography and time, the Colorado-based artist Ravi Zupa creates a unique visual language which masterfully combines influences from German Renaissance printmakers, Flemish primitives, abstract expressionists, Japanese woodblock artists and Mughal painters to religious iconography from Europe, Asia, and Pre-Columbian Latin America, as well as revolutionary propaganda from around the world. His works integrate seemingly unrelated images in search of something universal.
His latest body of work will soon be on view at Hashimoto Contemporary in his third solo show with the gallery. Titled Other Avatar, the exhibition brings together mixed media works on wood, sculpture and a large scale installation.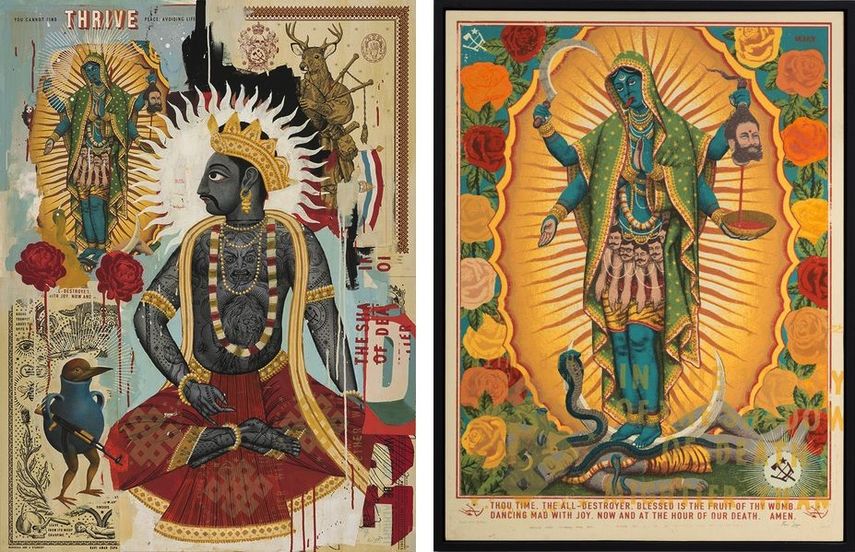 The Practice of Ravi Zupa
Drawing from a range of sources, such as technology, mythology, and both Eastern and Western religion, Ravi Zupa has created a new and unique universe filled with religious and historical figures as well as anthropomorphic creatures. Entirely self-taught, he draws everything by hand. His art has an old-looking aura while being colored with contemporaneity and political awareness, tackling issues such as violence, struggle, anarchism, dystopia, pop culture, power, ideology, and political figures, among others
Throughout his multifaceted studio practice, Zupa has been using an endless range of mediums, from using paint on canvas to scrap newspaper and recycled media for collages, to using typewriter components to create sub-machine guns.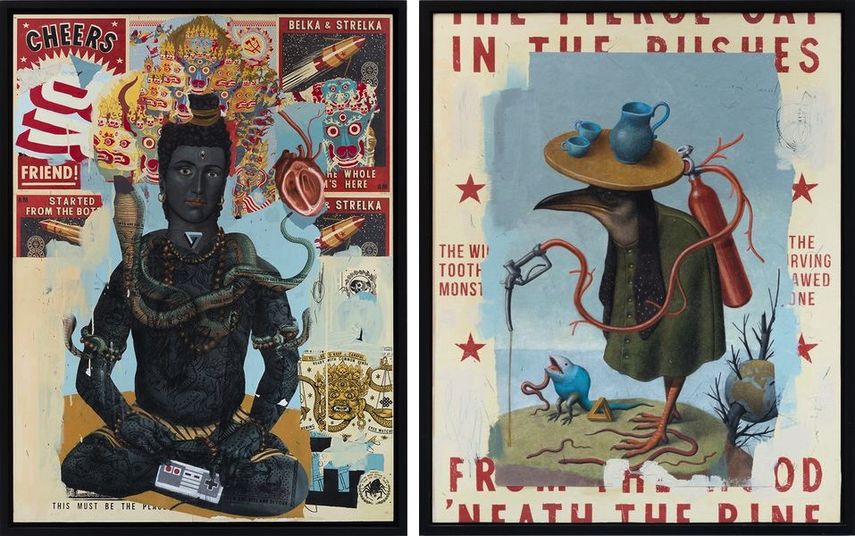 Other Avatar
The title of the show refers to Hindu mythology, where "avatar" represents a manifestation of a deity or soul released from their bodily form on earth. In today's digital world, the word has taken an entirely different meaning, representing a graphic image which represents a person on the Internet.
For this latest body of work, Zupa places the symbolism and meaning of mythologies into the current context of today's world. As avatars become our different incarnations in various abstract dimensions, the artist treats this notion as an example of the universality.
In addition to stunning canvases, the artist will present works from Mightier Than series, where he deconstructed antique typewriters and reassembled them as guns, but also sculptures of a recurring hybrid creature in his work which has a pot-like vessel shaped body with a bird face.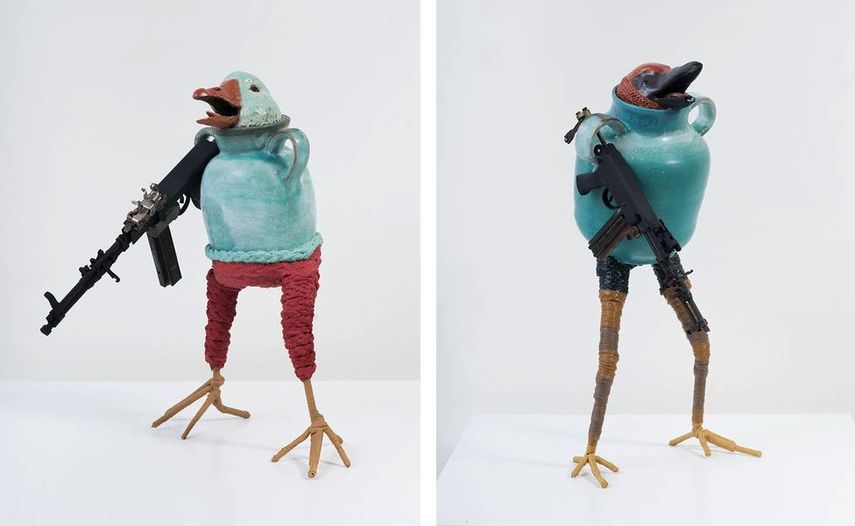 Ravi Zupa Exhibition at Hashimoto Contemporary
The exhibition Ravi Zupa: Other Avatar will be on view at Hashimoto Contemporary in New York from June 29th until July 20th, 2019. The opening reception will take place on Saturday, June 29th, from 6 to 8 p.m. The artist will be present.
The gallery will be releasing a print with the artist in conjunction with the closing of the show.
Featured image: Ravi Zupa - Before The Law, 2019. All images courtesy of Hashimoto Contemporary.