A Berlin-based artist, Kai Imhof aka RAWS first started painting graffiti in his neighborhood in his early teens, extensively bombing the city between 2004 and 2008. After having issues with the law enforcement, the artist began dealing with the artistic side of graffiti writing, starting his studio career.
Through his practice, Imhof explores the tipping point where the core aesthetics of graffiti, after being deconstructed and re-arranged, becomes acceptable as a form of art while retaining its purity. He describes his studio philosophy as #Neograffism, dissecting his graffiti practice by creating a visually stunning arrangement of colors, contrasts, and gradients. In his work, the artist combines acrylic paints and spray cans, referencing both his street and studio practice.
The use of these media also emphasizes the duality of graphics and graffiti. In my canvases, I have mostly worked with gradients. These are created exclusively with aerosol and can be a symbol of the movement and transience of graffiti.
The artist's recent body of work will so go on view at Urban Spree Galerie. Simply titled #Neograffism, this will be his first solo show with the gallery. The exhibition will be on view from May 24th until June 9th, 2019. The vernissage will take place on May 23rd from 7 p.m.
We had a chat with Imhof to find out more about his upcoming show and his practice in general. He talks about his style, influences, his graffiti crews, the street art scene in Berlin and much more.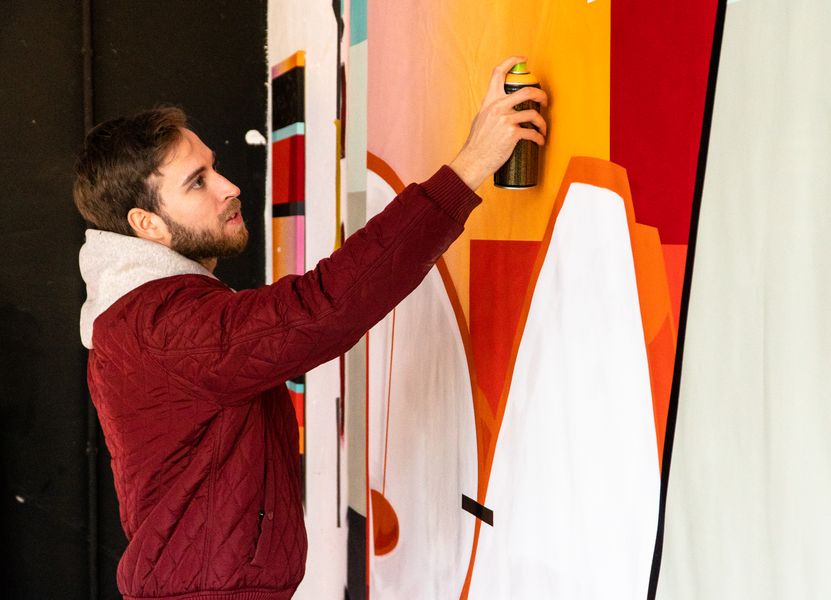 Neograffism at Urban Spree
Widewalls: Your work will soon be on view at Urban Spree Gallery. Could you tell us something about the show and the works on view?
Kai Imhof: My first solo exhibition in Berlin takes place [there]. I will show artworks from the last two years.
Dealing with graffiti and graphic design, I developed my own style, which is very clean, constructed and sometimes minimalistic. Now it is time to show it to the Berlin crowd. We will show around 20 canvases. Plus I will paint some walls of the gallery and the big (well known) wall in the gallery's garden. We also decided to produce an exclusive screenprint.
Widewalls: #Neograffism is a term you coined as being representative of your studio philosophy. What's behind this concept?
KI: As I am thinking a lot about what graffiti is for me and how it is defined by others, I came to the point that my style and my approach is different to the classic style writing graffiti. Nowadays I only paint legal walls and canvases. So I am not a classic graffiti bomber anymore, who is spraying the streets, plus I developed my own style of art.
To make that clear, I decided to think about a new term for my artworks. #Neograffism stands for a combination of graffiti, graphics and minimalism which is what I am dealing with nowadays. I want to lay bare the basic aesthetics of graffiti by rearranging letters, shapes and colors and so create something new and unique.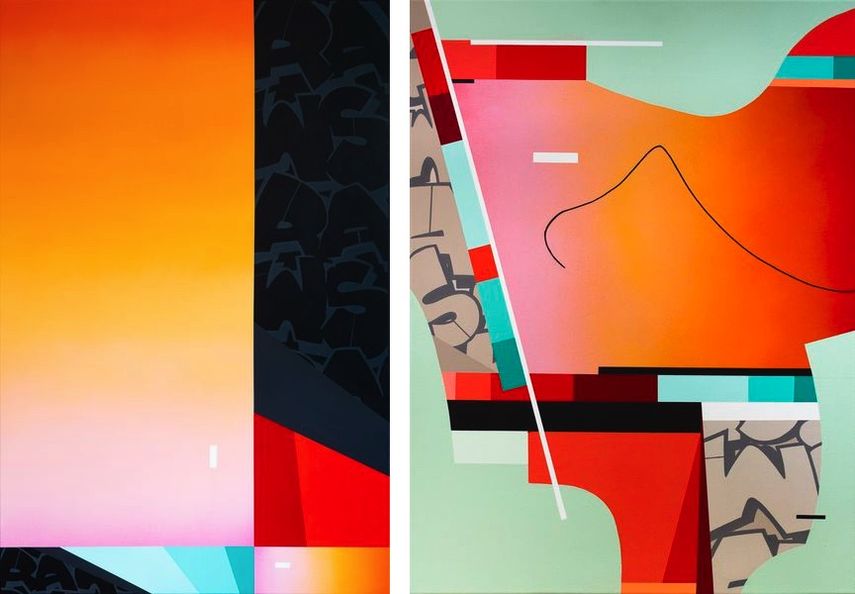 The Influences
Widewalls: Your works are very graphic, laying bare the basic essence of graffiti through color and shape. What influenced this style?
KI: I am influenced by everything around me, technology, social media and advertisement. I get inspired by everything which has an aesthetic approach. But I come from classic graffiti. Starting in the early 2000s, I began spraying the streets and later painting full-color styles. So I am also inspired by graffiti letters.
Later I did a graphic design training and extensively learned about art history and movements like Bauhaus or "Blauer Reiter", which really gave me a boost for my own stuff. Especially artists like Picasso or Kandinsky made me rethinking my own standards.
Widewalls: How do you differentiate the work you are doing for the street and a more controlled setting such as a gallery, while still maintaining your visual identity?
KI: Some years ago, it was hard for me to define my own way of painting. I painted the letters and graffiti pieces but also had a big preference for clean graphics. Before, I didn't know how to bring that together. Nowadays I developed my own way of painting. So I mostly paint a combination of both. Also on the walls. I just paint, what comes to my mind. Sometimes it is abstract sometimes it is graffiti.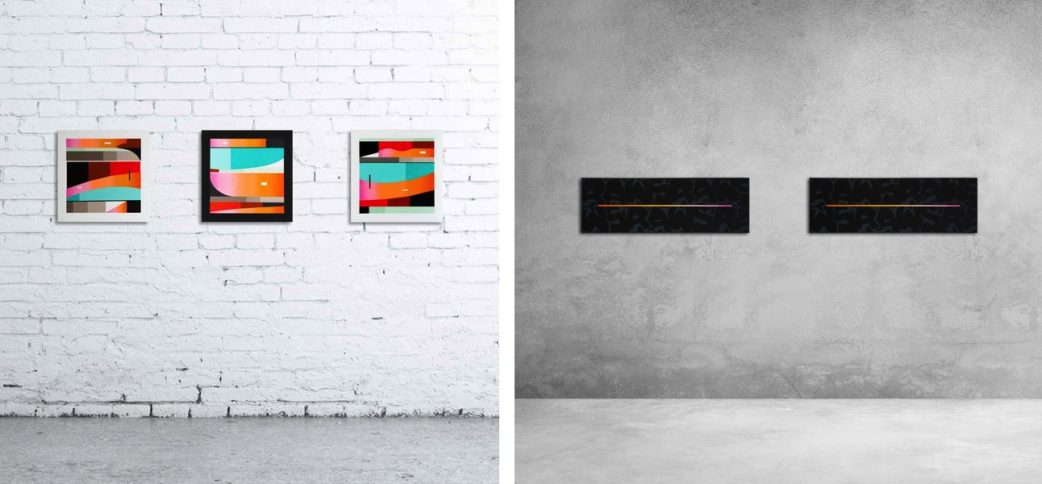 Berlin Street Art
Widewalls: You are part of crews Super Bad Boys and Offcrew. Could you tell us more about their practice?
KI: My Offcrew is a classic bombing crew, which I have been part of for years. These guys rock the streets of Berlin since 2006. We are kind of friends, who started painting graffiti in the same hood at the same time and became friends. The Super Bad Boys crew is a classic legal-arty collective. We all have kind of the same approach when it comes to what we love about art and graffiti. Painting big high-quality walls, developing our own styles and having good times together are the main similarities of our crew members. And of course, we are good friends too.
Widewalls: Berlin has always been regarded as one of the capitals of urban art. What does the city's current street art scene look like, in your opinion?
KI: I think it is very versatile. For me, there are so many different approaches which makes it very interesting for me. You have a big graffiti scene, many foreign artists, street art galleries, parties, art events, creative spaces.
In my mind, Berlin is kind of a melting pot. People from all over the world come to Berlin to see the street and graffiti cultures. And of course, Berlin has its very unique rough flavor, which is what many artists love because it is authentic and honest.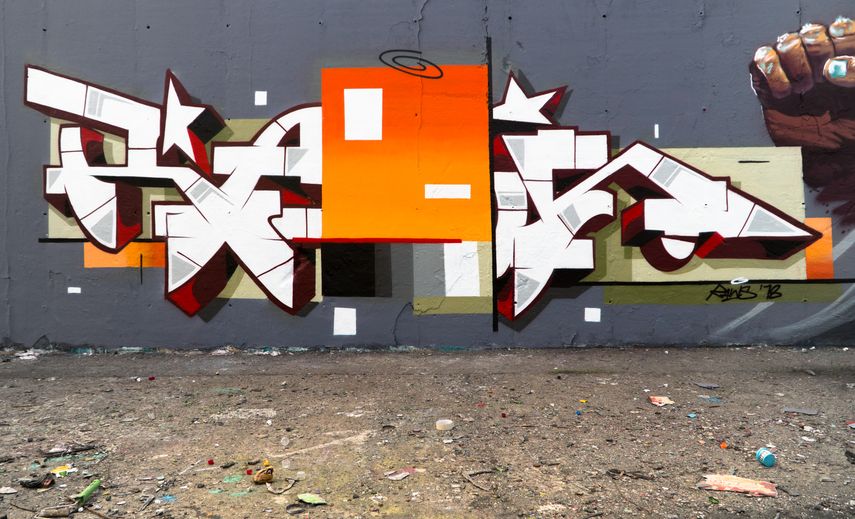 Future Plans and Projects
Widewalls: Are there artists who have inspired your work along the way and whose work you appreciate now?
KI: I love everything minimalistic, unique and abstract. I am addicted to well-arranged compositions with bright colors. So I can name some artists - I really like Picasso, Kandinsky, Gropius, Richter, Klee, Rothko or Warhol, among others. Nowadays I discover many artists due to social media. Instagram is perfect for that and for following amazing visual artists. I am addicted to Remi Rough, Felipe Pantone, Okuda, Jan Kalab or William LaChance.
Widewalls: What's next for you?
KI: After the show at Urban Spree Galerie is done, I will have some more group shows and maybe one or two smaller solo shows this year. I will also have some collaborations with brands. If you want to see what is coming up in detail, just follow me on Instagram or check my website.
Featured image: Portrait of Kai RAWS Imhof, courtesy Urban Spree.