Raymond Pettibon grew up in Hermosa Beach, California and began his career as a musician and designer. Throughout the 1970s and early 1980s he was a part of the Californian punk rock scene, working with several rising bands like Black Flag for whom he designed now the iconic "four bars" logo, and several album covers.  Pettibon also collaborated with Sonic Youth and even designed the cover for their 1991 album "Goo". Until the beginning of the 90s, he already became a household name in the contemporary art scene and started exhibiting in major galleries and museums and earned several awards for his work. Pettibon has exhibited all over the US and around the works and his works are part of the permanent collection of The Museum of Modern Art, New York, The Tate Gallery in London, and the San Francisco Museum of Modern Art among others.

American Culture as a Main Influence
Pettibon's subject matter is sometimes violent and anti-authoritarian. As his main influences he takes elements from American culture, especially deviances of marginal youth – culture to art, literature, sports, religion, sexuality and even politics. Using pencil, watercolor, collage, gouache or acrylic paint, he combines it with motives that include Charles Manson, surfers, baseball players, vixens, homicidal teenage punks and the cartoon figure Gumby and adds either borrowed passages from literature or text written by the artist himself.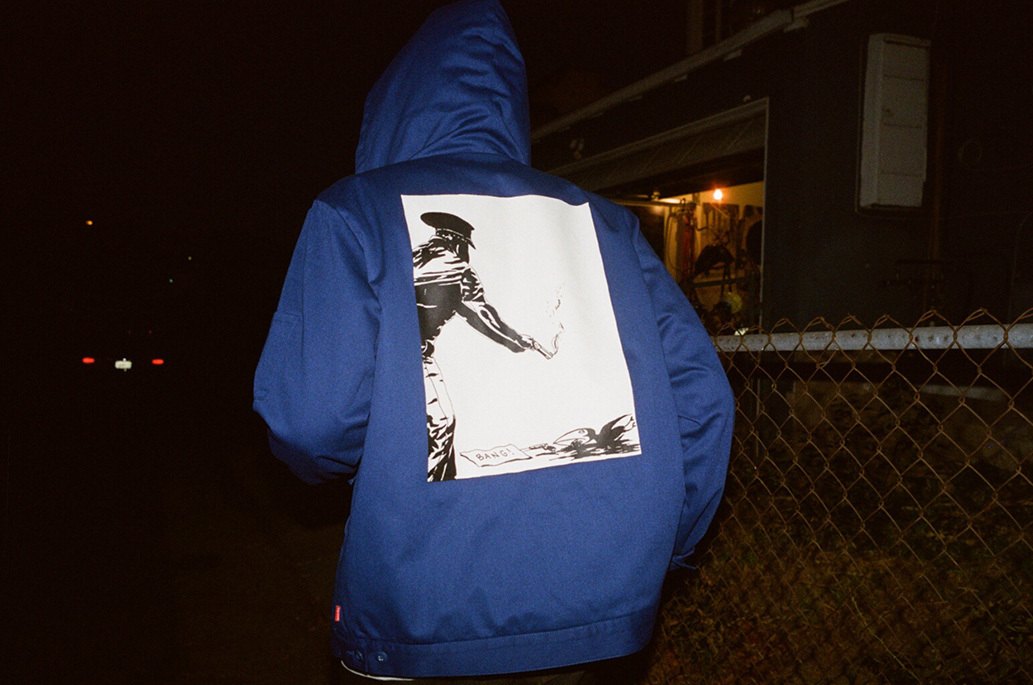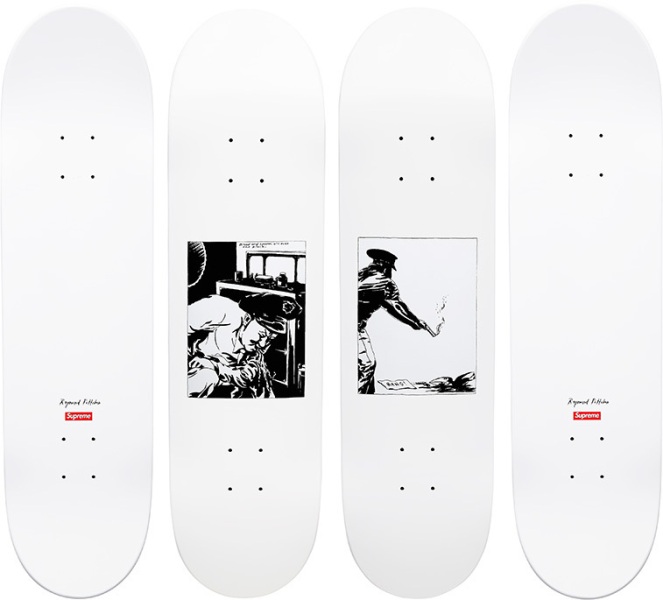 Introducing A New Collection
Wanting to expand field of his work to something new, Pettibon decided to do a collaboration with Supreme New York and release a small "street" collection of items including two Skateboard decks, a Hooded work jacket, a Pullover Sweatshirt, and two T-Shirts featuring his artwork. All the items are available in four colors – black, white, blue and red. Proceeds from the sales will be given to the Silverlake Conservatory of Music in Los Angeles.
Items are available in-store in New York, Lon Angeles, London and online from September 18th, and in Japan two days later.