A Seattle-based contemporary artist, Redd Walitzki is known for sensual portraits of ethereal yet slightly-feral, fairytale women. Her practice embodies the balance between the inevitable entropy of nature and the unattainable beauty through experimentation. Her latest body of work is currently on view at Corey Helford Gallery. Titled Stranger Than Earth, the exhibition serves as a requiem to an Earth transformed by climate change. As we cannot go back to the way our planet was before, the artist suggests we might be able to create a new world full of alien beauty. A body of work consisted of delicate mixed media paintings, it combines the romanticism of high-fashion with a science fiction edge.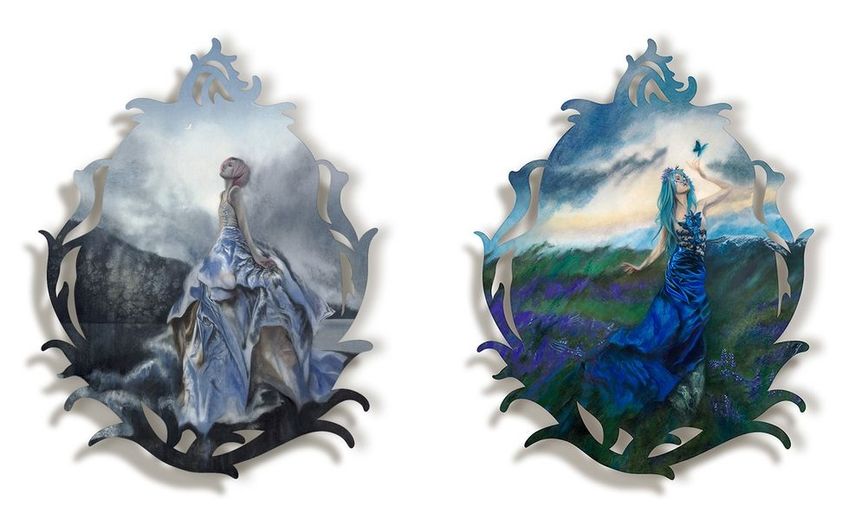 Technicolor Muses
Redd Walitzki finds inspiration in the lush surroundings of her home in the Pacific Northwest, and the ornate Baroque ornamentation of her native Bavaria. Often exploring the darker side of human impact on ecology, she creates vivid technicolor muses that enact a dreamily erotic exploration of both the lure of fleeting modern day high fashion glamor as well as the original meaning of the term "glamor". In ancient times, the term referred to illusory shape-shifting used by supernatural beings to perilously enchant hapless humans. At one with their lush surroundings, they bring to life a compelling world of fleeting beauty. In this latest body of work, she depicts explorers that serve as a reflection of their environment, both unknowable and also entering into unknown spaces. In these pieces, atoms are dancing, hearts are breaking, and the viewer dissolves into endless fields of flowers.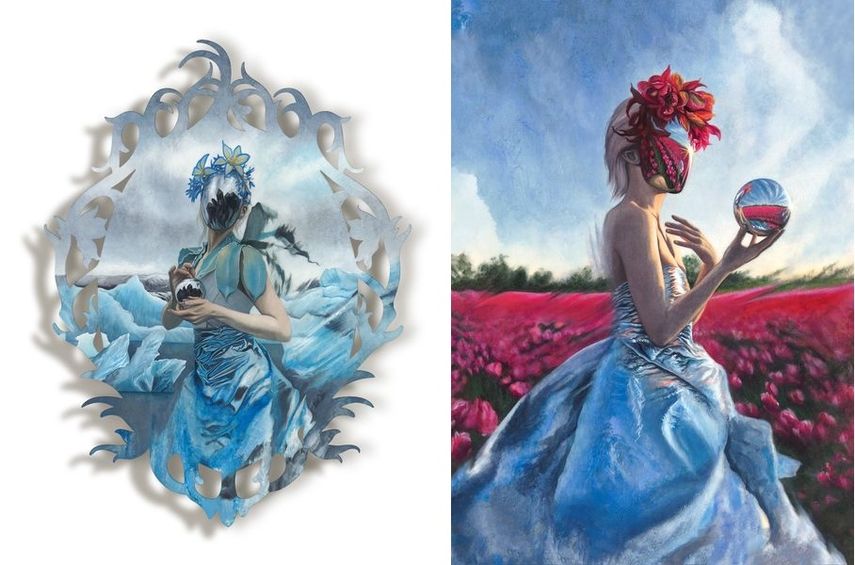 The Epic Journey
Each piece in this series is the result of an epic journey. To capture the initial reference imagery, Redd Walitzki traveled to Iceland, spent several days in the Skagit Valley Tulips, hiked through a blizzard to a frozen waterfall in Western Washington, and explored the outer frontiers of the creative mind. Awe-inspiring in their natural wonder, all of these locations have been reshaped by humans. This transformation is mirrored in a very personal way. Drawing from the outside world that was in a state of upheaval, but also the turmoil of her personal life, she created paintings that depict the balance of a world which is transforming while it also transforms us. Since all of the models and photographers involved in the series are her long-term collaborators, the artist could rise to the challenges of personal and artistic transformation.
Redd Walitzki - Stranger Than Earth, the process
Redd Walitzki at Corey Helford Gallery
Walitzki's subjects invite us to an illusory world we may never fully enter and remind us that the complexity of our natural world is slowly disappearing. Experimentation with materials and use of technology plays a prominent role in her work. After capturing a reference photograph to work from, she uses a mixed-media process that combines watercolor underpaintings with highly detailed layers of oil-glazes, on custom designed laser cut panels. The exhibition Stranger Than Earth will be on view at Corey Helford Gallery in Los Angeles through August 12th, 2017.
Featured image: Redd Walitzki - Fox Silhouette, behind the scenes; Redd Walitzki, Progress Wall. All images courtesy Corey Helford Gallery