Even if you are not a big fan of street art, or Banksy for that matter, you certainly know that UK street art superstar did a series of murals in the French city of Calais last week. And where Banksy goes, controversies follow. The new mural depicting Steve Jobs as a Syrian refugee, which appeared in the infamous Jungle camp, was the most talked about subject recently, and the hype even inspired the city officials to preserve the work. However, the refugees decided they can do the preservation work equally well and covered Steve Jobs mural with a blanket. And while they're protecting the mural, they figured they can make some money out of it.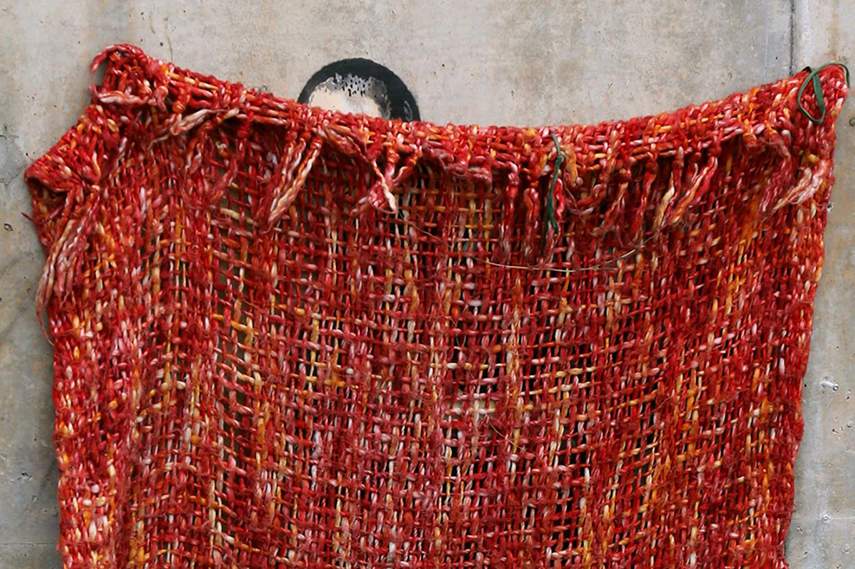 Banksy and the Migrant Crisis
In a recent statement, regarding Steve Jobs portrait and several other murals, Banksy commented on the common stereotype of freeloading migrants who are a drain on the country's resources. Although some would say that Steve Jobs is not a particularly good choice, Banksy did try to fight rising xenophobia and highlight the benefits of the migration. Earlier this year, he also commented on the incompetency of government officials to deal with the humanitarian crisis and sent materials from his Dismaland installation to Calais to help in the building of the shelters for the migrants. In the light of Banksy's efforts to build a positive image of the migrant community, how can we read their decision to hijack the piece and try to profit out of it?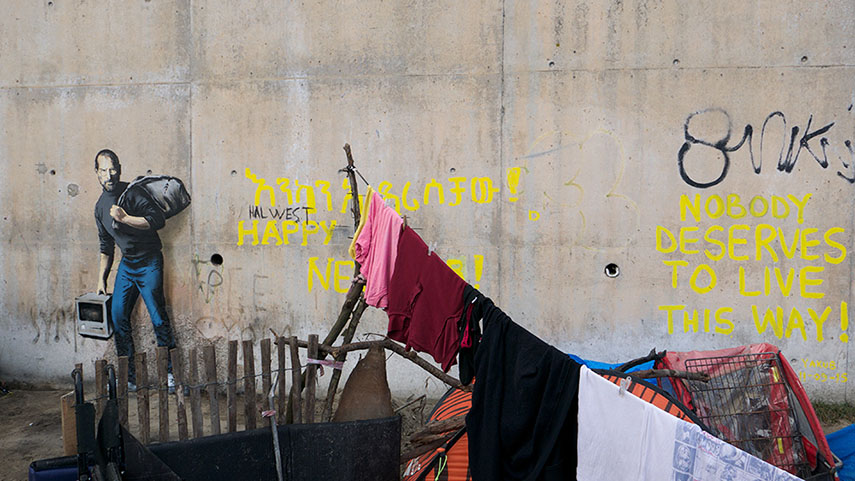 Hijacking of Banksy's Mural in Calais
The migrant crisis that has been shaking Europe recently is certainly something that should be taken seriously. But when it comes to this particular situation, the irony is so strong that you can't help but smile. For a moment, at least. Anyway, a few days ago when reporters started circling around Banksy's mural situated in the camp, a group of quick-thinking refugees saw a potential monetary benefit from the piece. After all, Banksy chose that specific location to help the migrants, but publicity and symbolism are not as good as a direct financial help. Desperate times call for desperate measures, and it is why a group of migrants covered Steve Jobs with a blanket and started charging people who are interested in seeing the mural. The prices can vary, but with some bargaining, the Calais migrants are willing to unveil it for 5 euros.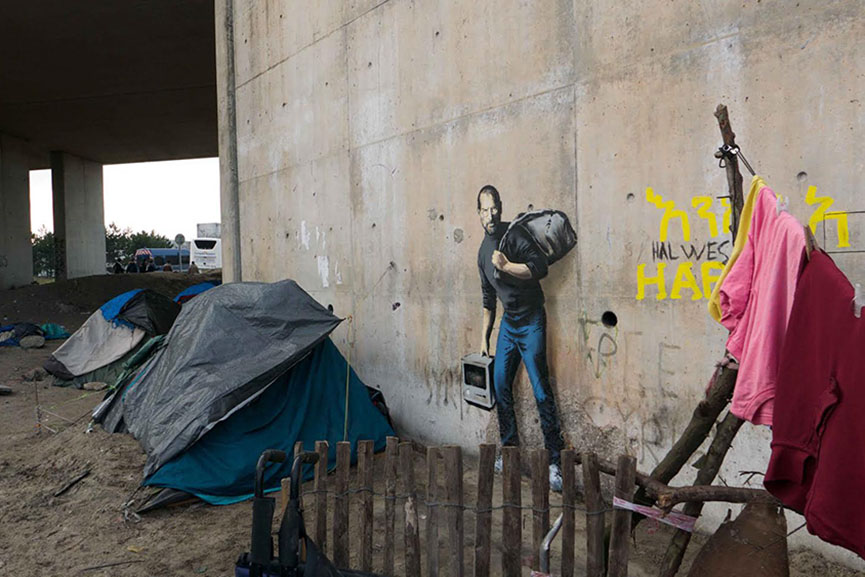 Are Migrants to Be Blamed?
Surely, the initiative to hide the mural and charge people to get a glimpse at the piece does add to the negative image of freeloading migrants. But, as Banksy says, "we are not all in the same boat". Should we blame the migrants for trying to make a couple of bucks from the mural? The Calais camp is now a home to approximately 6.000 refugees and asylum seekers who have found themselves in terrible and harsh living conditions, and things don't seem to be changing for the better. And surely, public art does not belong to anyone, and Banksy and many other artists are against the monetizing of their public works. However, it is not the same when murals get detached from the walls to be sold for millions and a situation where people are trying to find a way to survive. Even though the situation looks absurd, this new entrepreneurship in Calais is something that shouldn't be mocked or judged. That is my opinion at least, and you are free to make your statement.
Tell us what you think on our Facebook page!
Featured image: Refugees next to Banksy's mural. Photo via japantimes.co.jp