The favorite toys of many around the globe, Barbie and Ken dolls have taken on various social roles in the past. For example, Barbie was depicted as a doctor, a chef, a pilot , a politician and a solder and nobody seemed to make a fuss about it. But when it comes to portraying Barbie as Virgin Mary or Ken as Jesus Christ and other religious figures, people seem to be lot more touchy. And that's exactly what happened at The Plastic Religion exhibition that sparked controversy among various groups in Argentina and worldwide that claim that depicting Barbie dolls as saints and Ken as Jesus Christ is offensive to their holy icons. The exhibition of works by artists Emiliano Pool Paolini and Marianela Perelli, was planned for last year, but eventually had to be moved due to social uproar followed by death and similar threats.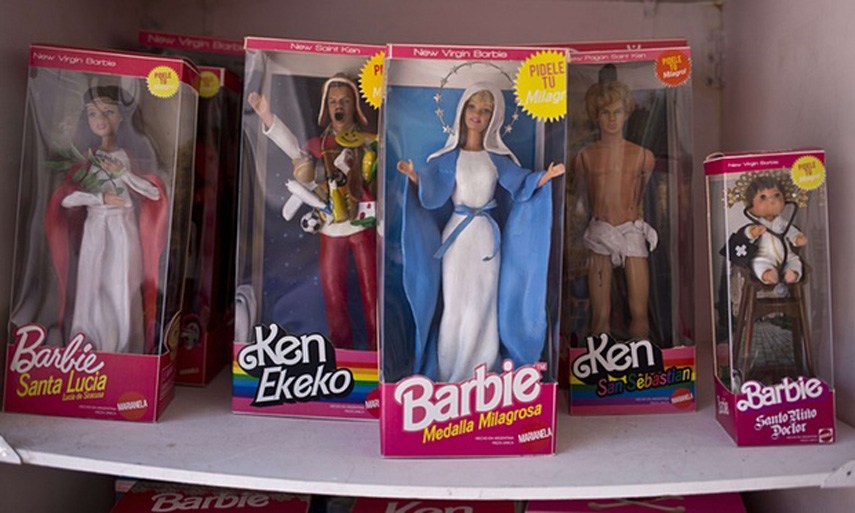 The Plastic Religion Exhibition Features Saint Barbies and Buddhist Ken Dolls
The unusual saints have taken over the space of Popa Galería de Arte in Buenos Aires. Emiliano Pool Paolini and Marianela Perelli, created a series of 33 religion inspired Barbie and Ken dolls with the aim of comparing the religious figures with the idols of today. Barbies are all dressed-up and set up to portray saints from various cultures, including Virgin Mary with an accompanying baby Jesus, Mary Magdalen rising a bible (while her robe falls revealing her chest) any many saint patrons of Latin America. Christian version of Ken is nailed to a wooden cross, complete with flowing loincloth and a bleeding wound, while Buddha Ken sits on the floor in the lotus position. The artists also produced Jewish and pagan mythical figures, but avoided representing Muslim figures, whose depiction is prohibited in Islam, such as the prophet Mohammed. Needles to say, the exhibition encountered a wave of disapproval from all over.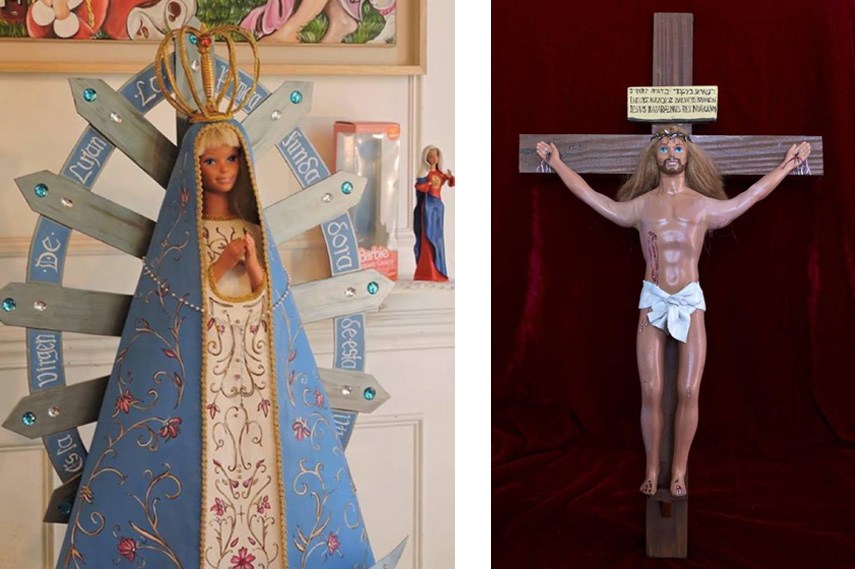 The Latest Rebellion of Pool & Marianela
Working under a joint name Pool & Marianela, artist Emiliano Pool Paolini and Marianela Perelli are an artistic duo that "rebel to reveal". They battle against the world in which we are inclined to conform, or in their own words to "think, act and feel all the same". Pool & Marianela use their art to disconnect from a historical, political, religious and fictional universe in which many of us are trapped. Together they created numerous paintings and sculptures that often deal with religious and death symbols and The Plastic Religion is their most noticed exhibition yet. The inspiration for this exhibition came from a trip to Mexico, where they have witnessed the annual Day of the Dead celebrations. They were captivated by the statues of various Catholic saints and came to the conclusion that Barbie doll is the only icon that can measure with the popularity of these saints in our modern consumerist world. In their opinion religious figures of the past are in fact, Barbies of the pre - consumerist era. "It was simply the union of the two most popular elements of history: the Barbie doll and religion," Marianela Perelli said for USA Today. But many didn't see it that way.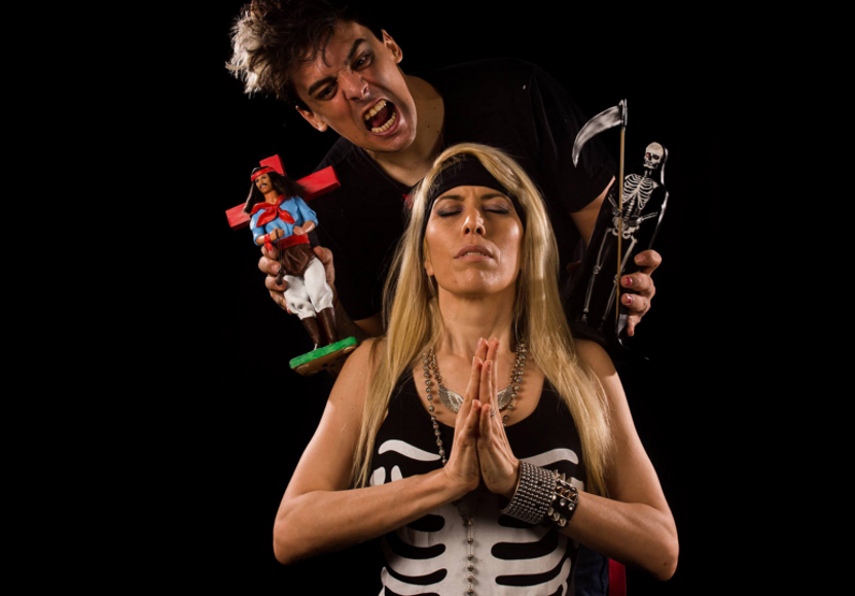 The Controversy and Social Uproar
Adrian Santarelli, a priest at St. Thomas More parish in Buenos Aires said for USA Today, that "The idea of dressing (dolls) with sacred images of sacred persons alters and damages the child's levels of understanding of the sacred.", and also added, "Could we consider normal that a child prays to Barbie?". And while conservative Christians in Argentina resented the portrayal of Catholic saints including their own patron Virgin of Lujan, the religious people of India were offended by the representation of a Hindu goddess Kali. The artists claim that they didn't mean to offend anyone, "I think that Barbie has a bad reputation but the reality is that she's the most widely sold doll to children so why do people think she's like a prostitute?", artist Marianela Perelli said for USA Today. So it's more of a praying with the Barbie rather than praying to it. Besides, it seems that religious symbols have already found their place in consumerist culture. Golden crosses and religious images are sold every day and during the U.S. visit of Pope Francis a variety of dolls (yes, dolls) bearing his image were sold for purely commercial gain. But that didn't stop some of less peaceful believers from sending numerous threats aimed at both the artworks and the artists causing the exhibition, originally scheduled for last year, to be delayed. This time however, the artists couldn't be intimidated. "A year ago, we weren't ready to deal with how our work was being misinterpreted. After much deliberation we felt the need to exhibit the series, and we only gave 10 days' notice to limit the negative repercussions"- Marianela Perelli said for The Guardian. The Plastic Religion, is a part of the larger exhibition appropriately entitled Saint and Sinners that will be on display till November 20th, 2015 at Popa Galería de Arte in Buenos Aires.
How do you feel about these religious versions of Barbie and Ken? Leave a replay on our Facebook page.
We bring you the latest controversy from the exciting world of art so sign up for My Widewalls right now!
Images courtesy of Emiliano Pool Paolini Facebook page unless otherwise credited