Although still quite underappreciated, street art is getting more and more recognition - in fact, many artists are now bringing their practice inside esteemed museums and galleries, blurring the line betwfaeen urban art and fine art a little more every day. It is amusing for both the artists and the spectators to witness large-scale, outdoor painting turn into one on a much smaller scale, and sometimes to see it demanding the use of very different techniques too. These works, however, don't make shifts in the artist's style, as they only become of different format and appreciated in a new way. And so, we have Rems182, a graffiti maker who is also a modern figurative painter, and the two influences make the backbone of his new works currently on view at Punto618 Art Gallery in Venaria, Italy.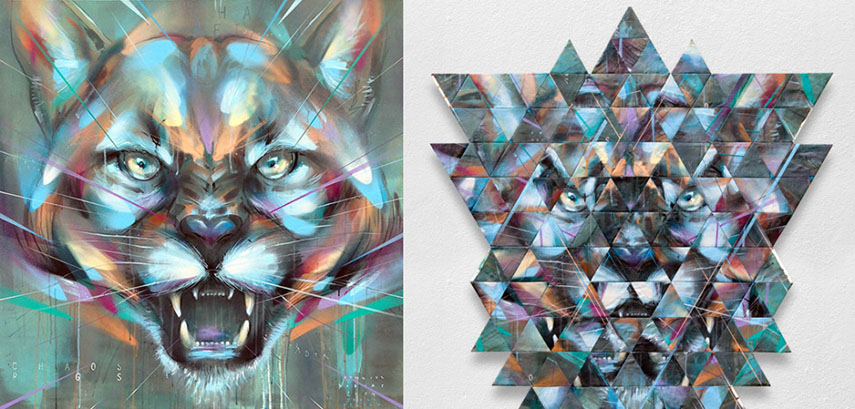 Between the Real and the Surreal - Rems182
Born in 1982, Emanuele Ronco, better known as Rems182, inserted himself into the Italian graffiti and street art scene at the age of 17, taking interest in aerosol and lighting his interest in arts. Over the years, he developed a unique pictorial language in large-scale portraiture, in which he often puts his subjects in relation to death, eroticism and violence. Rems182 depicts multiple perspectives of a person, where their hands and face blend into each other, dividing our focus towards various points of his artworks. Accompanied by strong emotion, these murals ooze with color that follows a narrative anyone could relate to. In years that followed his own education, Rems182 became a teacher himself, having organized aerosol art courses, lectures and workshops.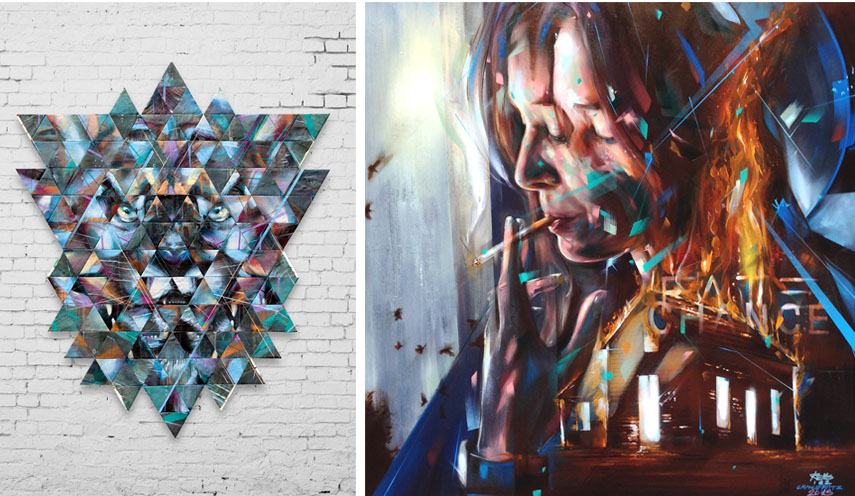 Abstract Tensions
At Punto618 Art Gallery, Rems182 presents two different series of artworks presented in two distinct environments. The first part, which features six works, focuses on the female figure and reflects on the dualism between figuration and graffiti in the artist's own artistry. The paintings evoke his alluring visions of femininity, sensibility, captured in the middle of a deep thought. The second part of the show is a new collaboration with fellow artist Fabio Zanino, in which they jointly unite the animal world with graffiti. Following the idea of the deconstruction, they give life to the sculptures of the same name. Through this process, Fabio Zanino turns Rems182's canvases into space-occupying pieces, while Rems182 himself drives his own art towards more abstraction, deconstructing the initial message of their artworks, but maintaining the perception of the primary subject.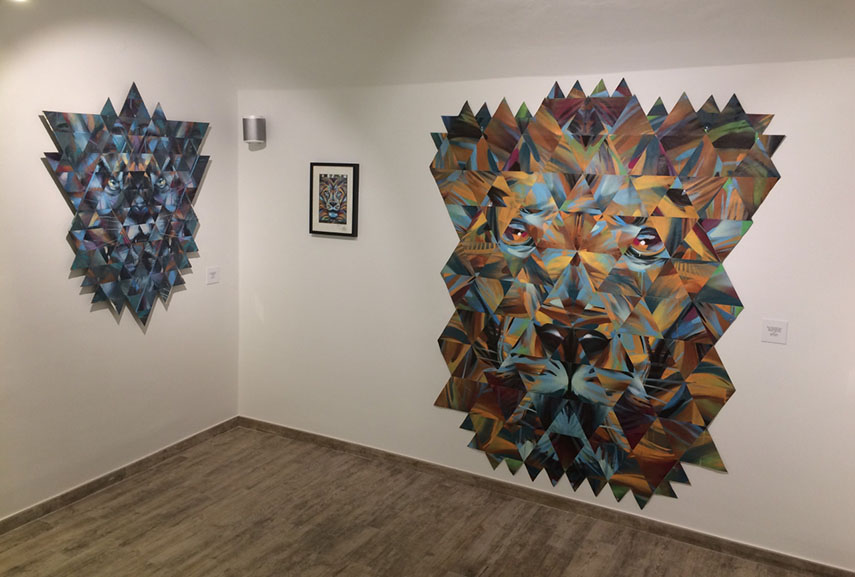 Rems182 Exhibition at Punto618 Art Gallery
Rems182 is also the co-founder of the Truly Design collective, together with three other friends also interested in graffiti and street art. The groups is now producing works of illustration, graphic and logotype design for many international clients. Tensione Astratta, or Abstract Tension, an exhibition of works by Rems182, opened at Punto618 Art Gallery in Venaria Reale, just outside Turin, Italy, on November 1st and will close on December 8th, 2015.
All images courtesy of Punto618 Art Gallery.