Practically the first truly modern art movement aiming to reform the traditional academic cannons, introduce different themes, motifs, and painterly techniques was Impressionism. It gathered a group of artists willing to change the course of painting and one of them was Pierre-Auguste Renoir.
This master was largely inspired by Manet and Pissarro, yet by employing the practice of painting light and water en plein air, he managed to develop a recognizable aesthetic mostly centered on feminine sensuality. Although he had been rejected by the Parisian Salon jury on several occasions and had joined forces with his comrades, when he produced the famous portrait of notable French salonist and art collector Marguerite Charpentier, he quickly gained fame and became quite a fashionable painter. In 1890, he married Aline Victorine Charigot, who was a dressmaker, and the two had three children, all of whom became famous - Pierre Renoir (1885-1952), was a stage and film actor; Jean Renoir (1894-1979) was an iconic filmmaker, and Claude Renoir (1901-1969), who was a ceramic artist.
In order to explore the relationship between the father and one of the sons, as well the mutual inspiration and influence, the Parisian Musée d'Orsay put together an extensive exhibition called Renoir father and son: Painting and cinema.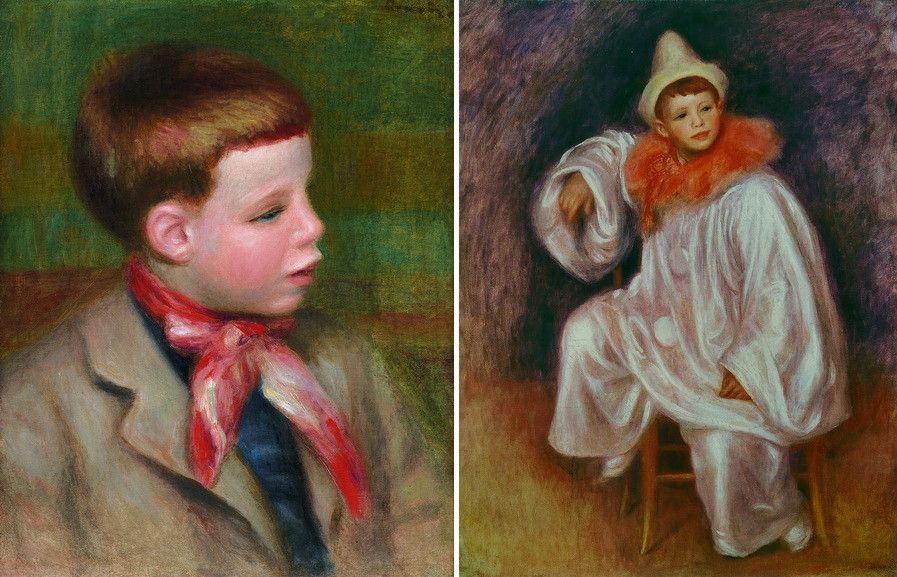 The Exhibition Context
Jean Renoir is saluted as one of the greatest movie-makers of the 20th century. He grew up in a creative environment and was often portrayed by his father. When Jean was twenty-six years old, Pierre-Auguste passed away, so naturally, the filmmaker inherited a number of paintings which were highly regarded and sold them during the 1920s. Interestingly so, before starting his cinematic career, Jean Renoir used to produce and sell ceramics, a craft he had learned from his father.
In 1924, he released his first feature film called Catherine, inspired by a movie star and his wife Catherine Hessling, who also posed for the painter. In the 1930s, Jean Renoir successfully produced the films La Chienne (The Bitch) and Boudu.
Then came La Grande Illusion (Grand Illusion), a 1937 film still considered one of the most important cinematic features in film history. During the 1940s Jean moved to Los Angeles where a collaboration with Hollywood studios set off, so movies such as French Cancan (1954), Elena et les Hommes (Elena and Her Men) (1955), and Le Déjeuner sur l'herbe (Picnic on the Grass) (1959) were produced.
In 1946, Jean Renoir made another iconic movie called Partie de campagne (A Day in the Country) which made him a symbolic godfather of 1960s French New Wave. The structure of the film was quite innovative, since it offered the freedom of interpretation, it was filmed outdoors, based on a short story byGuy de Maupassant, and is often seen as an Impressionist work, which tells much about the exchange of the father and the son.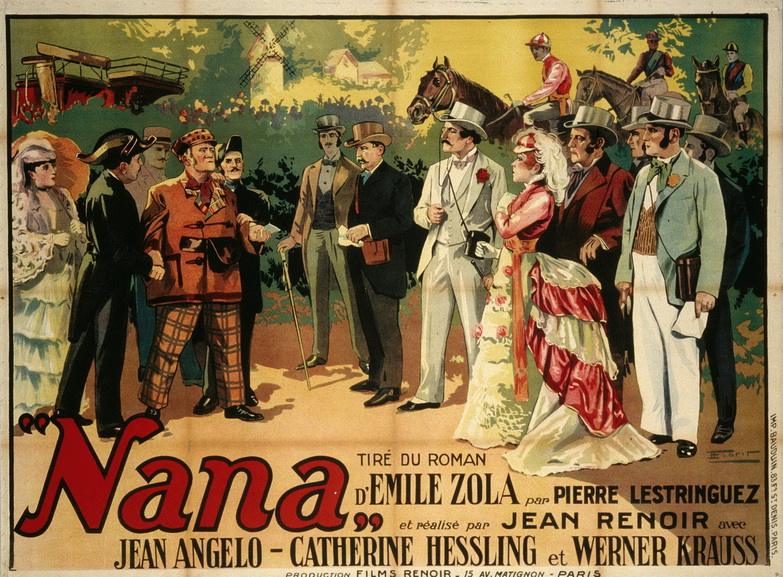 The Installment
The exhibition offers a plunge into the dialogue between Renoir father and son, between two artists, as well as between painting and cinema. It tends to explore this intensive and often paradoxical liaison by underlining how much Jean's examinations of the distance and proximity in Pierre-Auguste's paintings influenced his artistic personality and independence as a film director.
Along with his cinematic oeuvre, the installment will focus on Jean Renoir's role in the interpretation and presentation of his father's works and his relations with the art world, as well as on his ceramic practice in comparison with his films.
As it was mentioned, the son often posed for the father, although Renoir senior was never filmed by the junior. However, the paintings, film extracts, photographs, costumes, posters, drawings and documents, some of which are on display for the very first time, will reflect on the themes (the role of the female model) and locations (the River Seine, Montmartre, Southern France) which are present in both Renoirs' painterly and cinematic practices based on the explorations of social freedom and in general of humanity.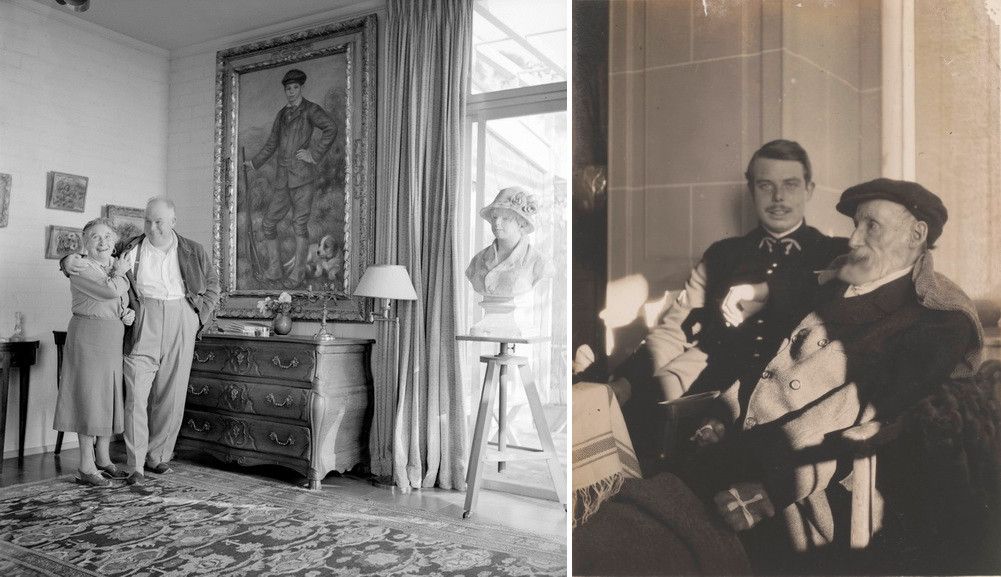 Renoir, Father and Son at Musée d'Orsay
After Jean Renoir passed away in 1979, the notorious actor and director Orson Welles paid him a tribute by describing him as the greatest of all directors. Just like Chaplin and Stroheim, Jean Renoir introduced a new mode of expression as a major art form, so that the director took the role of a proper author.
In joined efforts, Sylvie Patry, director of conservation and collections at the Musée d'Orsay, and Matthieu Orléan, artistic advisor for La Cinémathèque française, for the selection of films, who curated the exhibition were eager to contextualize how the relationship between the film director and the painter went beyond influence and exchange. Finally, it is a valuable contribution to the art history not only in local terms but in the global ones as well, since it reveals a number of different references appropriated by both authors and underlines the importance of their heritage for the upcoming generations of artists.
Renoir father and son: Painting and cinema will be on display at Musée d'Orsay in Paris until 27 January 2019.
Editors' Tip: Renoir: Father and Son / Painting and Cinema
The Impressionist paintings of Pierre-Auguste Renoir are characterized by portraits and lively episodes from daily life. These joyful scenes influenced the life and work of his son, filmmaker Jean Renoir, who Orson Welles described as "the greatest of all directors." This catalogue—and the traveling exhibition it accompanies—demonstrates how Pierre-Auguste Renoir's artistic practice and creative universe influenced Jean's art, and how Jean's films shed new light on his father's paintings. Focusing on leitmotifs in both artists' works, this volume commingles paintings, drawings, films, costumes, photographs, and ceramics. Contributions from the Barnes Foundation, the Musée d'Orsay, and the Cinémathèque Française provide in-depth insight.
Featured images: Pierre-Auguste Renoir - The Bathers, 1919. Oil on canvas, 60 × 110 cm. Paris, Musée d'Orsay, gift of the son of the artist, 1923, inv. RF2795. Photo © Orsay Museum, Dist. RMN-Grand Palais / Patrice Schmidt; Pierre-Auguste Renoir - The Seine at Champrosay, 1876. Oil on canvas, 54.6 × 66 cm. Paris, musée d'Orsay, bequeath Gustave Caillebotte, 1894, inv. RF2738. Photo © Orsay Museum, Dist. RMN-Grand Palais / Patrice Schmidt; Pierre-Auguste Renoir - Way up in the high grass, 1875. Oil on canvas, 60 x 74 cm. Paris, Musée d'Orsay, don Charles Comiot through the Society of Friends of the Louvre, 1926, inv. RF 2581. Photo © Orsay Museum, Dist. RMN-Grand Palais / Patrice Schmidt; Unknown photographer (Durand-Ruel photograph) - Jean Renoir in his father's workshop in Collettes, Cagnes, 1911. Photography, 22.5 x 28.5 cm. Los Angeles, The University of California (UCLA), Charles E. Young Research Library, Library Special Collections, John Renoir Papers, box 20, folder 3 © UCLA Library Special Collections; Eli Lotar - Filming of Jean Renoir's film "A Country Party", 1936. Negative glass gelatin silver bromide Paris, Center Pompidou - National Museum of Modern Art - Industrial Creation Center Photo © Pompidou Center, MNAM-CCI, Dist. RMN-Grand Palais / Jean-Pierre Marchand © Eli Lotar. All images courtesy Musee d'Orsay.