On Monday, October 5, Renoir Suck at Painting movement organized a public protest in front of the Museum of Fine Art in Boston. The protestors demanded the museum remove Renoir paintings from the walls! Anti-Renoir protestors had signs that said: "God Hates Renoir", "reNOir", "Take 'em down! Renoir Sucks", "Aesthetic Terrorism" and others. Maybe we should mention that among Renoir's painting exhibited at the museum is famous Dance at Boufival from 1883. The protest itself was organized by Max Geller, creator of the Instagram account Renoir Sucks at Painting, and apparently the informal leader of the movement. This new movement has one clear goal: Auguste Renoir was a terrible artist, and his works should be removed from the museums. As Geller said to the Guardian: The decision to hang Renoir by the Museum of Fine Arts when there are literal masterpieces by true masters in museum storage represents an act of aesthetic terrorism. The Museum of Fine Art in Boston hasn't made any public statements for the moment.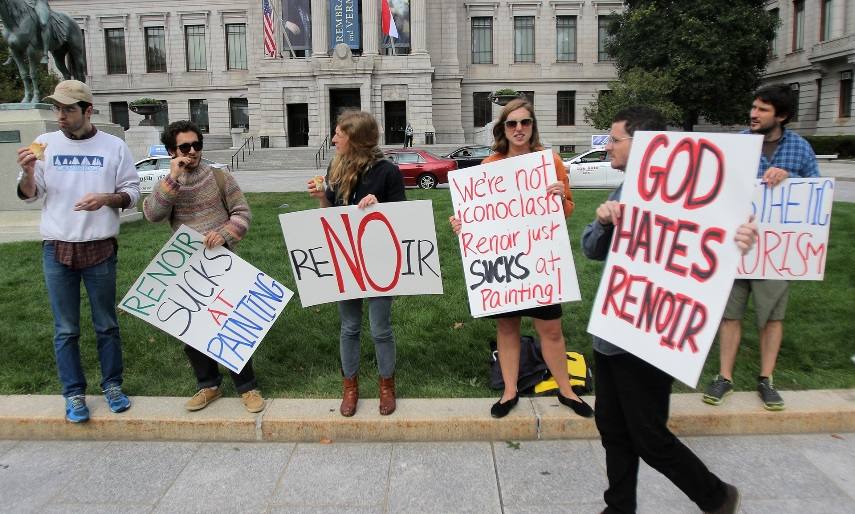 Renoir Sucks at Painting Movement
This movement was born of an Instagram Renoir Sucks at Painting account, that already has more than four thousand followers. The movement was inspired by Max Geller's visit to the Barnes Foundation in Philadelphia, which houses a large collection of Renoir paintings, or, as Geller called them, "empty calorie-laden steaming piles". Some members of the movement said that the whole protest is nothing personal – the fact is that they just don't think French impressionist Pierre-Auguste Renoir is much of a painter. As Max Geller told the Guardian: In real life, trees are beautiful. If you take Renoir's word for it, you'd think trees are just a collection of green squiggles. The movement is actually active on Instagram, where some Renoir's paintings have been "analyzed". The discussions on the Instagram account of the movement became interesting when Genevieve Renoir, who says she is the painter's great-great-granddaughter, replied to critics: When your great-great-grandfather paints anything worth $78.1m dollars … then you can criticize. In the meantime, it is safe to say that the free market has spoken and Renoir did not suck at painting (two of Renoir's paintings have sold for more than $70 million. Bal au moulin de la Galette was sold for $78.1 million in 1990).
Renoir Sucks at Painting Instagram Profile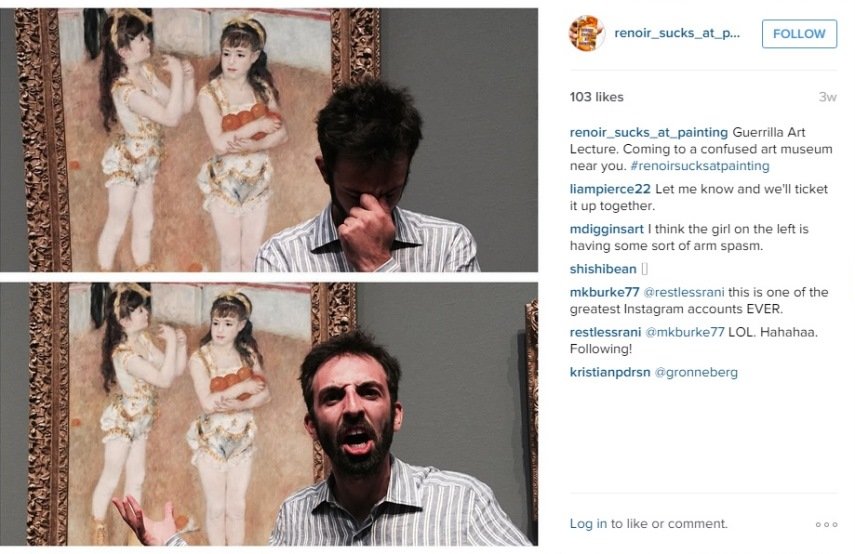 Is This Movement An Irony? A Political Statement or Just a Cry for Attention?
OK, even those who like Renoir could agree that both the protest and the movement are funny way to express a dislike or detest towards an artist. But, is there a need for a movement or for a protest? If someone doesn't like Renoir, he or she could simply skip his paintings in museums, or write a text, a blog or an article. Maybe this whole movement is an organized cry for attention. After this protest, and all the media coverage, the number of followers of the movement's Instagram profile will only raise (speaking about Instagram, be sure to check our article about Instagram Wall Art Widewalls readers loved in September). Also, maybe there is some political stand behind this story. When Genevieve Renoir stressed out the fact that the paintings of her grand-grand-grandfather have been sold for millions of dollars, Geller replied: I think that is one of the most absurd and insane arguments for anything, the idea that we should let the free market dictate quality. Similarly, he suggested the museum replace its Renoir collection with work that reflects more diversity rather than just white males and their white male gaze. Or, is it about public attention after all?
We would like to hear your opinion! Share your opinion on our Facebook page!
For the latest new from the world of contemporary art, sign up for My Widewalls! It's free of charge!
Featured Image: Renoir Sucks at Painting protest (LANE TURNER,GLOBE STAFF, courtesy of bostonglobe.com)
All Images used for illustrative purposes only.