One of the most prolific contemporary architects on the global scale, Renzo Piano has been releasing outstanding projects and the majority of them are museums. From Centre Pompidou in Paris to the Whitney Museum of American Art in New York, his buildings have not only enriched cities and spaces across the globe, but are also still considered as ground-breaking and each time his new project announcement appears it is expected with great anticipation.
Piano managed to establish a specific and rather sophisticated style by carefully combining form, material, and engineering. During the process, the architect is present in each phase and makes sure that both technical and aesthetic standards are in sync to perfection. Piano actually underlines an extremely high level of craftsmanship by unpretentiously accentuating high profile of certain material which dominates the construction.
In order to honor the domains of Renzo Piano's architectural practice, the Royal Academy of Arts decided to release a comprehensive survey on the career of this renowned architect and Honorary Royal Academician on the occasion of the 250th anniversary of the Royal Academy.
Renzo Piano - The Exceptional Architectural Figure
One of the most famous architects was born in a Genovese family of builders and was encouraged to pursue that path. Piano graduated architecture at the Milan Polytechnic University in 1964 and began producing experimental projects centered on lightweight structures and basic shelters. A year later, he started lecturing at the same institution, as well as working for two international enterprises. Around 1968, he constructed and built his first project - the IPE factory in Genoa, which featured a roof of steel and reinforced polyester, and created a continuous membrane cover of a pavilion at the Milan Triennale.
At the very beginning of the seventh decade, Piano was commissioned by the Pavilion of Italian Industry for the first time, to design the project for Expo 70 in Osaka. For that purpose, the architect teamed up with his brother Ermanno and the family firm, and together they manufactured the structure composed of steel and reinforced polyester.
In 1971, the British architect Richard Rogers approached Piano and the two men opened a bureau called Piano and Rogers and worked together until 1977. Their first project was the administrative building of an Italian furniture company B&B Italia in Novedrate. The authentic design caused quite a stir and brought them to their next commission which was the iconic building of Centre Pompidou.
In 1977, Piano started collaborating with the engineer Peter Rice, with whom he established the Atelier Piano & Rice which functioned until 1981 when Piano decided to led his own enterprise titled the Renzo Piano Building Workshop. This acclaimed architecture firm is now comprising of 150 staff split between offices in Paris and Genoa has released over one hundred projects that include large cultural and institutional buildings, housing and offices, as well as urban plans for entire city districts.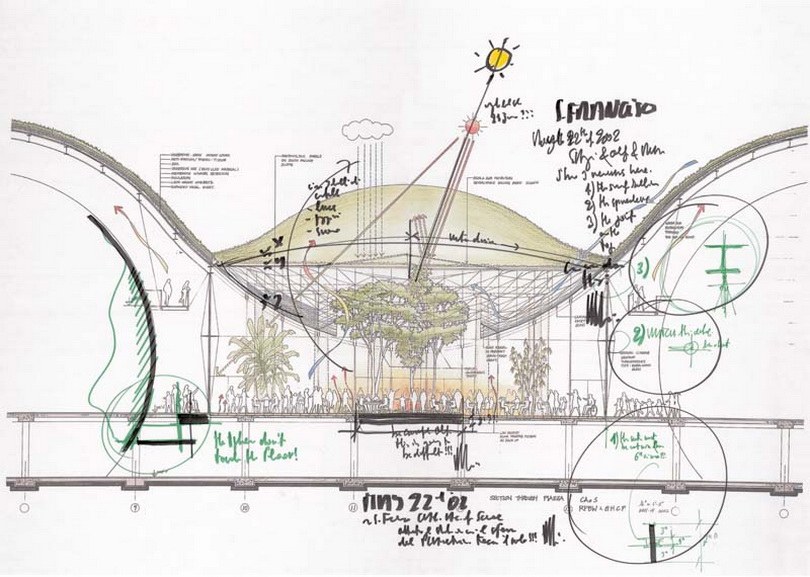 The Installment
The exhibition at the RA will reevaluate Renzo Piano's practice by exposing sixteen of his most impressive projects dating from the beginning of his career up to recent projects such as Centre Pompidou, Paris (1971), Jean-Marie Tjibaou Cultural Centre, Nouméa (1998), The New York Times Building (2007), The Shard, London (2012), just to mention a few.
Rarely seen archival material like models, photographs, and drawings will reveal the development of the creative process from the bare sketch to a fully realized building. As it was mentioned, Piano did a great number of grandiose exhibition spaces, so it will be interesting to see how the architect and his team dealt with the obstacle of enabling natural light into the galleries; in particular, the original models for the Menil Collection in Houston (1986) will reflect that. The white ceramic rods from the 1:1 mock-up of The New York Times Building, as well as the original competition drawings for the Jean-Marie Tjibaou Cultural Centre in Noumea will be on display as well.
The highlights of the exhibition will be a selection of portraits of Piano by Italian photographer Gianni Berengo Gardin, as well as a specially commissioned film done by Thomas Riedelsheimer which will reveal the architect's personal standpoints.
A sculptural installation designed by RPBW especially for this occasion will bring together one hundred of Piano's projects on an imaginary island and it will be the centerpiece of the whole installment.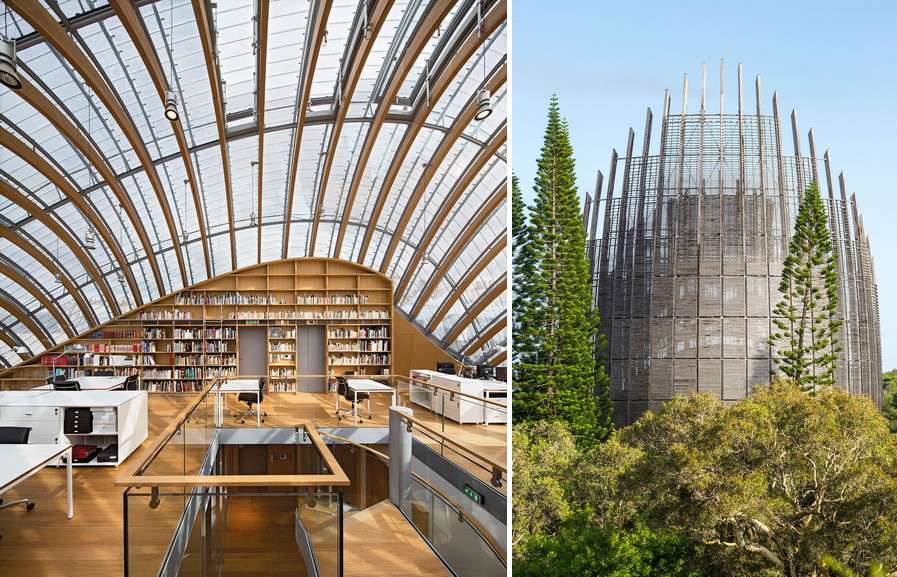 Renzo Piano Architecture Projects at The Royal Academy of Arts
Curated by Kate Goodwin, Head of Architecture and Drue Heinz Curator at the Royal Academy of Arts, and Renzo Piano with the Renzo Piano Building Workshop, the upcoming show will highlight the domains of this exceptional figure to full extent. The audience will have a chance to plunge into his creative visions and discover what led him to create such an extraordinary body of work. Furthermore, it will reflect on how architecture as an art form has to fulfill social, political and financial responsibilities.
Renzo Piano was thrilled about this exhibition:
It is an honor to be working with the Royal Academy on the inaugural architecture exhibition in the Gabrielle Jungels-Winkler Galleries. This exhibition aims to show how making buildings is a civic gesture and social responsibility. I believe passionately that architecture is about making a place for people to come together and share values.
The show will be followed by an extensive illustrated catalog with an introductory essay by Kate Goodwin and an interview with Renzo Piano by Sir John Tusa, as well as short essays written by leading figures in culture and politics which will analyze different aspects of Piano's practice.
Renzo Piano: The Art of Making Buildings will be opened at the Gabrielle Jungels-Winkler Galleries in Burlington Gardens within The Royal Academy of Arts in London from 15 September 2018 until 20 January 2019.
Editors' Tip: Renzo Piano: The Art of Making Buildings
One of the world's most renowned architects, Renzo Piano (born 1937) is responsible for such iconic landmarks as the Whitney Museum of American Art in New York, the Menil Collection in Houston, the Shard in London and the Pompidou Centre in Paris. He works closely with engineers to craft his buildings, which have changed cities across the globe. The Renzo Piano Building Workshop, based in Paris and Genoa, fosters this spirit of collaboration and mentoring, and continues to pioneer groundbreaking architecture that challenges and inspires. This book, which accompanies an exhibition at the Royal Academy of Arts, provides an intimate look at the life and work of a man who believes passionately that architecture should make a positive contribution to people and place.
Featured image: Italian architect Renzo Piano poses at his workshop in Paris, 2015. Photo © Francois Mori/AP/REX/Shutterstock. All images courtesy the Royal Academy.