Backslash Gallery in Paris is presenting latest installations by a deconstructivist rising star of French street art, Rero, who is creating two consecutive large spatial installations, the first one titled FOREWORD, and the following one will be EXHIBITION. Both installations make parts of a major gallery project entitled ERRORS IN THE TITLE, and as FOREWORD was on display January 7-11, the EXHIBITION vernissage is planned for January 30. The show will run through March 29, 2014.
Rero's Letters
This innovative exhibition project is marking a new turn in Rero's course of work. Known for his letterforms, word play and emblematic crossed-out phrases, the artist will explore the realm of the invisible, in terms of expressiveness and materialization, contemplating on their essence and its dichotomy within human perspective. This young word-whiz will attempt to blur the limitations imposed by our optical sense, and thus distort the generally accepted notion of reality, which semantically, often equals visibility . Through reexamination of reality as such, the artist accesses the invisible and connects with it on a different, impalpable and contemplative level. Setting the installations as deliberate barriers within the gallery space, Rero disables the viewer from entering the exhibiting area and pushes him to ignite the imagination in order to grasp the essence of the artwork. Suggestive choice of material for FOREWORD, alludes to its basic source - a paper book, and subsequently its contents. These contents have literally filled the gallery, thus materializing the myriad of words poured into the typographical genius' exhibition foreword. The ERRORS IN THE TITLE exhibition project will be marked by a monograph on Rero's art, published by Editions Gallimard (Alternatives) and available at the Backslash Gallery throughout the show.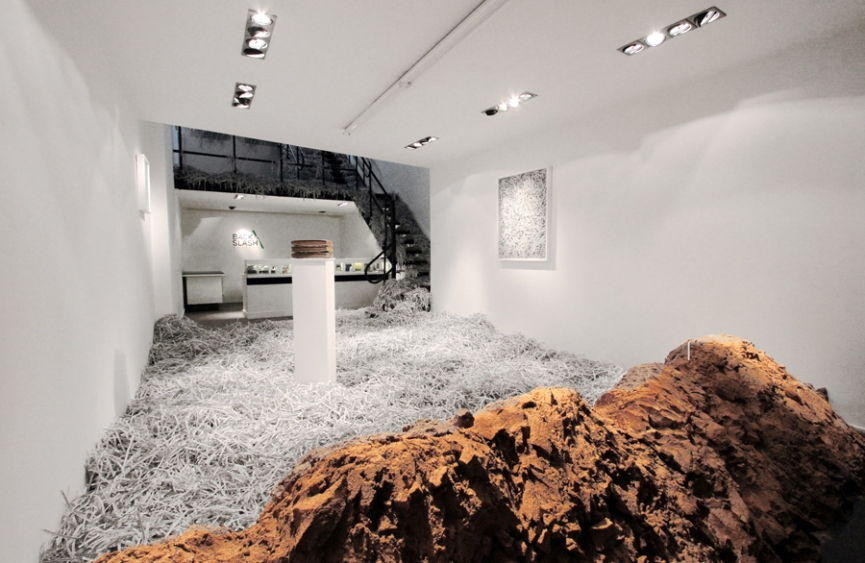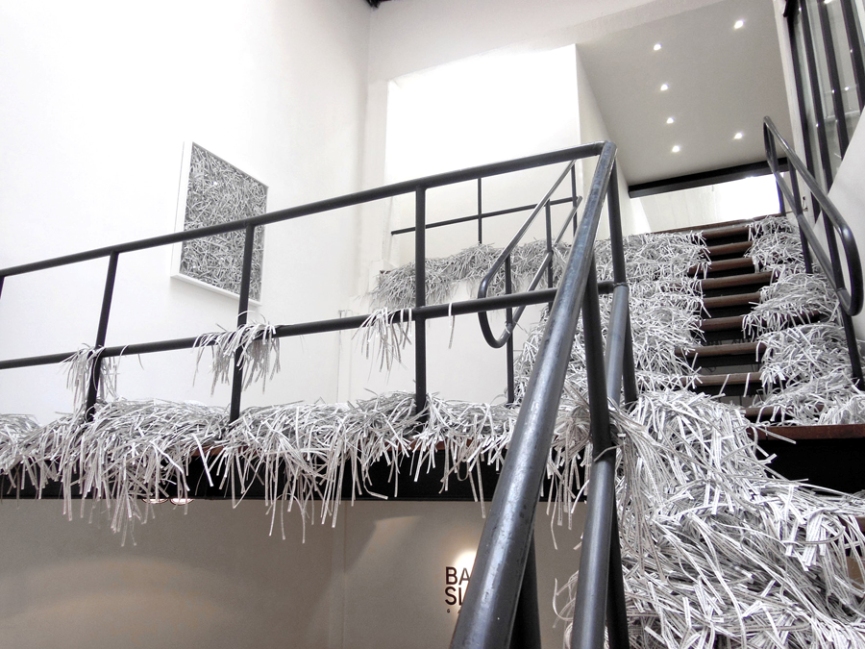 Rero - Background
Born in 1983, Rero is already a well established figure in both French street art and contemporary art. His fresh and creative approach to street art aided his international recognition. During formative years, he was making graffiti art under assumed name Aurer, but over time abandoned the aerosol due to its limitations in the wording process, and started experimenting with letterform images through typography art. The particular visual style he nurtures, assists him while inhabiting deserted, ruined spaces through investigation of representational and its negations. Widely recognized for pasted crossed out words question the meaning as perceived by the common individual. By building his installation works inside gallery spaces, he deconstructs them as representative places, awarding them a new function, aesthetics and meaning, thus negating the very essence of the generally accepted purpose of the space. Through minimalist principles and elaborate installations, Rero's art exudes iconoclastic nature, which comes as a breath of fresh air in an era overpopulated by countless images. Rooted in the French street art, Rero's unique expression got his recognized by French art dignitaries, and he has realized excellent exhibitions at the prominent Centre Georges Pompidou and at the Grand Palais in Paris, as well as numerous international shows. Rero lives and works in Paris.