There's a superstitious belief, saying that if you wish for something, you should write it on a piece of paper and burn it. Then, by some magical intervention, the wish ought to come true. If we remove work-statements Rero has been conjuring from a firmly rational context, we might be allowed into a deeper contemplative realm, where the artist summons the better. But, that his desires remain in the domain of wishful thinking is more than obvious, as the artist strikes out each of his Verdana typed statements, disallowing them from materializing. The space will never be yours and you did not get in, ironically proclaims Rero, while our vulgar souls remain bare and tied to the worldly, struggling to understand his voice. Still, by mocking our petty wants, Rero stays objective and benevolent, supporting the need for the better - life, love, money, whatever - by relentlessly creating and tackling a broad cultural discourse.
After his first exhibition at Fabien Castanier Gallery in 2012, Rero is opening another solo presentation of his work at the space this January, marking his second solo exhibit in the USA. The show entitled Gated Community is to examine the planetary increase of social and urban separation.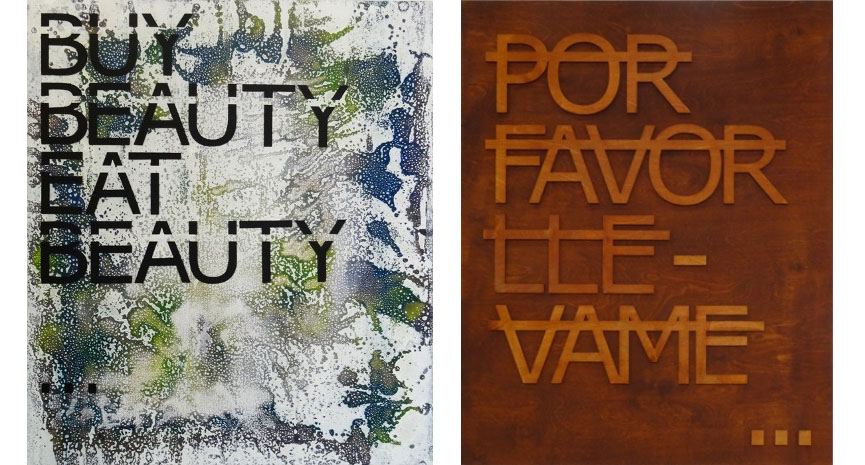 Negation as Positive Action
Exactly because of the negation, Rero's artworks have been easily recognizable and easily relatable. Every artwork series delves into different issues regarding various social ideas, exploring technology, consumerism, archaic values, and first of all - language. The power of his message lies in the crossed out words, leaving the observer wondering whether realization of presented ideas could ever be possible. Often, Rero's statements are in the domain of now, when he only records the destruction or the absence of certain things or values, universally held as given or positive. In God We Trust is negated, thus becoming an eye-opener, as contemporary society trusts in anything, but piety escapes it.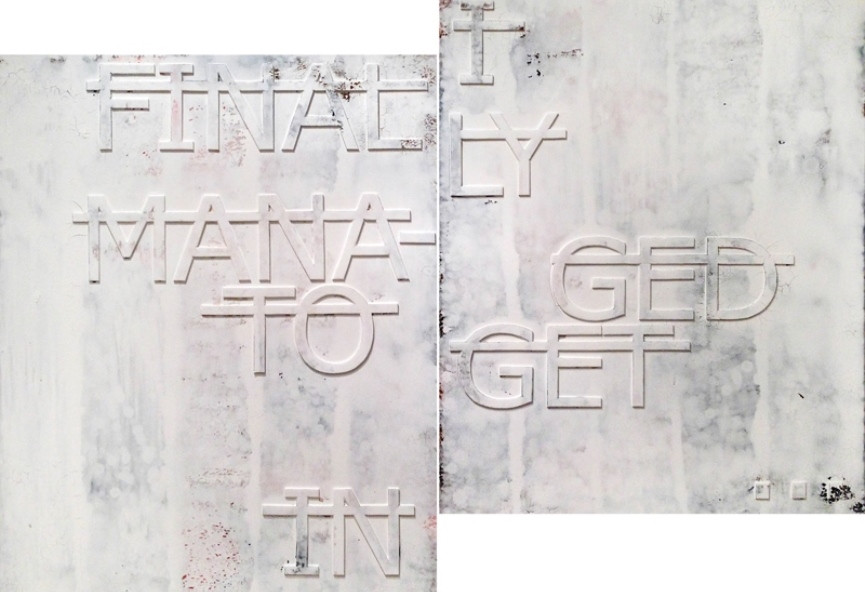 Richness Behind the Minimal
Minimalism that Rero employs is pushed to the outer limits of expression, where the artists persistently seeks new models of presentation, often found in different, new media he uses. His urban approach has been enriched by textural studio works, in which traditional painting techniques merge with relief, collage or even sculptural treatment of canvas. By constructing in the most expected of materials, Rero deconstructs our wishes and notions brought in the negated text behind. His pieces thus gain another level of meaning, placing them in a wider socio-cultural plane.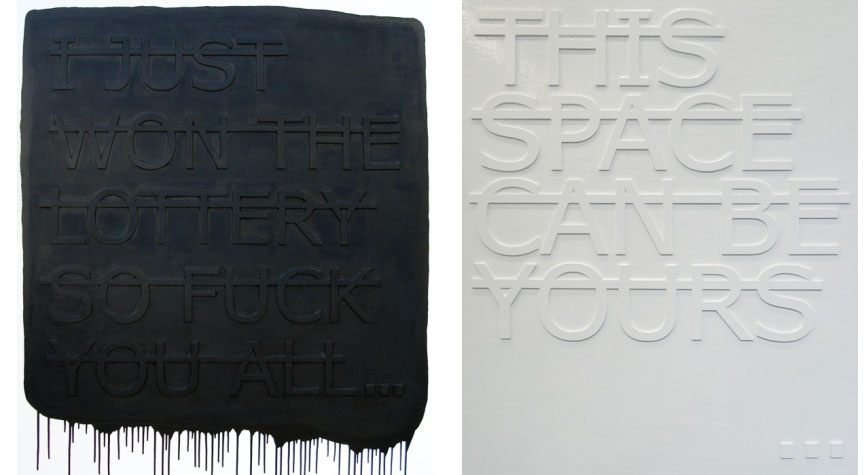 Gated Community of Minds
Works that will be shown at the Gated Community exhibition share the same conceptual core - the confrontation, the aesthetics of destruction and the idea of appropriation. As Rero's art is inherently tied to urban environment, statements delivered in this series can easily be related to a broader space, not only to the gallery. The artist adapts his proclamations to studio-size, but we can see them easily blown-up in proportion, never ceasing to show influence of the street. Materials, as mentioned, are many, from canvas, to old books, neon, fine china, small sculpture, plaster, debris, old newspaper, flags and more.
Opening on January 24, 2015 at Fabien Castanier Gallery, Gated Community will attempt to raise eyebrows and spirits, while igniting the contemplation process on the rising social stratification. Rero will be on view at FC gallery through February 28, 2015.
See how Rero's work differs from what he did a year ago, reading about his solo show ERROR in the Title, or group presentations at Fabien Castanier Gallery or in Brazil.
LATEST UPDATE: Gated Community has been extended through March 7th, 2015.
Follow Rero and other Minimal Artists by Signing Up For My Widewalls today!
All images courtesy of Fabien Castanier and Rero, for illustrative purposes.