I have probably visited the Fondation Beyeler at its most beautiful self - tucked in its English park in Riehen, surrounded by old trees in their beautiful autumn colors and scenic water lily ponds, as breathtaking as the ones in Claude Monet's painting inside the Renzo Piano-designed museum building.
There, a group exhibition is taking place, one you were sure to see numerous ads for across the city of Basel. Curated by Theodora Vischer, the show does not seem to be just your typical comprehensive gathering of artworks; instead, it focuses on exemplary works by five internationally acclaimed contemporary artists (who all happen to be women) dealing with the concept of space as expressed through means that are drawn, sculptural and acoustic. Indeed, the exhibition title Resonating Spaces could refer to the quality in a sound alone, which seems to had been the initial curatorial idea, but then it was transformed into a proper exploration of space, visible and not: within the artworks themselves, the room they are occupying, the one between them and the viewers. Spaces can reverberate across many media, so why limit ourselves to just the one?
And so, select pieces by Leonor Antunes, Silvia Bächli, Toba Khedoori, Susan Philipsz, and Rachel Whiteread take over seven rooms of the Fondation Beyeler, after a careful thought process and meticulous planning by the artists themselves and the museum staff. Some of the works were made specifically for this occasion, others were tweaked in order to correspond to the Basel audience better. This is the very first time that the five artists are shown under the same roof, and while their practices certainly differ in many a way, the thread which connects them can be felt almost palpably throughout the exhibition.
Rooms 1-2 - Toba Khedoori
Even before entering the first room of Resonating Spaces at Fondation Beyeler, one gets a glimpse of a monumental work of paper taking up an entire wall. The artwork in question, Toba Khedoori's Untitled (seats), is more than 3 meters high and 7 meters wide, yet its subject matter only takes up a much smaller, central space in it. This is not to say, however, that the rest of the drawing features an emptiness: upon a closer look, we see dust particles, dirt, hair, traces of a working process inside a studio big enough to contain such large work.
This and the other works by Khedoori illustrate her practice well: individual objects, architectural or natural, taken out of their usual context, stand isolated or in a close-up on paper, linen or canvas, disclosing an incredible attention to detail in a highly technical manner. Whether it's rows of theatre chairs or an aerial view of mountain ranges, it is as if their visual and metaphorical meanings change with the viewer's point of view, going from realism to abstraction and back again. Khedoori's oeuvre cunningly plays with the negative space, sometimes implying absence in a perhaps not immediately perceptive ways, like in the work Untitled from 2019: the artist leaves a couple of big branches out of her image of a treetop, but can you tell right away?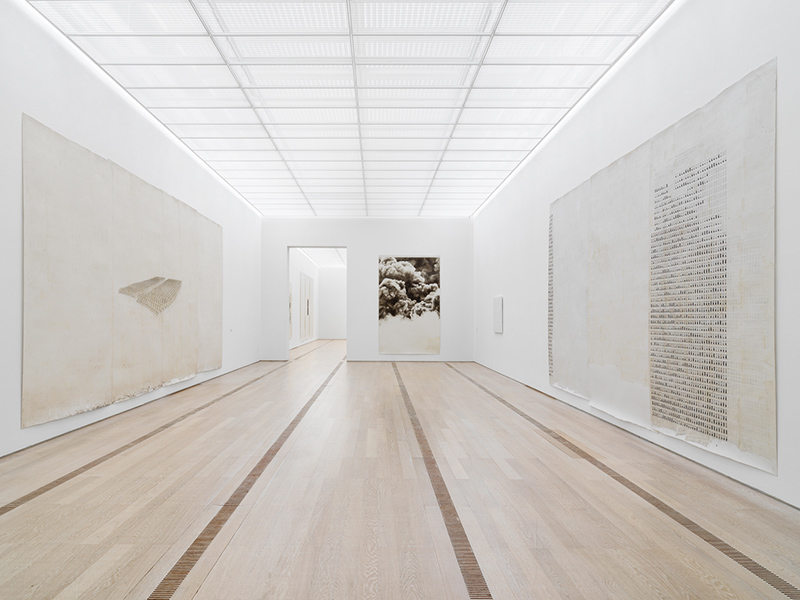 Room 3 - Leonor Antunes
In what is possibly the most impressive room of the exhibition, Leonor Antunes's sculptural pieces are dispersed throughout. An abstract haven, it features sculptures in wood, metal, textile, brass, leather, rope, hanging from the ceiling or reaching it all the way from the floor. If I was to refer to Resonating Spaces, this installation would feel like a symphony, each sculpture being an instrument, a narrative, and most importantly: a reference.
Antunes's is one of those bodies of work you'd have to read on in order to fully understand them. The story of the artworks on view at Fondation Beyeler goes well beyond their aesthetically pleasant appearance, as they should be perceived as a unique kind of portraiture. Based on extensive social and historical research, these sculptures cite the lives and works of personalities from architecture, design, as well as modern and contemporary art.
The poignantly yellow floor of the room for instance, made of cut-up linoleum pieces, pays homage to a geometric print of Anni Albers, blown up and with the original colors changed; the last days in Galliate on the other hand, salutes the architects Franca Helg and Franco Albini. By focusing on fragments of someone's practice, Antunes reinterprets it through soothing, elegant artwork that is rearranged and made to fit the architecture of any given exhibition space.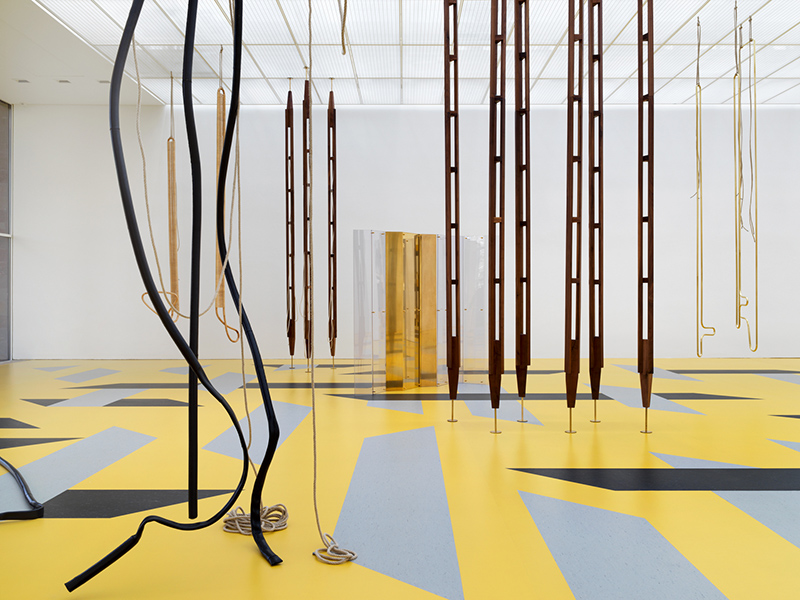 Room 4-5 - Silvia Bächli
The journey on spatiality at Fondation Beyeler then continues with the only Swiss artist in the show, Silvia Bächli. Her drawings (the only medium she works with) are seemingly randomly hung on the walls of two connected rooms of identical size. The truth is that they actually find themselves in an indirect and non-linear dialog proposed by the artist herself, taking into consideration their relationship with the space they are in too.
Here, we find another example of a visible musical composition, as Bächli often describes her own work in music terms; in fact, the pieces are first taken around the room and are not placed for good until they "strike the right chord" or "hit the right note". The viewers can, for example, make their own connections between them, perhaps via similar visual qualities of certain artworks.
But apart from the interactions of the works themselves, if we keep in mind the artist's proposal of a "rhythm", we can see it and feel it in the abstract lining within her drawings as well; the gouache marks functioning as notes and tones of different lengths, strengths, heights, stretching out to infinity or having a clear beginning and end. In works of a larger scale, Bächli sometimes also uses her whole body to produce the lines, which she interprets as "actors", which "give voice to her productions."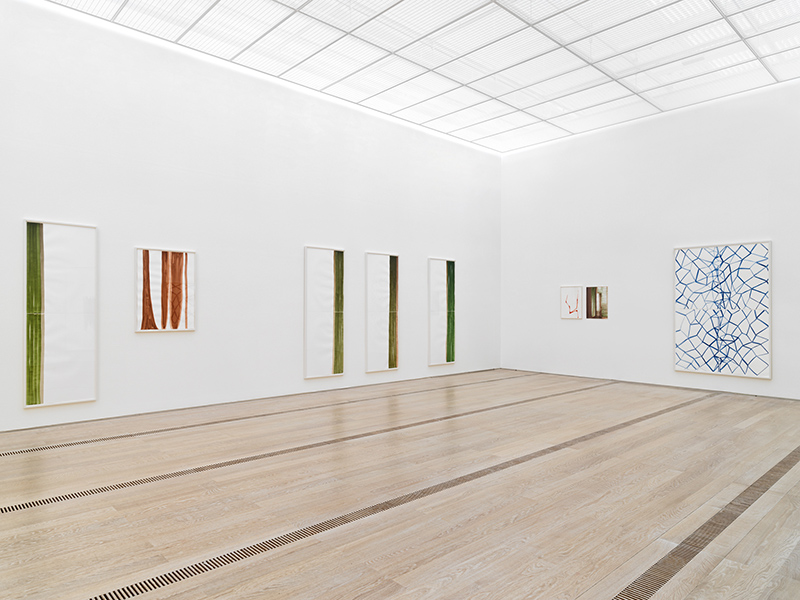 Room 6 - Susan Philipsz
We now come to what is likely the basis of the entire exhibition. This sound installation by Susan Philipsz was developed specifically for this show and this space, and it comprises 12 loudspeakers, 6 on each side of the room. But before that, we get a hint on what the work is about: Sebastian Münster's world map Typus universals, published in Basel in 1550. In it, twelve blowing heads, representing twelve winds of the world, surround the continents and oceans known at the time.
For The Wind Rose, Philipsz drew inspiration from the depictions of wind in literature, architecture, and art, including Münster's map. She used conches from different regions of the world as instruments, which professional horn players blow into in order to produce the sound of each wind, corresponding to the chromatic scale. In the room at the Beyeler, the twelve howlings of the "winds" come together and break apart again, creating harmony and dissonance alike, giving way to endless variations and combinations of sound. Upon a closer listen to the individual conches, we can also recognize the performative breathing of their musicians.
Room 6 of the Fondation Beyeler comes to unveil only one of two works by Susan Philipsz in the Resonating Spaces exhibition. The other is quite easy to miss if you don't know about it, as it only "appears" every 15 minutes in the museum foyer, in form of a sound work titled Filter. In it, the artist is singing four pop songs using just her untrained voice, without any instruments or editing. What was meant to be an intimate, personal, private experience of someone singing for themselves, not caring about the exact notes or correct lyrics, is being shared with an inconspicuous audience through speakers in public spaces.
Filter was first exhibited in the Tesco Metro supermarket in Manchester in 1997 and at the Laganside bus station in Belfast in 1998, with the idea of making people aware of where they are, and creating work that they can relate to.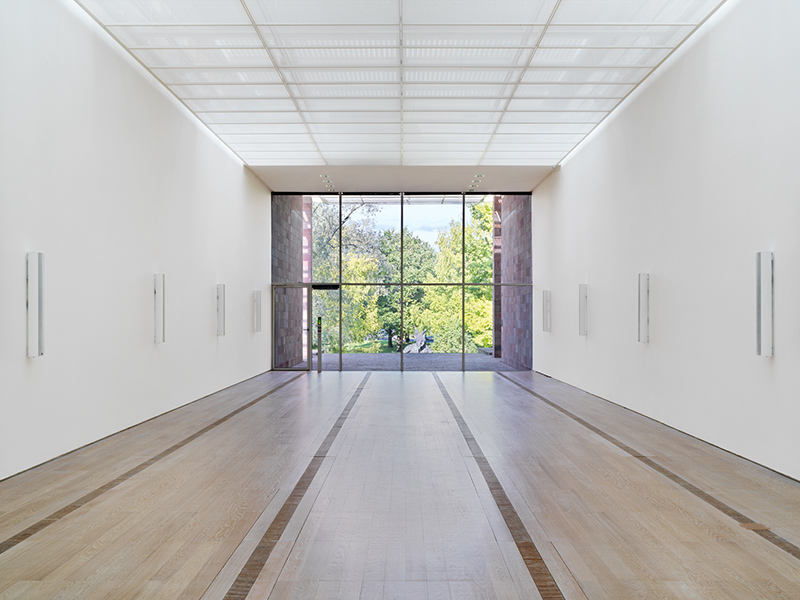 Room 7 - Rachel Whiteread
There is a good reason why there is a large Balthus painting in the room dedicated to the works of Rachel Whiteread.
The celebrated British artist wrote her dissertation on Balthus (among others), someone who she "loved to hate". The Fondation Beyeler is the owner of a few of his pieces, including the 1952-54 Passage du Commerce-Saint-André which ultimately came to inspire her. For the first time in her career, Whiteread's work is juxtapozed with that of another artist, mirrored on the wall right across. Out of all the elements present in Passage, its stillness, certain theatricality, or the eerie figures, she focused on the windows in the background by remaking their slightly bigger papier-mâché replicas. It is only upon a closer inspection that we see traces of paper on these works, as from afar they seem done in marble, or even concrete, evoking Whiteread's earlier works.
Standing between the two wall artworks is a black box - an impenetrable cupboard similar to Closet and a number of works she created in the 1990s. According to the artist, it serves as "a piece of furniture that would not feel like part of the work at all - it would be quite alien to the street and the painting itself - and yet somehow have a collective memory of all the passers-by on the street. It would embody what these people might be experiencing."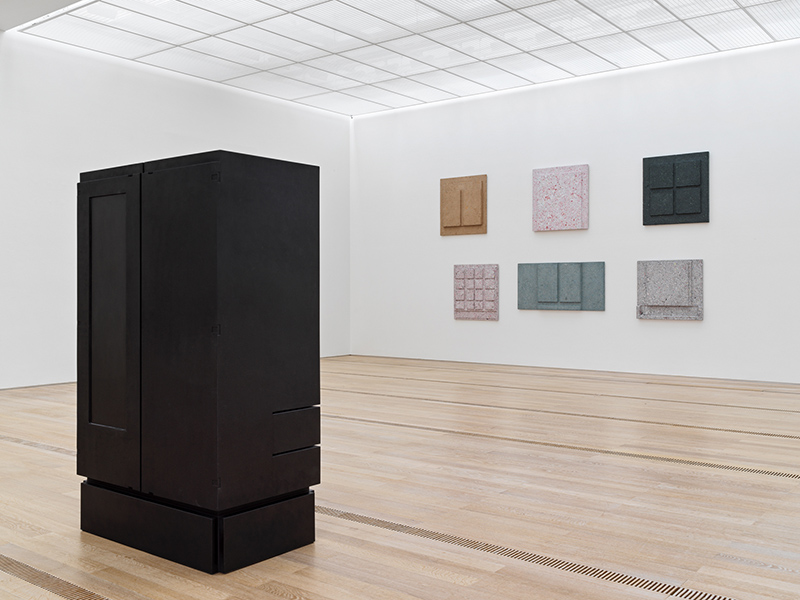 Resonating Spaces is on view at the Fondation Beyeler in Basel, Switzerland until January 26, 2020.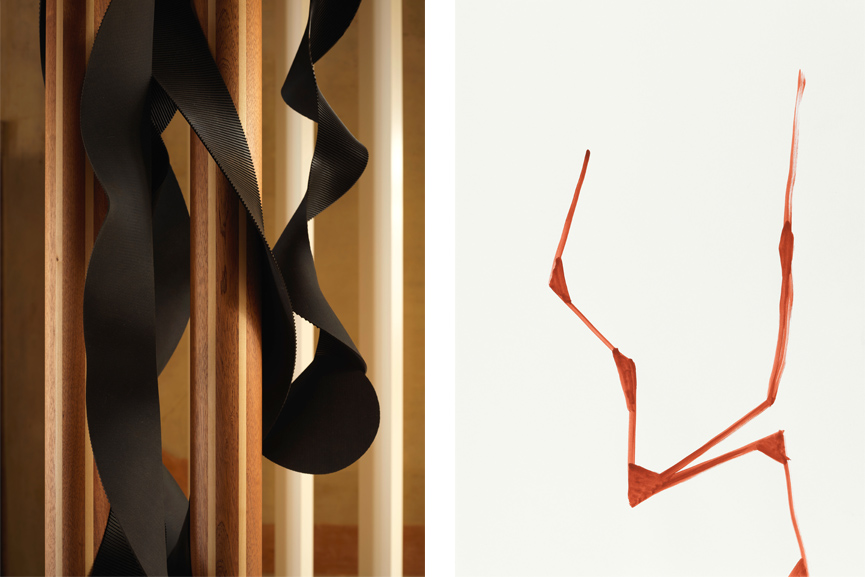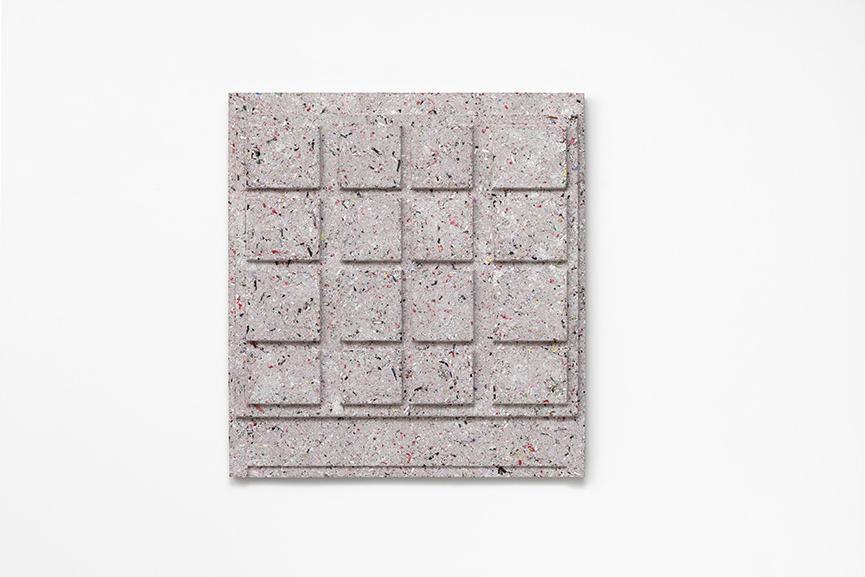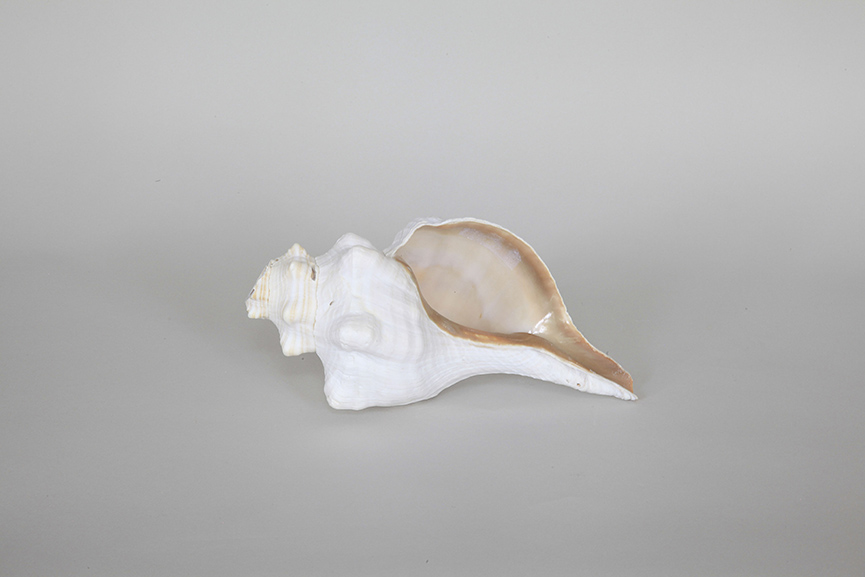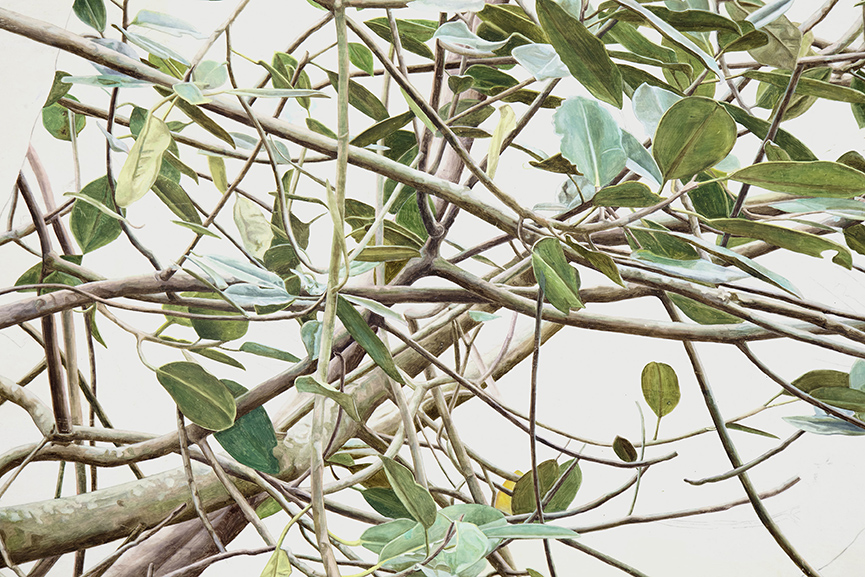 Featured images: Installation view Resonating Spaces Fondation Beyeler 2019. Photos by Stefan Altenburger.