Well, we all know how artists sometimes tend to be eccentric. Just yesterday, we wrote about Pyotr Pavlensky who set a building on fire for the sake of art. But there is another artist who went a little bit over the line a couple of days ago. Graffiti artist Retna, whom you all know well, attended the opening of the latest exhibition at Soze Gallery in West Hollywood, and for unknown reasons, smashed three sculptures which were on display. Perhaps he thought it was bad art, perhaps something else was on his mind while he was destroying the artworks. And maybe this was just an attention seeking provocation.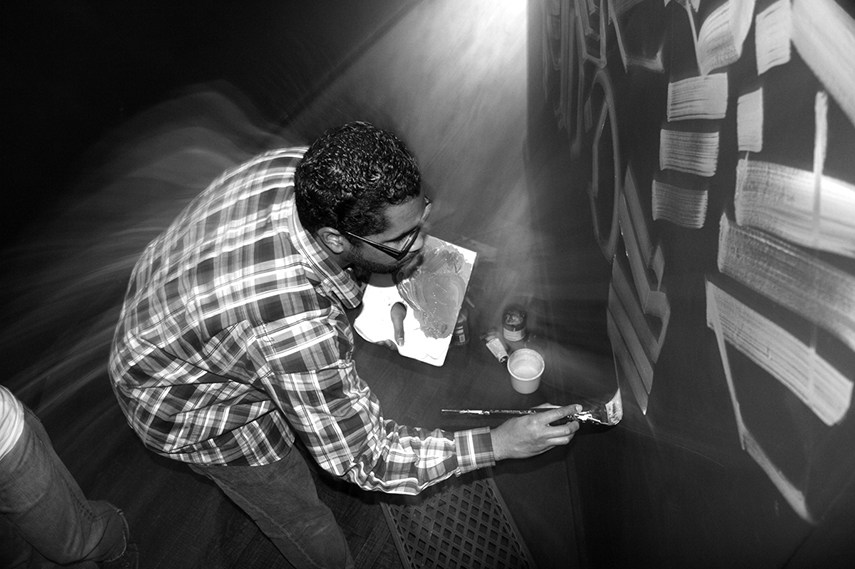 Soze x Modernica Opening Reception
On Friday night, November the 6th, Soze Gallery in LA hosted the opening reception for their latest exhibition Cultivate. The Cultivate exhibition showcased ceramics designed by twenty-five artists, and was mounted in collaboration with the furniture manufacturer Modernica. Retna wasn't among those artists, but he showed up for the opening and started smashing artworks on display. As Artnet News reports, Retna first destroyed ceramic works and then tried to replace one of them with a plant that was standing by. What is the motivation behind his action? Nobody knows. Perhaps the title of the exhibition has to do something with his initiative to put plants on the spot. If so, then this action is a rather humorous one. Except nobody in the audience was laughing.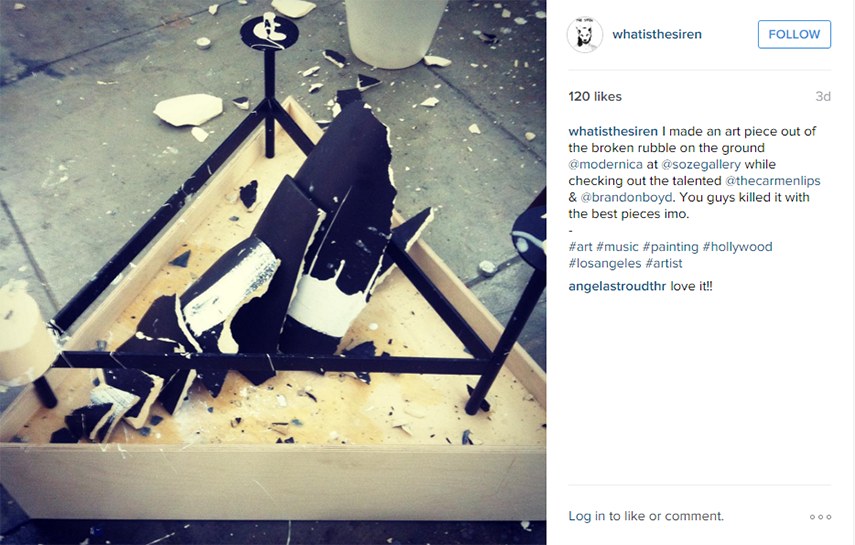 Retna the Scandal Maker
We all know Retna for his magnificent calligraphic scripts and intricate ornate painting technique. After all, he is one of the leading graffiti artists on the LA scene. But there is a darker side to this artist and a history of violent acts behind him. This incident is not the first time Retna provoked a scandal at an art gallery. Back in 2012 he's been charged with three counts of battery after two violent altercations at an art gallery in Los Angeles and in 2013 at another gallery he was also destroying the artworks, harassing staff members and two employees filed restraining orders against him following the incident. Perhaps this is why many of the visitors of Soze Gallery on Friday night were too scared to take any actions and stop Retna from destroying the pieces.
A rare Twitter comment regarding Retna's behavior at Soze Gallery
Retna's Behavior at Soze Gallery
The witnesses of the event, for the most part, stayed silent and reserved. Most of them were scared considering Retna's history of violent acts and tried to stay anonymous, fearing retaliation from the artist. So what triggered this incident, many would like to know. Maybe Justin Bieber had something to do with it, since the artist was collaborating with him lately for his new cover artwork, and we all know how Bieber tends to be annoying. At least in my opinion. Anyway, what's done is done. Retna might have to pay for the damage, but that doesn't seem to concern the artist that much. In the end, perhaps Retna was just having a bad day, it happens to all of us. But not everyone can just enter the gallery, start smashing pottery, and get away with it.
What are your opinions on Retna's behavior? Tell us on our Facebok page!
For more news and interesting topics from the world of art sign up for My Widewalls! It's free of charge!
Featured image:
Retna. Portrait via goshabout.wordpress.com