He says for himself that he's a chronicler, a reporter of images that surround us. He gathers them following his own logic and doing it in his own manner, using them as a raw material for his future artwork. He is 82, and he has been around more than many of his fellow artists today. More than a few from the world of art would say he is the premier storyteller in the history of art. As his name, Erró, he expresses himself in likewise simple tone, through his use of images and colors. His retrospective, called exactly that - Retrospective, is open for display since 4th of October at the Museum of Contemporary Art in Lyon, France.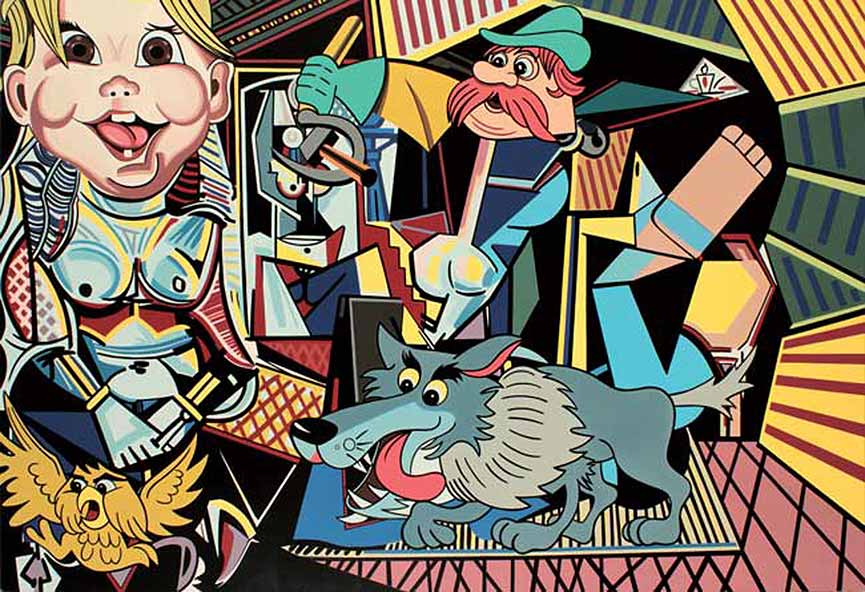 Erró and his Work
Erró was born in Iceland in 1932 and in his mid 20's he moved to live in Paris. At the beginning of his career he was categorized as an expressionist after a while as a surrealist but in the recent years, Erró has latterly adopted the technique of the collage. He uses images as a ingredients for the recipe. From adverts, posters and newspapers to political propaganda and comics, Erró continuously finds himself inspired by the contemporary society and its constant flow of information. Forever socially engaged, he uses his works to depict and denounce violence and wars. Erró was, from the very start of his career, overwhelmed by the importance of images and their constant diffusion. He used them as storyboard for various forms of narratives, vocabulary grids, grammar and rhetoric unpublished. As he generated collage tables, he created and developed form of visual and critical anti-encyclopedia of all knowledge with saturated imagery depicting ambiguous messages, accessible to all.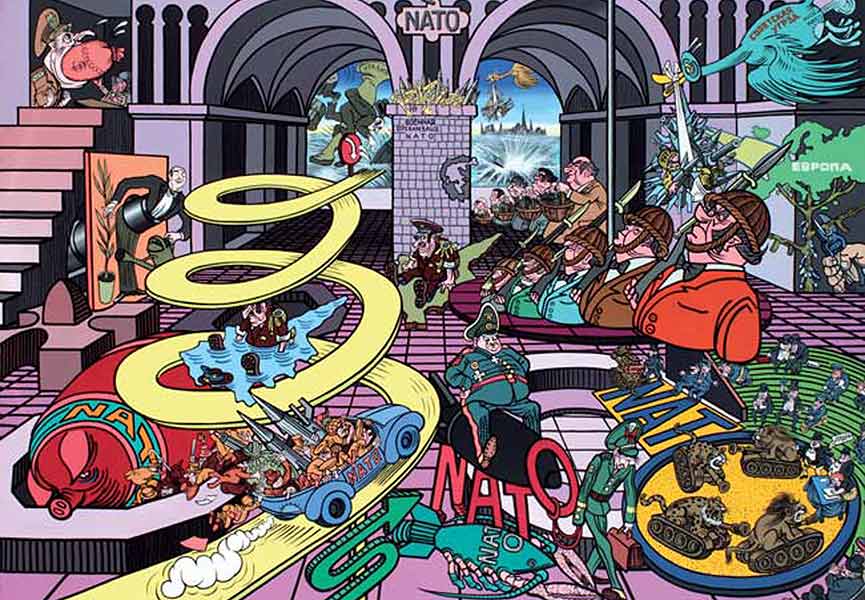 The Grand Retrospective
Erró's displayed his work  in numerous galleries and museums all of the world. The Museum of Contemporary art in Lyon proudly presented this exhibition as the biggest retrospective ever organized. Concept of the exhibition is made up of 24 rooms spread over three floors, which are ordered chronologically and thematically. Exhibition encompass all of Erró's work, from collages, performances, films to watercolors, paintings and drawings. Number of artwork goes up to over 500 works including private and public collections. All of the works mentioned were collected especially for this grand retrospective. Exhibition will run until 22nd of February.
If you are a fan of collage art and would like to find out more about artist that practice such style, sign up for My Widewalls today and stay tuned!