Revok and POSE are among the group of street artists who are becoming more and more prolific with their studio work, while not neglecting big mural projects. Their exhibitions in New York, Miami and Detroit have been super-successful, while the Library Street Collective Detroit based project presented their fantastic wall work. The latest news and the next upcoming exhibition by these two creatives will occur in Dubai. In collaboration with the Library Street Collective Revok and POSE will stage a one night show in the major Emirates center, hosted by the local Mine Gallery. The event is about to go down on March 24, 2014 at the Mine Gallery, limited to invited guests.
Revok prepared a completely new series of artwork for this occasion, having been busy in the studio for a while. POSE produces a new body
of work of paper, presenting his unique collages which demonstrate the
particular collage/assemblage technique he employs.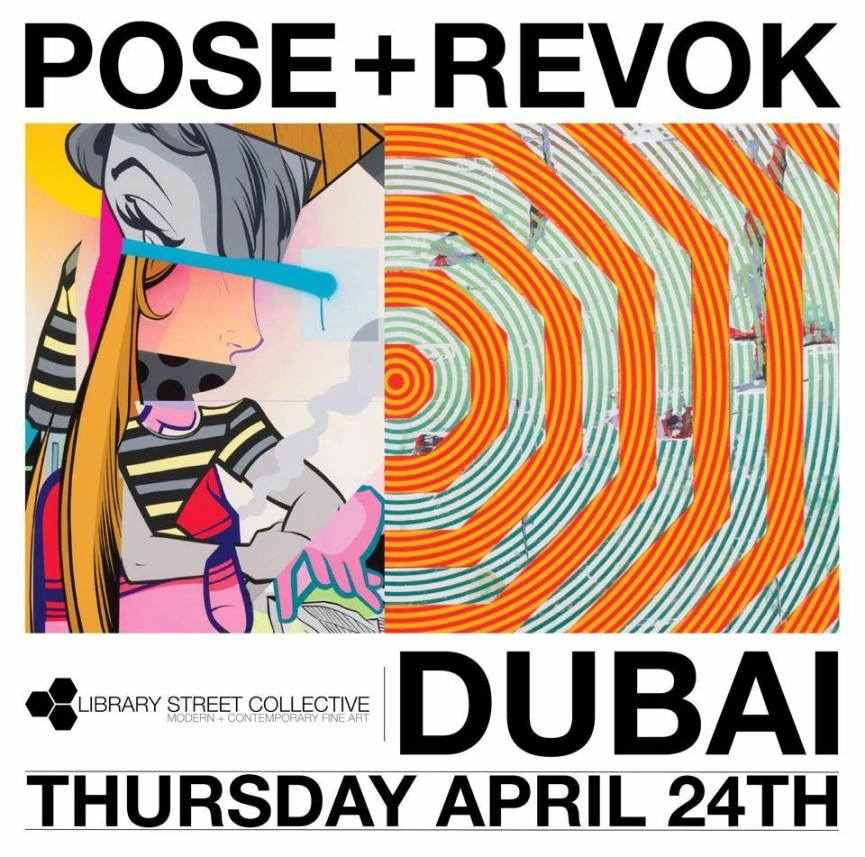 Revok and POSE in Dubai
Although their story is not an isolated case of success, it still makes an inspirational tale of two creatives who got accepted in the official contemporary art world due to their devotion, talent, patience, unique expressions and most of all - hard work. Styles of Revok and POSE appear similar at first, sharing like concepts and invoking the same range of emotions. However, their artistic approaches and creating processes differ. They each use varied techniques and media, adapting them to suit their individual purposes, while creating colorful work of different subjects and visual elements. Sign cut-ups and angular boards define the geometrical impression of Revok's artwork, juxtaposing color planes creating almost a three dimensional effect. POSE, on the other hand, paints figures, although reduced, abstracted and distorted, they can be clearly defined. His strokes are executed freehand, giving his inner composition more dynamics. Connected through their general style, ties to street art and some conceptual closeness, styles of Revok and POSE are actually very individual, sharing only the basic methodical practice of abstracting the imagery, using bright color, collage and assembling of their respective imagery.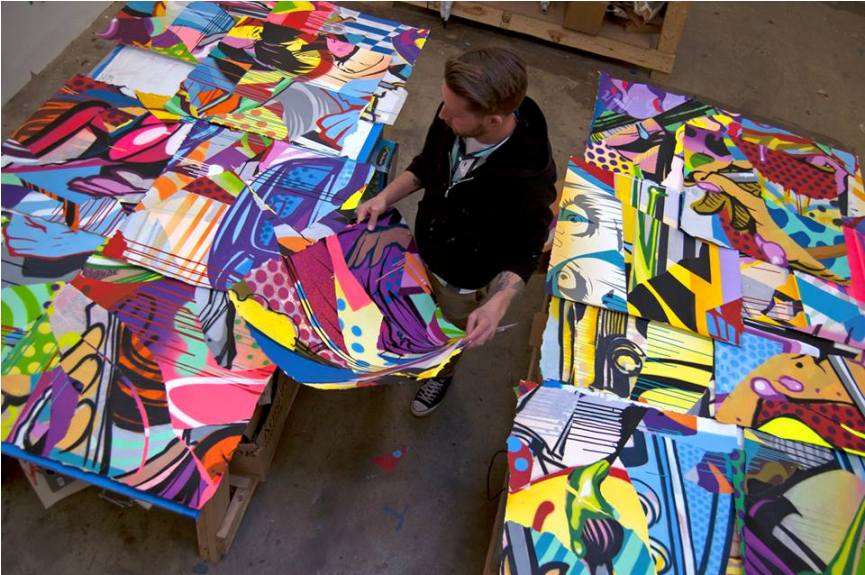 One Night Exhibition
The one night Dubai exhibition at The Mine Gallery will be the initial presentation of their work in the Middle East. Both of the creatives are bringing their most recent and newly developed series to the city of the future, displaying a new turn in their separate art evolutions. As mentioned, POSE will exhibit new works of paper inspired by large scale mural he painted, and then broke down to create small, individual works. They will be accompanied with some large scale canvas work. The latest pieces by Revok will display a newfound level of maturity, contemplation and thought, still staying true to abstract geometry with a slightly brightened palette.