A perfect exhibition for skateboarders, metals fans and lovers of all things sinister and dark will begin shortly at Australia's Backwoods Gallery. Prolific Melbourne-based visual artist Richard French Sayer will present his latest series of macabre Death metal-inspired artworks at the upcoming solo show entitled Brainfade. The exhibition will showcase an array of artist's bizarre illustrations that further explore his unearthly world. By combining elements from various eras like medieval knights and surreal characters, the artist creates his retro-futuristic fantasy that instantly transports the viewers into a new dimension.
[caption id="attachment_299074" align="aligncenter" width="855"]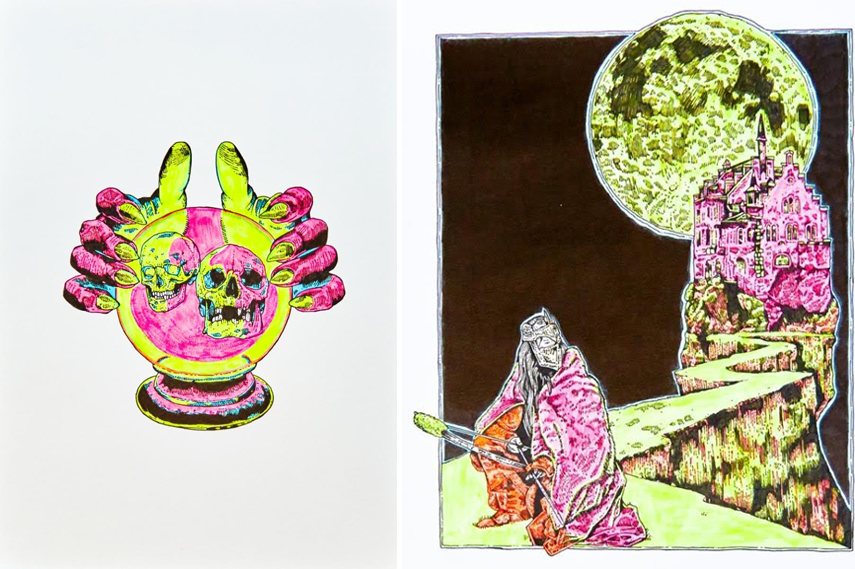 Left : Richard French Sayer - Crystal / Right : Richard French Sayer - Archer[/caption]
Retro-futuristic Universe by Richard French Sayer
Richard Sayer aka French is a multifasecet artist and illustrator who works with a variety of media most notably in the fields of illustration and graphics. The artist was deeply influenced by the skateboarding culture and his appreciation for Black metal music, which is why many of his works contain a mixture of a dark color palette and traces of bold, bright tones. French's works span over a variety of industries and his illustrations grace both covers of music albums, skateboards and advertising billboards across the globe. His unique, extraordinary style works wonderfully on all surfaces and it speaks as loudly on posters and T-shirts as it does on fine art paper works that will be on display at his latest solo show.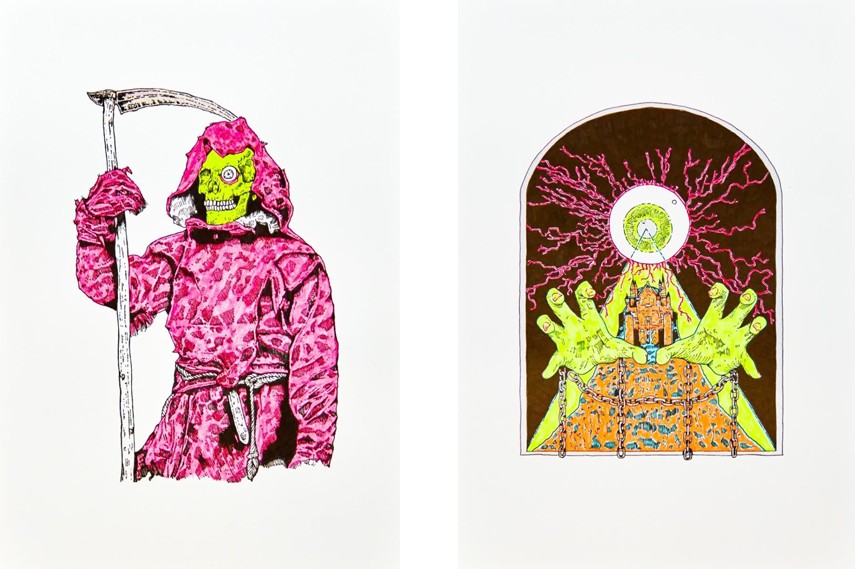 New Exhibition by Richard Sayer
French's upcoming exhibition entitled Brainfade is influenced by 1970s metal band posters. The sinister imagery of the posters is merged with the artist's recognizable visual language that derivated from the skateboarding subculture. Unusual phenomena such as witchcraft and armageddon are recurrent topics in his works that always explore the dark side of human nature. Eerie and dark illustrations portray a series of grotesque characters such as ghosts, skeletons, and dragons to create the world that resides somewhere between medieval times and a futuristic universe. Richard French injects his artworks with an abundance of fluorescent colors that captivate the viewers' attention and turn his works into a weird uncanny, fantasy world.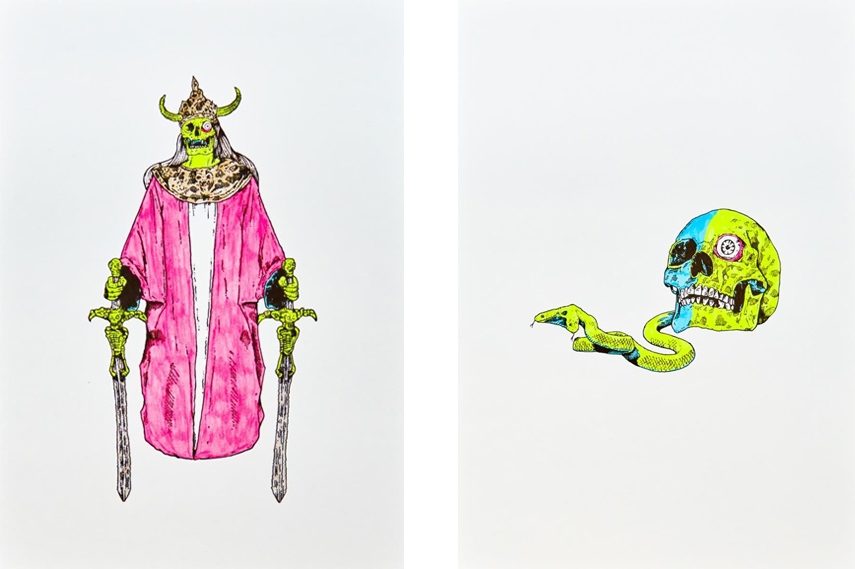 Brainfade Solo show at Backwoods Gallery
New body of work by Richard French will be on view at Brainfade solo show from Friday, August 26th. The exhibition will be composed of the artist's recent paper works embellished with black ink and fluorescent paint. The visitors of Backwoods Gallery in Collingwood, in Australia, will have the opportunity to explore the fascinating world of Richard French Sayer till September 26th, 2016 when the exhibition closes.
Featured image : Left : Richard French Sayer - Crossbow / Right : Richard French Sayer - Dragon Ruin