In the age of globalized dominance of technology and digitally created works, the Richard Schmid retrospective at Gallery 1261 in Denver is for sure a punch back and a reminder of the Grand Manner of painting. Curated by Kristen Thies of West Wind Fine Art, the show offers a spectacular evidence of years of creativity, the love for oil painting, and true mastery by the internationally acclaimed painter, writer, and teacher. Known as the 'painter's painter' and 'artist's artist', Richard Schmid demonstrates again and again that art can be both beautiful and meaningful at the same time.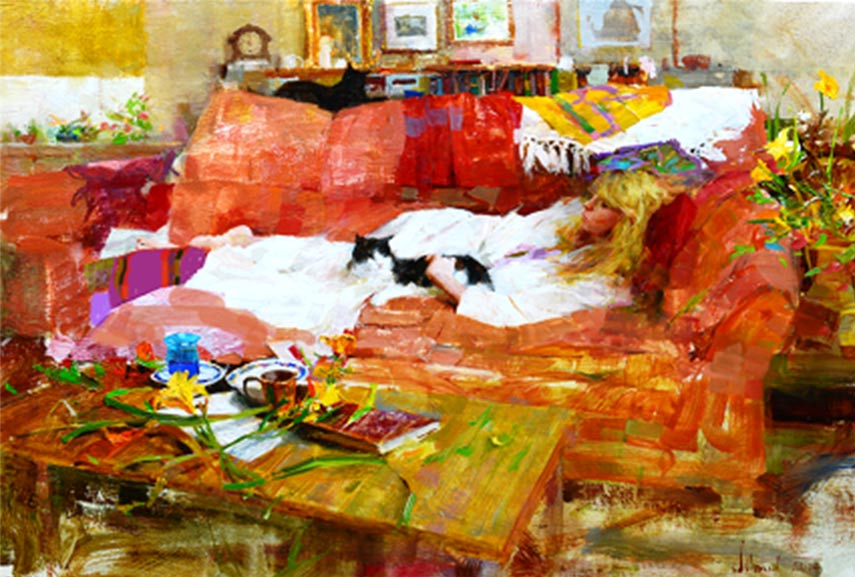 The Elegance of Oil Paint
Recognized as the greatest living American realist painter, Richard Schmid has always approached life, his long-lasting subject matter, with eyes open. Attempting to fuse both the essence of a sitter in his portraiture works or of the a landscape, with long tradition of the Golden Age of Painting, which stands at the core of his teaching and creativity, the artist merges a certain element of joy and virtuosity. From an early age, Schmid fell in love with drawing and painting, a heritage he received from his maternal grandfather, Julian Oates, an architectural sculptor. The art education for Schmid began at the age of 12, and since then the painter has continued to amaze us with his work. Known for his portraiture, landscape, and depictions of female figures, Schmid kept alive the knowledge he received from his teacher Mosby and the circle of luminaries, including John Singer Sargent, Claude Monet, and Edgar Degas.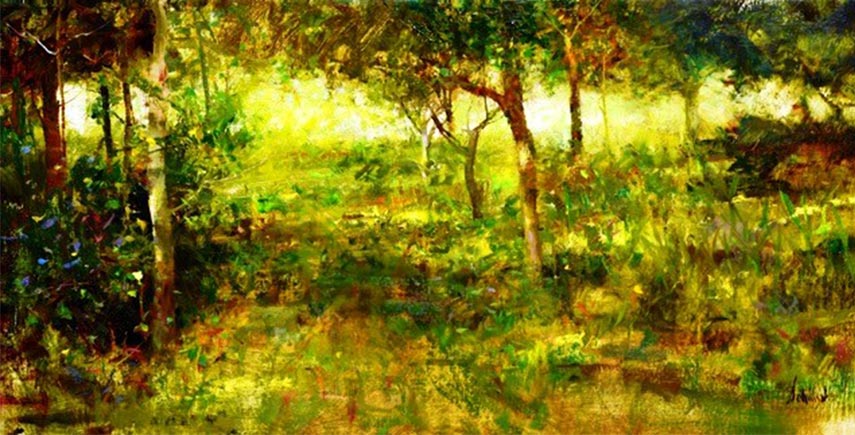 Something Old and Something New
With over 50 one-man exhibitions, you will be amazed once we acknowledge that at his Retrospective Exhibition the public will get a chance to witness never before seen artworks from various private collections around the country. Alongside these hidden gems, Schmid has created new work as well. It seems that the creativity of this man just needs to flow and over the years it transformed itself into a new book 'The Landscapes ' which celebrates artist's 50 years of landscape production.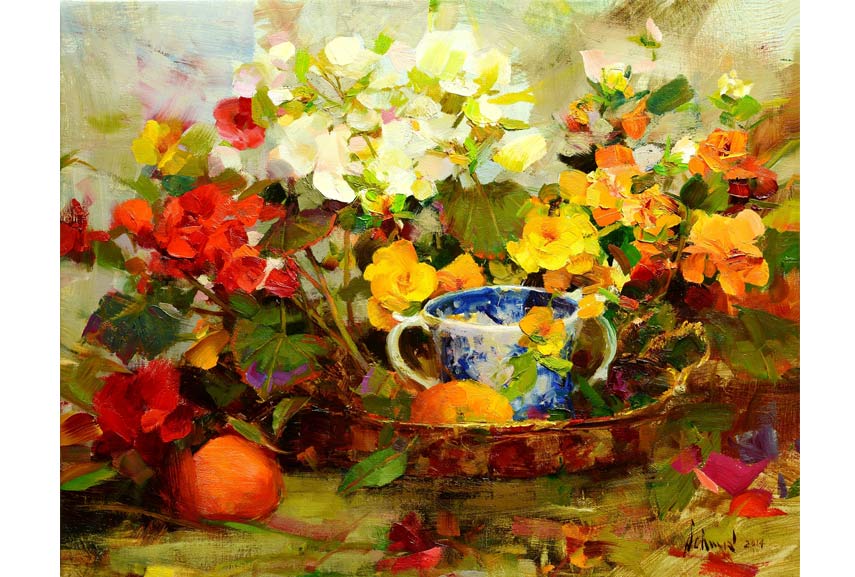 Richard Schmid Retrospective Exhibition at Gallery 1261
Gallery 1261 is thrilled to present a retrospective show of such a living master. Offering a chance to witness and explore this painter's creativity and journeys within different subject matters, the public will also meet the artist during the signing of his new book 'The Landscapes' and 'Alla Prima II Everything I Know about Painting And More' on Sunday, September 25th 2016, 11a.m – 12p.m. The opening reception is scheduled for Saturday, September 24, 6-9 p.m. and the entire exhibition lasts from September 24th until October 1st, 2016. If you are a lover of oil painting, and on the search for the essence of life presented by the skillful paint strokes and brushes, then this exhibition should not be missed.
All images courtesy of Gallery 1261. Featured image: Richard Schmid – Begonias, detail