Focused on offering a new perspective on space, Richard Wilson's exhibition Stealing Space at Annely Juda Fine Art gallery is, in fact, the first at the gallery and the artist's first solo exhibition in London since unveiling his major site-specific work Slipstream, at Heathrow Airport's Terminal 2. This exhibition will feature four new works, two of which are in direct response to the gallery's internal and external architecture. Since the works will take up the space of the gallery at a later date, we offer an exclusive glimpse into Wilson's sketches related to the show.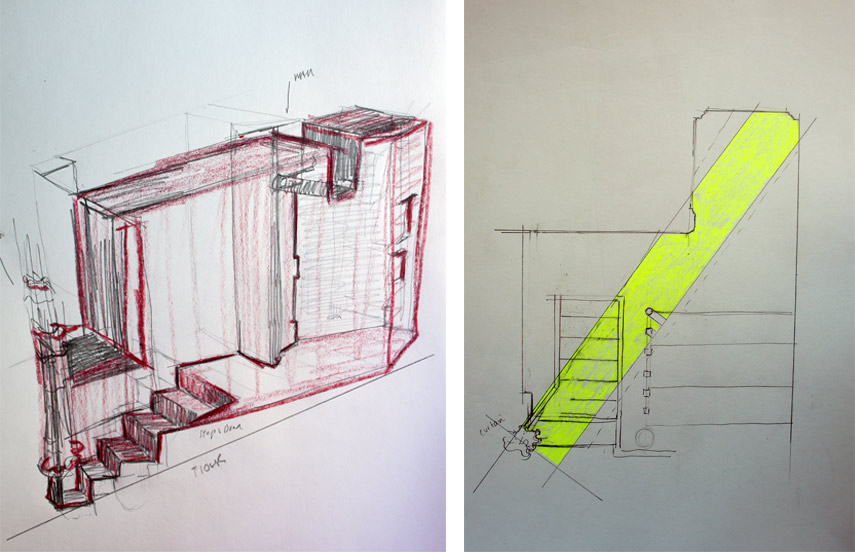 Richard Wilson's Art – Embracing the Negative and the Positive Space / Room 1
For the occasion of his exhibition Stealing Space Wilson has created two site-specific works which dominate the gallery's main space and stand above the height of the architectural beams. The first sculpture  takes up the negative space or 'space between' the hallway and staircase leading to the gallery's main entrance. Partial details of a doorway, steps or a banister will be visible on the sculpture which will sit straight on the ground at a tilted angle. As a result of its positioning, the sculpture offers a reassessment of a familiar space which in most cases, has gone unnoticed. This play with the perspective of the everyday surroundings, and the push to look at things twice stand at the core of Richard Wilsons' world-renowned art production.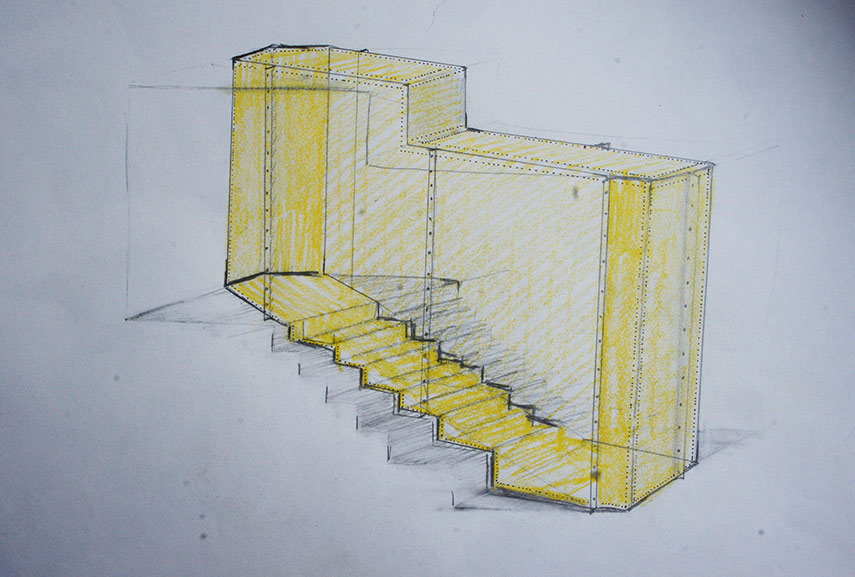 Further Transformation of the Space – Internal and External Again
Not stopping with the first sculpture, the work Block of Dering will take the façade of the gallery building at 23 Dering Street and create a near-cube. With the desire to completely reconfigure the local architecture of the gallery, even the gallery's signage will be made new and part of the work. Inside the gallery, in its second room, drawings, maquettes of Wilson's past works, along with the intervention using the cut up household furniture which has been reassembled again into a form reminiscent of an urban landscape on a micro scale, will be presented.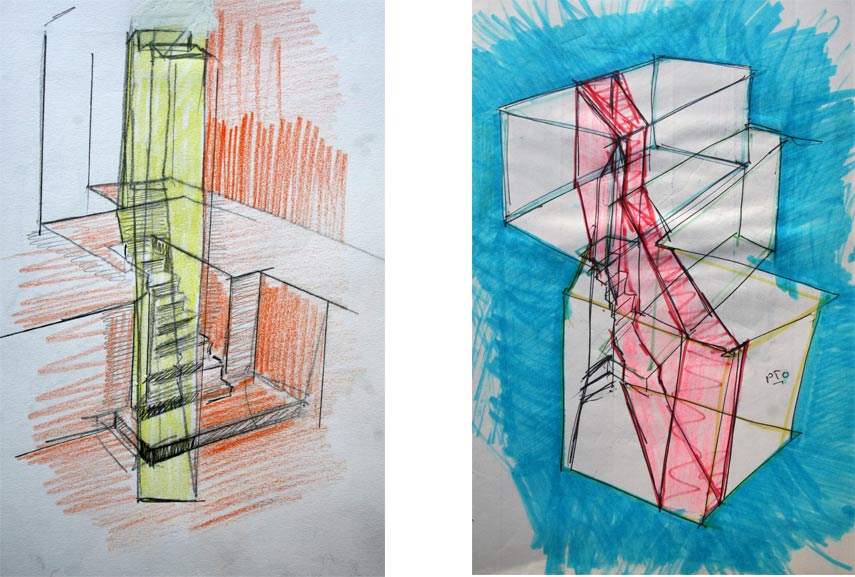 Richard Wilson Art at the Annely Juda Fine Art gallery in London
For the exhibition Stealing Space both the architecture of the Annely Juda Fine Art gallery and Wilson's domestic space is turned inside out and wrapped around itself. This manipulation of the space and the re-examination of the everyday surroundings make up Wilson's architectural interventions. Firmly working with the urban landscape, the artist creates new and unusual experiences. This time the rooms of the gallery, in fact, its entire architecture will distort the viewer's perception, making internal appear external, forcing the public to focus on something that is frequently overlooked. The exhibition will open on January 26th, 2017 and will run until March 25th, 2017.
All images courtesy of the artist and Annely Juda Fine Art. Featured image: Richard Wilson - Untitled Sketch, 2016, © The Artist. Courtesy Annely Juda Fine Art & MDS Fine Art, London