New York's Joshua Liner Gallery will get overwhelmed with goldfish, as the Riusuke Fukahori exhibition is about to take place there for the first time since 2013. One of Japan's most talented artists is bringing a new series of artworks dedicated to his favorite animals, and this portfolio will include his trademark three-dimensional acrylic and resin paintings, as well as works on canvas and wood and his first ever video work. In an ever-intriguing manner, Riusuke Fukahori will once again use his wooden fishtanks as metaphorical representation of our world, reaffirming his artistic skills as rather impeccable.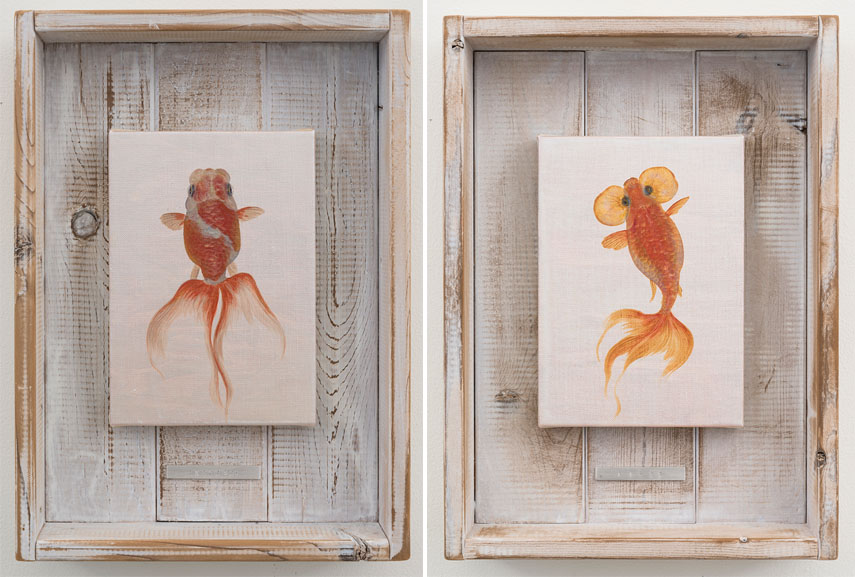 Envisioning the Future Through 3D Illusions
For Riusuke Fukahori, goldfish are everything. Throughout his career, the artist has been exploring their every breed, transforming even the tiniest detail into the pieces of his own art movement. These goldfish are both his self-portrait, a picture of his weaknesses, inner struggles and emotions, but also a wider image, where humans are the fish and the aquarium is our world. In a kind of a prophesy, Riusuke Fukahori tells the story of our past and our future through the narratives involving these animals, depicting our likely path towards the inevitable end - just like the goldfish, when their tank gets too dirty or too dangerous to live in. And like any individual of the human kind, each goldfish is unique, proudly inhabiting its glorious physical body in all its particularity, derived from Riusuke Fukahori's incredible dedication.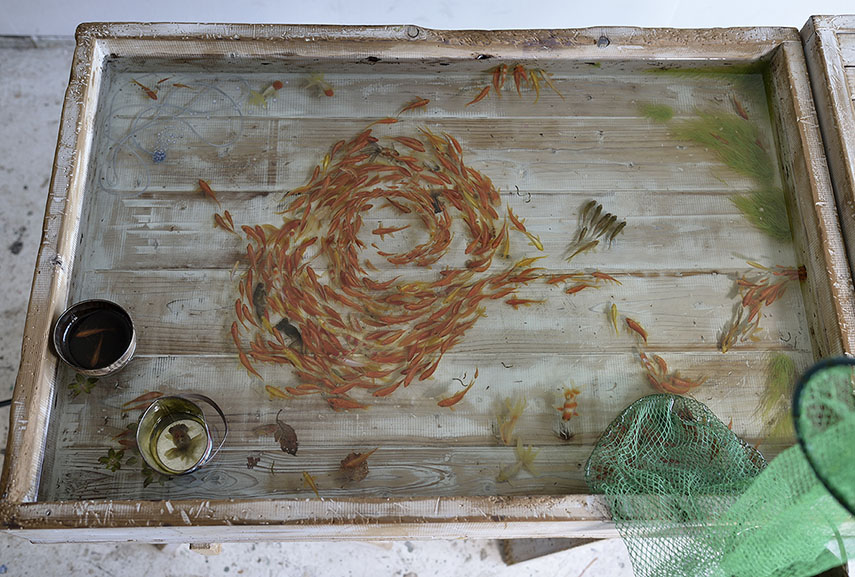 Goldfish Salvation
In the January 2015 interview for Widewalls, Riusuke Fukahori explained his curious way of creating these hyperrealistic paintings. His art takes patience and a broad vision, as the sketches of actual goldfish that could be found in his studio become proper 3D illusions made of layers resin and paint. As his materials take days to dry, the completion of paintings comes after months work, but it is all very well worth the wait, because the results are beyond stunning. The Goldfish Salvation show will present smaller pieces, such as Kingyo Sake, which was finished after two months, but also Riusuke Fukahori's largest painting to date, Kingyo Sukui (The Ark), which took him many months to make.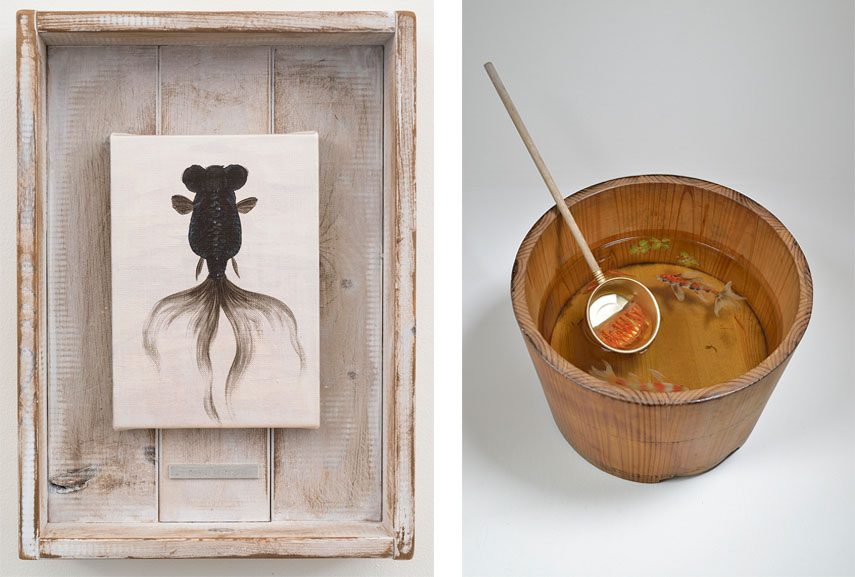 Riusuke Fukahori Exhibition at Joshua Liner Gallery
Also on view, there will be a series of four upside-down Japanese umbrella hats which have been turned into pools of water, each containing fish and a scenery evoking one of the four seasons. An extension of the series is explored in Riusuke Fukahori's first video work, inspired by the 11th century Japanese poet Kamo-no-Chomei. In the film, we see an umbrella hat drifting through a river, eventually ending up in the ocean.
Goldfish Salvation, the solo show of new works by the talented Riusuke Fukahori will be on view at Joshua Liner Gallery in New York City, USA, from November 19th until December 19th, 2015. The opening reception is scheduled for November 19th, from 6pm to 8pm, and the artist will be present.
Sign up for My Widewalls and enjoy more art for free!
Featured images in slider:
Kochoumatsu, 2015. Japanese Cypress sake cup, resin, acrylic 2.15 x 3.35 x 3.35 in, 5.5 x 8.5 x 8.5 cm
Chaka, 2015. Japanese Cypress sake cup, resin, acrylic 2.15 x 3.35 x 3.35 in, 5.5 x 8.5 x 8.5 cm
All images courtesy of Joshua Liner Gallery.