Belgian street artist ROA, the master of beautifully detailed animal murals, will be making his debut with the Jonathan LeVine Gallery in a forthcoming solo exhibition. The New York based gallery have announced Metazoa, a solo exhibition of new works by ROA, which will be exhibited in the Jonathan LeVine Gallery I at their 529 West 20th Street location. As is usual for ROA, the renowned artist is currently in New York soaking up the atmosphere of the local area that then informs the work, creating new works inspired by what he sees and feels. For a flavour of what you may see at the Metazoa solo exhibition, take a look at the ROA's Paper Trails at White Walls Gallery article.
ROA: "Metazoa" Preview Pt. I from Mana Contemporary on Vimeo.
Metazoa Solo Exhibition
The Metazoa solo exhibition at Jonathan LeVine Gallery will see ROA create all new works for his debut show with the gallery. The run up to the show has involved ROA participating in a residency at Mana Contemporary in New Jersey, allowing the Belgian street artist to create the new works for Metazoa and will also see him create a mural on the Mana owned building located at the approach to the Holland Tunnel. As is well documented, ROA usually creates site specific work within a limited time frame, using the local environment to inspire and inform the work. For Metazoa, ROA is spending six weeks leading up to the solo exhibition by foraging for found objects in New Jersey, which he is then using to paint on for the debut show with Jonathan LeVine. The gallery recently celebrated its 10th anniversary with a group show that featured artists such as AJ Fosik, DALeast, Brett Amory, Gary Taxali, Parra, Pose and Tara McPherson, read more in 10 years of Jonathan LeVine.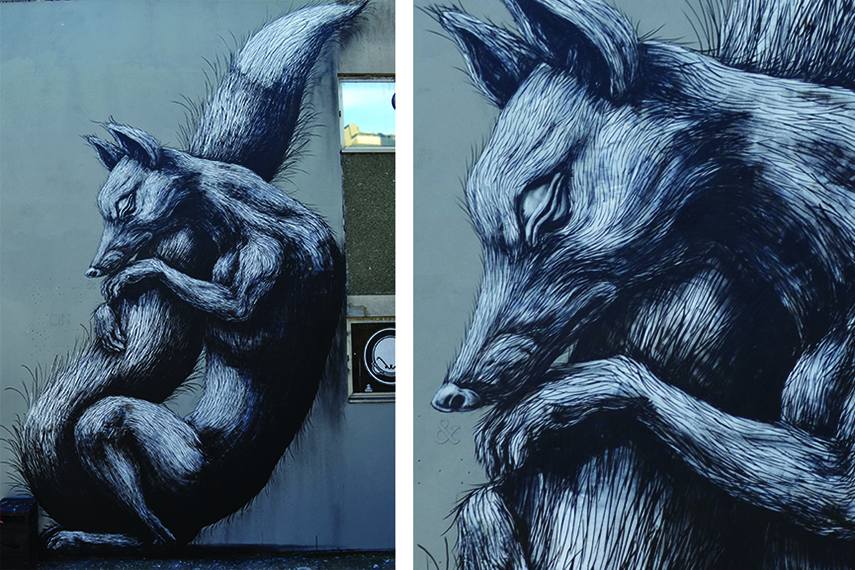 Creatures of ROA
Ghent born street artist ROA, has seen his name become synonymous with the beautiful creatures his creates, usually with a monochromatic palette and executed with an immense amount of fine detail. One imagines that the state animal of New York, the beaver, will feature somehow in the Metazoa solo exhibition, particularly as ROA himself views the beaver as a metaphor for the notion that nature can reclaim itself. This idea comes after the beaver, thought extinct in New York, made a dramatic recovery and reflects his interest in how animals evolve in the urban landscape. Whatever emerges from the mind of ROA for Metazoa, which means multicellular animals, we are sure it will be quite spectacular as is the majority of work that the animal loving artist creates. Take a look at Borondo in London – Animal about the work of Borondo that also deals with ideas of how humans and animals interact.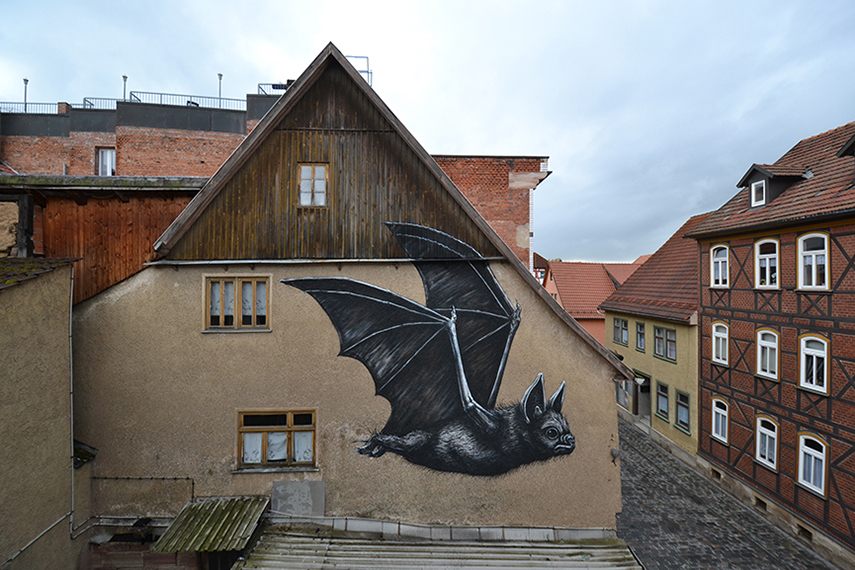 Residency at Mana Contemporary
The six weeks preceding the the Metazoa solo exhibition at Jonathan LeVine Gallery has seen ROA participating in a residency at Mana Contemporary. Mana Contemporary is one of the largest and most innovative contemporary art organisations in the United States, based in a vast former tobacco warehouse, it offers artist studios, exhibition spaces and a range of other art services. Its residencies program offers invited artists the chance to work in a studio with access to all their facilities. Read about the Mana Museum of Urban Arts in The World's First Urban Art Museum article.
The solo exhibition of new works by ROA, Metazoa, opens at Jonathan LeVine Gallery (Gallery I, 529 West 20th Street) on April 4th, 2015 and runs through until May 2nd, 2015. Opening reception on April 4th, 2015, 6-8pm.
For all the latest exhibition news sign up to My Widewalls today!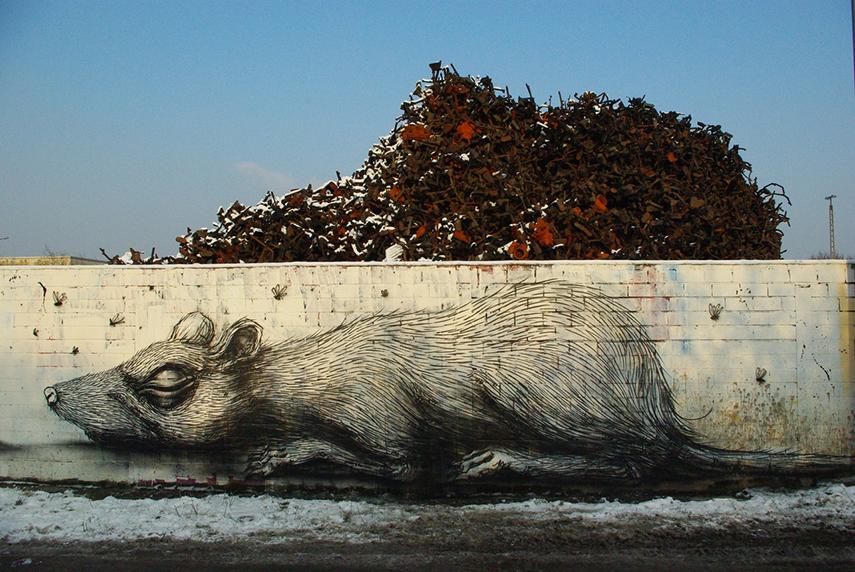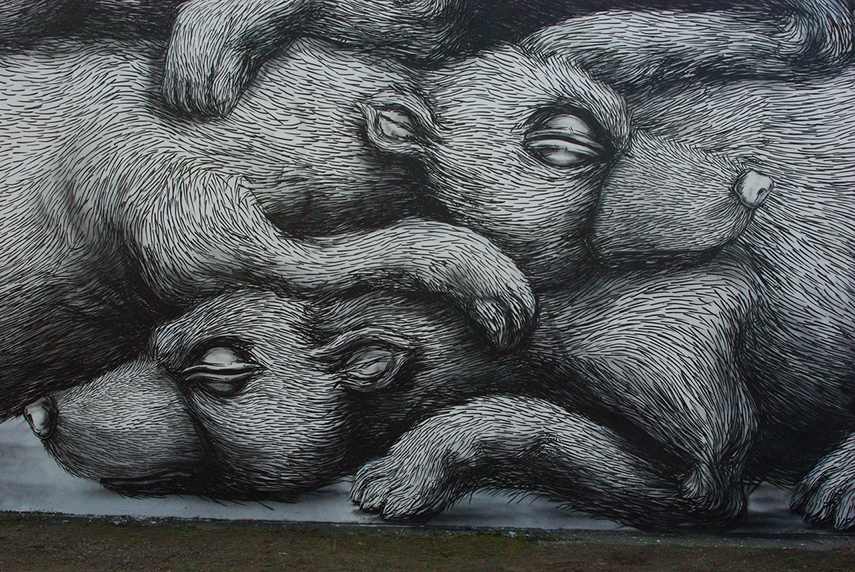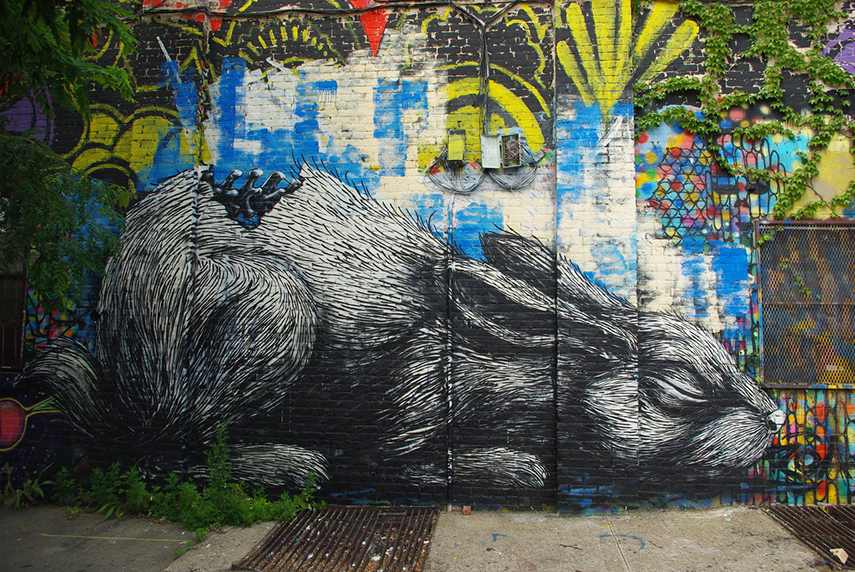 All images for illustrative purposes only, images in text courtesy of ROA & Jonathan LeVine Gallery, images below text courtesy of the ROA's Work Tumblr page.