Performance art will set foot in the United Arab Emirates for the very first time. A pair of  young performers from Gent, will try, yet again, to push the boundaries of meaning, context, and the interdependence between humans and environment. Artists Robbert&Frank/Frank&Robbert will investigate the modern notions of transgression, transformation, American pop culture, identity and psychology. There are  few examples when the reality turns to satire due to the effect of the performance art. The Belgian duo is known for their theatrical approach when portraying a certain story, and if you want to witness the quality of their work, the duo will showcase at The Mine gallery in Dubai. The premiere of this performance entitled Object is a mediator is scheduled for the 16th of December.
TO BREAK - The Window of Opportunity - Robbert&Frank/Frank&Robbert / CAMPO from CAMPO on Vimeo.
Robbert&Frank/Frank&Robbert
The story of these two creatives began in high school where they met at the age of 15. At first they didn't noticed each other, but college years changed that. As they enrolled at the same faculty in 2007, they started creating work together. Primarily, they constructed installations with wood and mixed media. One thing led to another, and they realized that they nurture a fascination for same things. Although friends in personal life they are two completely different personalities. Nevertheless, these authors use their firm friendship as the basis for the art they create. They like to quote Freddy Mercury and his notion that life is just one big game and therefore one should play it. Following the advice, they literally play the game, over and over again. Through their performance they play the game of love, understanding, destruction, perception, creation… the game of art.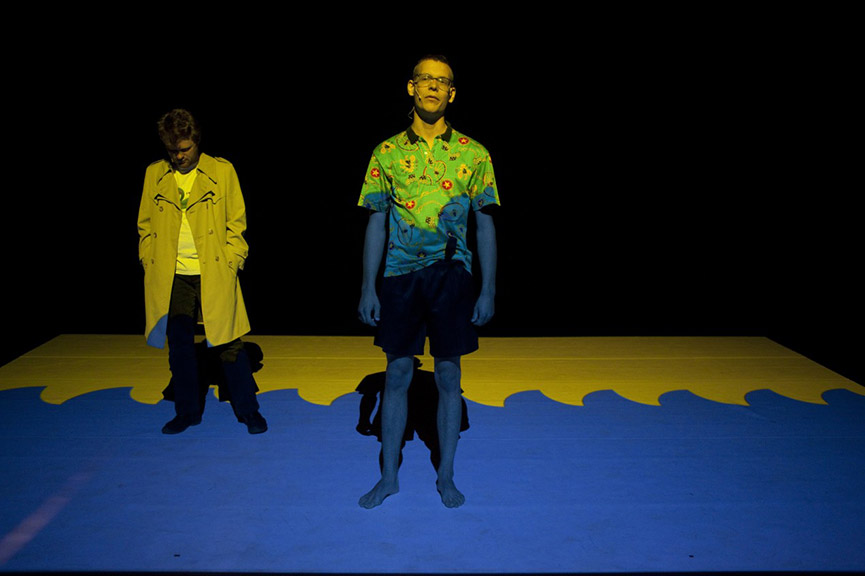 What Time and Space do to Us
For the performance Object is a mediator, taking place in The Mine, artists found inspiration in the concept of portability. Their idea is to investigate the theory of one object altering its own structure and functionality when put through space-time mechanism. By changing itself, it also distorts our initial perception of the object. As the object is dismantled and its parts are reassembled differently, our identification and interpretation of the object reshapes our sensory information. This theory is closely related to one of the Gestalt principles that states that the whole is always greater that the sum of its parts. If you are interested in watching the Robbert&Frank/Frank&Robbert performance as they take on the universe, visit The Mine gallery on 16th of December and be sure to arrive there on time as the show begins at 7 pm and it will last for an hour.
Are you a fan of performance art? Would you like to be notified in time for the next big artistic performance? Sign up for My Widewalls and stay tuned!