Inside Carling Dalenson's cosy Stockholm gallery, one of the walls is adorned with three spectacular black and white photographs of Grace Jones. It is indeed interesting how such small frames can contain multitudes; in this particular case, there are five people in these pictures (even though only one is actually portrayed) and a total of eighteen hours of shooting inside a studio at 24 Bond Street in New York.
The 1984 photographs were commissioned by one Andy Warhol for one Interview Magazine; the body of the aforementioned iconic singer was painted on with white paint by one Keith Haring; and the jewelry was donned by one famous designer, David Spada. To top this amazing line-up off is the man behind the camera himself - Robert Mapplethorpe.
These now legendary images make part of Artists & Muses, an exhibition gathering Mapplethorpe's portraits of friends taken during the 1970s and 80s in New York City. Thanks to Carling Dalenson, a number of works are now being shown in Sweden for the very first time.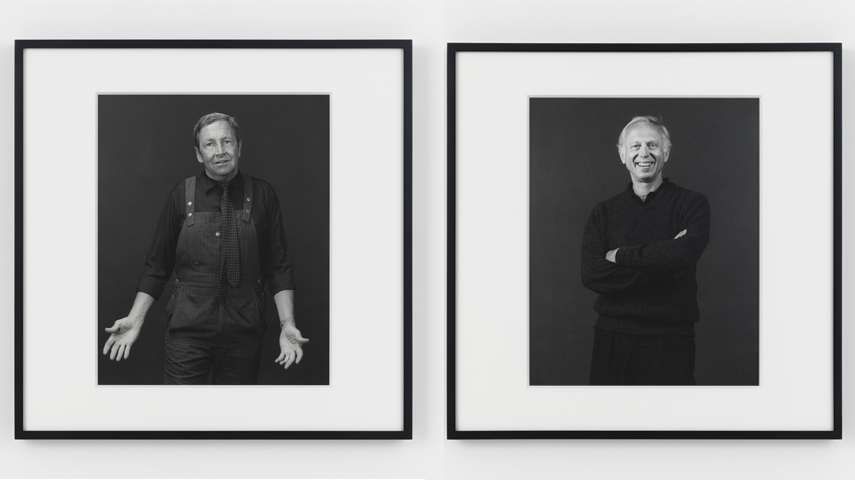 Artists & Muses
The leading image of the exhibition, which can also be seen on banners around the Swedish capital, is Mapplethorpe's portrait of Andy Warhol. The photographer idolized the Pop artist and eventually got to both portray, and be portrayed in turn, by him. In this 1986 photograph, Mapplethorpe turned Warhol into a saint, matching his ghastly, blank expression with a white halo around his head. To know that Warhol died only a few months after this picture was taken adds another shivering layer to it.
There aren't that many photographs in this exhibition, yet each of them attracts the visitor like a magnet - as it often happens with Mapplethorpe's work. You can't help but stare back at Keith Haring's poignant eyes, or stand for hours in front of Robert Rauschenberg's expressive pose, or Ellsworth Kelly's radiant smile. Perhaps the most rewarding photograph of all, if there even is such a thing with Mapplethorpe, is the 1976 print of David Hockney, who is captured while casually chatting and holding a cigarette. More than forty years later, it's as if time hasn't passed at all, and we are in this photograph with Hockney, listening with awe to what he has to say.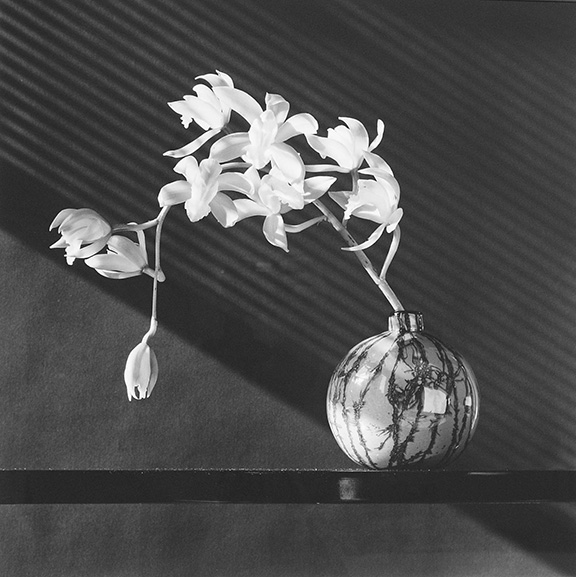 Robert Mapplethorpe at Carling Dalenson
Rounding up this marvelous exhibition, which also includes Mapplethorpe's portraits of even more fellow artists such as Brice Marden, Willem de Kooning, and Roy Lichtenstein, there are also some of his always breathtaking flowers - most notably the 1987 Orchid, whose essence is captured almost as exquisitely as one of his sitters.
Artists & Muses, an exhibition of select Robert Mapplethorpe photographs, is on view at Carling Dalenson in Stockholm, Sweden until October 2, 2020.
Featured image: Robert Mapplethorpe - Andy Warhol, 1986. Gelatin Silver Print on Paper, 20 x 16 in. (50.8 x 40.6 cm.) Edition 1/10, plus 2 Artist's Proofs. Signed and dated by Michael Ward Stout as executor for The Robert Mapplethorpe Foundation. All images courtesy Carling Dalenson.