The Scottish artist Robert Montgomery has been called a vandal, a street artist, a post-Situationist, a punk artist and the text-art Banksy. Following a tradition of conceptual art, his work straddles the boundary between art and poetry, bringing a poetic voice to the discourse of text art. He spreads his mind-awakening and provoking poetry across a range of mediums, such as billboard poems, light pieces, fire poems, woodcuts and watercolors.
The artist recently collaborated with global creative house Justkids to create a site-specific installation in Downtown Fort Smith. Lighting up the downtown urban-scape, this poetic LED lighted contribution spells out MINE LOVE DISTRIBUTE HOPE. Part of the light poems series, the work is another addition to the growing public art collection curated by Justkids for 5 years in a row through The Unexpected art event.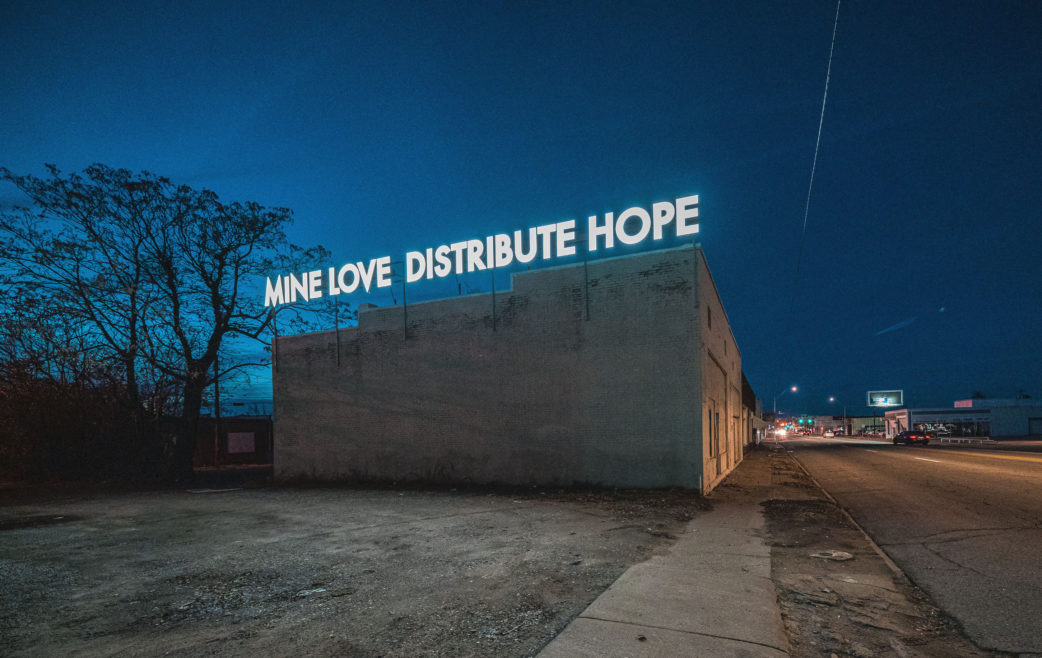 Mine Love Distribute Hope
Using words as a currency, Robert Montgomery creates works that are both cryptic and emotionally resonant, sending powerful messages to the viewers that generate awareness about the political and social structures we live in. These messages are at the same time critical and hopeful.
For the project at Forth Smith, the artist sought to create a work that felt universal while at the same time being highly contextual, harnessing a poetic voice that both embodies and addresses directly to the local community. As the artist explained, both of his grandfathers were coal miners who instilled their children and grandchildren with a passion for education and a sense of hope for the future.
They mined coal, but they also mined love and shared hope. This very short poem is a poem for them, and as such it also celebrates manual workers everywhere who work hard for all of us, manual workers build and maintain our cities and we all owe them respect and gratitude.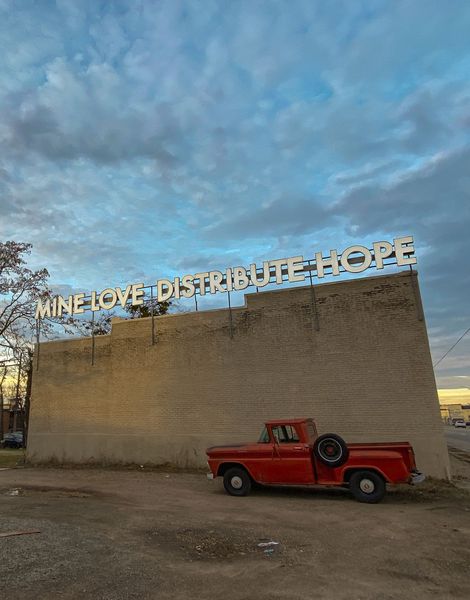 The Unexpected
Conceived and produced by Justkids, and commissioned by the local non-profit  64.6 Downtown, The Unexpected project has been taking place in Fort Smith for the past years. It brings contemporary art to the city through immersive public art experiences that generate cultural exchange between creatives and community development.
Returning to the city for the fifth time this October, The Unexpected also welcomed artists Okuda San Miguel, who returned for his second installation, Camille Walala, who took over an entire service station, Hilda Palafox, who completed a two-part mural on the Bakery Silos, and Alexandre Bavard, who delivered an adaptation of his performative piece BULKY.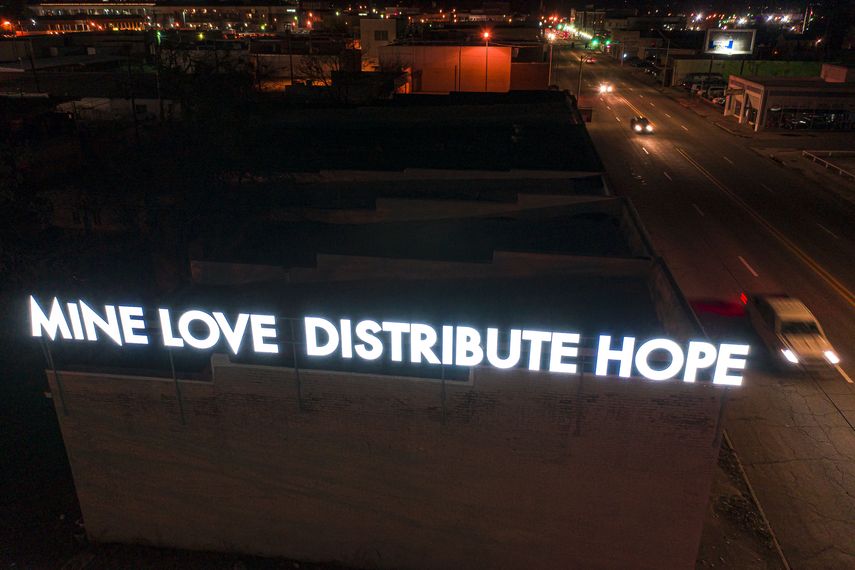 Justkids and Robert Montgomery
A global creative house, Justkids are dedicated to conceiving, curating and producing comprehensive art projects all around the world with some of the most engaging artists, curators and strategic consultants. Founded in 2014 by French-American art curator Charlotte Dutoit, Justkids is a 100% woman-led enterprise that delivers public art, festivals, exhibitions, artist residency programs, art investment consulting and brand collaboration projects.
On the occasion of this project, Dutoit commented that Montgomery's new piece "provokes an uplifting emotion for the passerby and conveys a message of solidarity for the community."
His words are not only captivating and deeply poetic but, in such a place like Fort Smith Arkansas where the social and economic situation is tough, they are meaningful.
Featured image: Robert Montgomery - Mine Love Distribute Hope, courtesy Justkids.