Robert Moore is an independent self-taught artist whose work typically illustrates black figurative paintings.
Moore has recently developed an impressive following on social media, growing his page from 600 followers to 18,000 in 8 short months. Instagram has allowed him to generate sales and network with prominent individuals. Independently, the artist has placed his work in private collections and in the homes of multiple celebrities. From April 2020 to December 2020 Moore has made a gross profit of $350,000 and has a projection of hitting $1 million before the end of 2021 with intentions to reinvesting in the art community. This is not a common scenario for an independent emerging artist.
In a recent video interview, I was able to get to know Robert Moore and how he uses Instagram to market his work. With social media changing the way we communicate and interact with one another, what does this look like in the art industry and how does this alter gallery and artist relationships?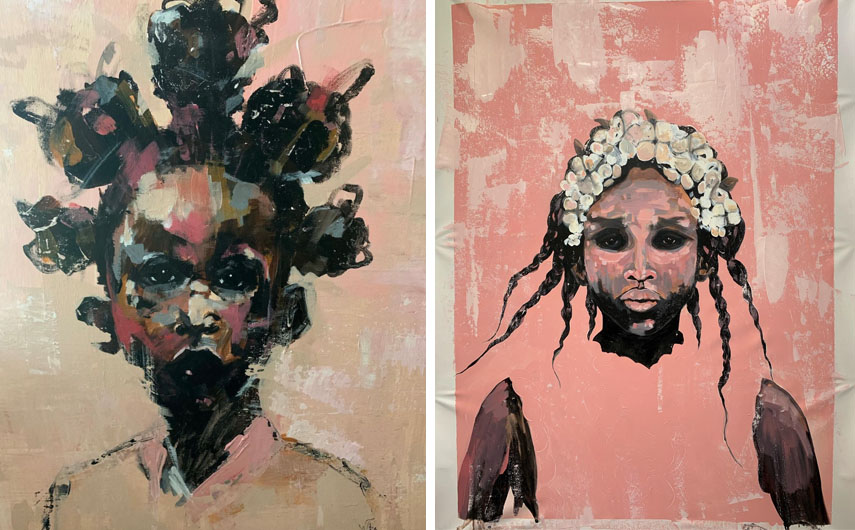 Robert Moore, An Artist
Widewalls: Hey Robert, let's go ahead and dive in a little deeper on your journey as an artist.
Robert Moore: So as I saw myself entering the world as a crack exposed baby with exposure to drugs. I'm a self-taught artist, but I wanted to pull in some of this iconography and dichotomy of Renaissance art and meshing it with my own personal story.
My dad is black and my mom's white, my dad being from Iowa, [where] there's not a large black population. So being black, a single father breaking those stereotypes, he was my hero.
My dad used to sketch when I was younger and my dad, was a single father. So my mom was not in my life. She suffered from drug addiction. She left my life early in my younger years, which was quite traumatic for me. So big parts of influences for my art are finding the comfort of being vulnerable enough to, I guess, enter those traumatic experiences in my life. [I share] them through my expressive form, which happens to be painting. And I say that openly, but it's been a healing experience to be able to share my trauma through art. It's been healing for me, and it's also been an opportunity to connect with others.
So the second part of that is I inherited some of those addictive traits from my family. Being someone that has an addictive personality and being a little bit over about a year into recovery from alcoholism and drugs I've found painting to be a much more healthier counter addictive hobby.
Widewalls: I think that's really lovely that you were able to figure out a way to express yourself. Because sometimes it could be hard to find the words that fit with what you're feeling, but to be able to still express yourself and find a form of outlet, I think is very nice.
RM: Yeah. And I agree, and it has been nice. And I come from a background of again, being raised by my father and not knowing what I wanted to be when I grew up, like a lot of black boys/ young boys. As a black boy I idolized drug dealing and hustling and shiny things. My past is not clean. I have a past of dealing and hustling and I have a criminal record. Growing up in an era where a lot of it was honestly glorified in the culture. I was attracted to that, not knowing what I wanted to be when I grew up graduating high school and so I was taken out after something that I thought was familiar. I was in the pursuit of fulfillment and happiness through trial and error.
I'm in my mid-thirties now and I think I found myself in a box. I thought putting on a tie and going to a job with a nice title and climbing that corporate ladder trying to get a different promotion, it was never good enough. Having an opportunity to come from being poor, to working my butt off. I found a connection back to why I was drinking every day and why I was wanting to use, and it was being unhappy. Painting literally has saved my life. And finally finding a way to share it with the world has confirmed or given me affirmation that I'm doing what I should have been doing.
On Growth
Widewalls: As an independent artist, how did you grow your art network and clientele so quickly?
RM: Instagram education, accessibility, professionalism, communication, and passion are really important things to be a successful artist. It's important to start with making your Instagram page a business page so you can promote your posts and to have a Facebook page to advertise.
My first print release I released 15 limited edition prints followed by 25 of a larger size. Those sold out in four weeks where I made $21,000. That changed everything for me. Prints allowed me to offer my art at a more affordable price point. People had access to beautiful art, without the larger commitment of buying an original.
Every month I kept investing and promoting what I thought was my most popular piece. And sometimes I would start promoting a piece and right away get 500 likes in like one day. Because psychologically, people will just like it being everyone else is liking it. And so I just kept pumping up the perception. Now I did that carefully knowing I wasn't wasting my money. I had a budget. I knew how much I was spending. I knew how much was sitting in my savings and checking account. I was being careful so I had a certain amount set aside for advertising. I did it every month and I would focus on those categories that were specific to my art and my product.
With this tool, I was able to expose my art to people that actually had money and had interest in my narrative. 50% of my buyers were first time original art buyers. That doesn't just benefit me, that benefits the black art market, because everybody starts with a piece and I think it's important to diversify your art in your home. I can look back and say 160 people never bought art before, bought it because of my advertisements and my exposure. And if more people did, you'll see an increase in first time art buyers.
I've had collectors reach out to me and say, "I used to buy from this artist, but I can't even talk to them anymore, I have to go through the gallery" and I think some collectors really do like being able to like talk to the artist and getting to know them. I think artists actually wished they could do that more without gallery rules and I say that as an opportunity to evolve, everything has to evolve. And I think the art industry has a requirement to evolve very fast right now.
Written by Kendra Walker.
Featured image: Robert Moore - Wonder Boy (Closed Mouths Don't Get Fed), 2020.