A painter, muralist, and animator, Robert Proch is famous for his distinct picturesque visual language which bridges the gap between fine arts and the new urban movements. On the other hand, fellow Polish Chazme 718 is known for urbanized structures constructed out of defined, geometrical areas, addressing the urban planning and architecture.
The work of these two artists will soon be on view at Kirk Gallery in Denmark. Titled From Dusk Till Dawn, the exhibition will feature the latest bodies of works by these talented artists, but also a number of collaboration pieces where Chazme underlined the abstract parts in Proch's artwork and Proch added narratives to Chazme's geometrical compositions.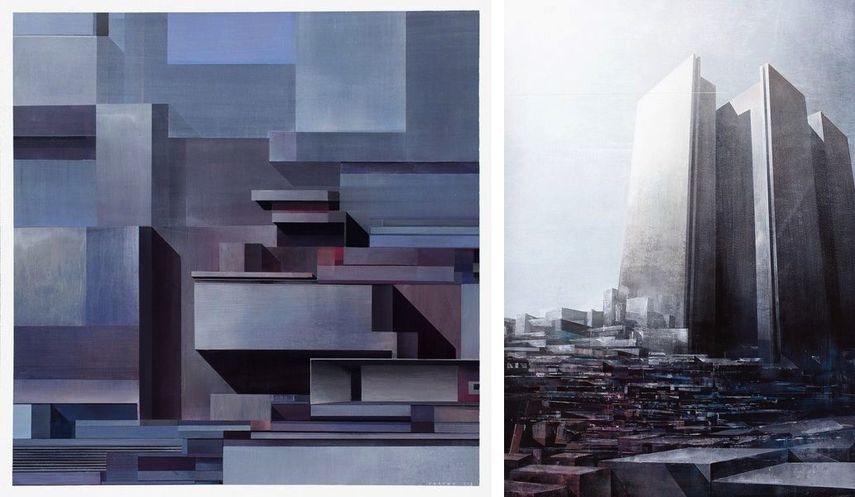 The Practice of Chazme 718 and Robert Proch
In his dystopian compositions, Chazme 718 invites the audience to decipher, reflect and maybe even oppose the urban planning and architecture. Observing the city in a unique way, he reproduces it with solids and abstract geometries, giving life to utopian architectural constructions which reflect the pattern of our modern skyscraper architecture. Chazme 718 introduces us to an urban environment deprived of people, that has become self-organizing, self-sufficient and autonomous.
Inspired by numerous stylistic expressions, from Impressionism to state-of-the-art animation and modern graffiti, Robert Proch depicts aspects of motion and processing taken strictly from our contemporary urban environment which he describes as becoming extremely plain and futuristic. Through vivid colors, he creates mini-narratives which explore the modern human condition through tangible emotions such as sentimentality, ambition, fear, loss, hubris, greed and friendship.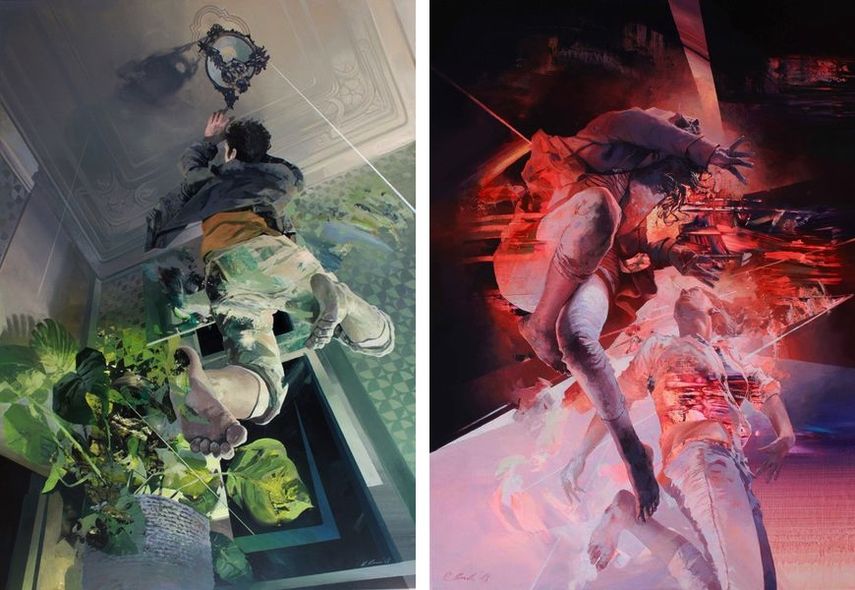 The Metropolis as an Organism
The works featured in the exhibition at KIRK Gallery present the artists' ongoing analysis of the concept of the metropolis as an organism, focusing at the aspects of nightlife. While Chazme paints the city facade comprised of complex mechanism cubes which exist in a strictly programmed machine that lives in an unbreakable cycle, Proch provides an insight into intimate scenes with people who struggle in this repetitive scenario of the machinery, releasing their own demons in the night.
The narrative is set during Saturday evenings at 7 p.m. with anonymous inhabitants rushing to finish closing up for the day as the sun melts from orange to dusk. As Proch explains, late night runners "skip like crazy between obstacles like characters in a video game," welcomed by clubs, pubs and parks. At the same time, others chase their own private dreams while squeezing their pillows. In the middle of it all, there are places where no one goes to sleep, waiting for Sunday to arrive.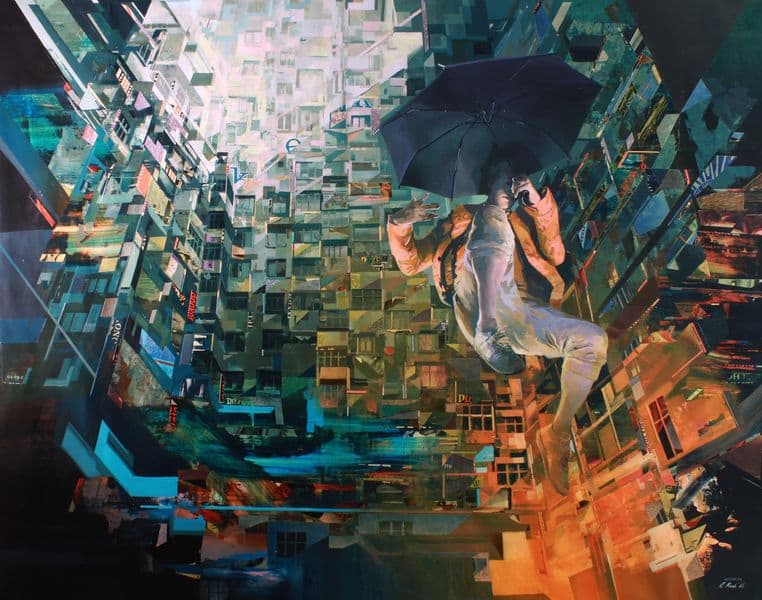 Robert Proch and Chazme 718 at Kirk Gallery
The exhibition From Dusk till Dawn will be on view at Kirk Gallery in Aalborg, Denmark from October 27th until November 24th, 2018. The opening reception will be held on October 27th, from 12 to 2 p.m. Come to meet the artists and hear them talk about their work.
Featured image: Proch & Chazme 718 - Anonymous, 2018. All images courtesy of Kirk Gallery.