The works by two great Polish artists will be exhibited at KIRK Gallery in Aalborg, Denmark. Robert Proch and Daniel Chazme exhibition at one of the Aalborg's finest galleries will showcase new works by these two amazing artists – the show is entitled Brutalismopolis chronicles, and the artworks reflect the large problems Europe is facing at the moment – internal economic crisis and migrant (refugee) crisis. Indeed, as Europe is faced with one of the biggest challenges in its recent history, countries are reacting differently. Since Robert Proch and Chazme are coming from Poland, they investigate these European problems from Polish perspective. However, the artists do not only examine only the nature and the roots of the economic and refugee crisis – but also the way how we learn about them.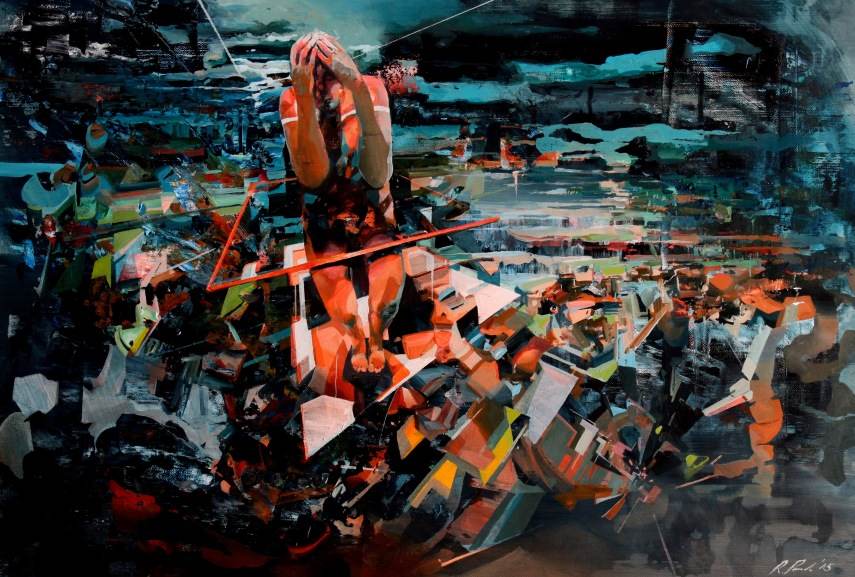 Robert Proch and Chazme
Robert Proch is Polish painter, muralist and animator, whose style is inspired by state-of-the-art animation, impressionism and modernist graffiti. The mini-narratives he paints examine the modern human condition using vivid colors and tangible emotions. He learned from his own experience that if one paints in a realistic way, there comes a moment where one starts to reduce this reality to search more into what's behind the straight representation of each motive. Things like space, time, mood, tempo, rhythm, come to the forefront. Proch has exhibited across Europe. Daniel Chazme is also a Polish painter, illustrator and street artist. He is known for his figurative works, with strong assemblage aesthetic. The artist lives and works in Warsaw. These two amazing artists have collaborated recently, creating a new body of work that will be exhibited at KIRK Gallery. As we already mentioned, they are inspired by current political, economic and social situation in Europe. After horrible terrorist attacks in Paris (in November), huge demonstrations of nationalists took place in Warsaw, where Anti-Islamic and xenophobic messages were sent, recalling the memory on the darkest chapters of the European history.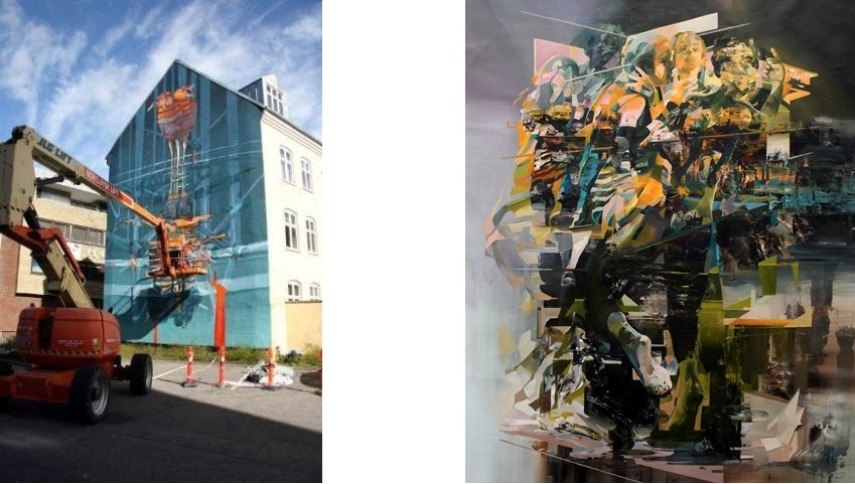 Brutalismopolis chronicles
Basing their works on the assumption that Europeans are behaving like they are living in the darkest chapters of their history, Proch and Chazme create "imagined" cities and machines that reflect the current state of mind of the Europeans. The imagined city concentrates all the negative pressure and closes in on it. It focuses around the image of a human-free environment. Butalismopolis in Chazme's work represents perfect, simple, monumental and concrete. It is on the macro scale. Everything is placed tightly on this expensive piece of ground, with just a small slice of sky coming in. It is the designed domination of architecture. The single human being is literally flattened here. On the other hand, brutalismopolis in Robert Proch's work comes down to a size of single habitants and focuses on selected pieces in a giant machine. Under massive concrete blocks countless egos cross ways, frozen in a rush of aggression and self-obsession. Concrete children love intense color and high contrast. No matter if it's a random pedestrian or performer at another talent show, everything is packed with pressure at an inhumane tempo. The final products are beautiful artworks that represent a critique of contemporary European society.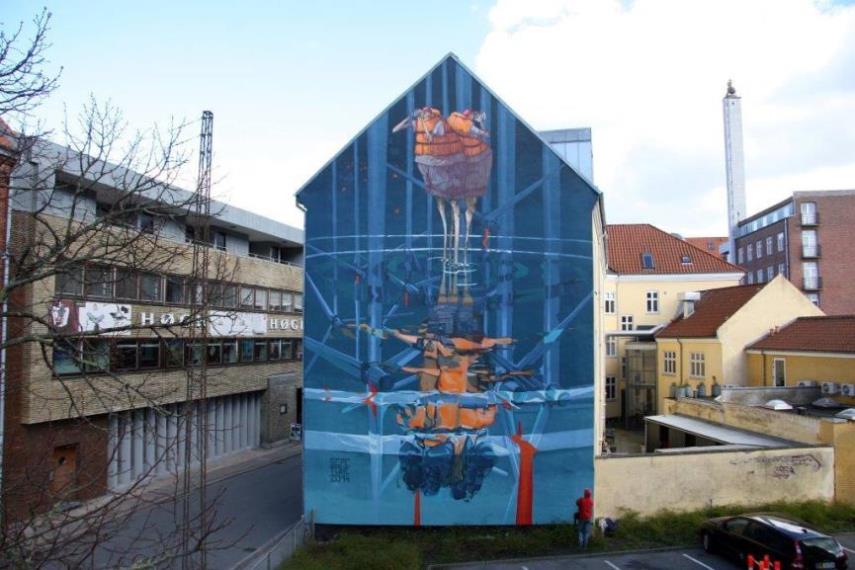 Robert Proch and Daniel Chazme Exhibition at KIRK Gallery
Robert Proch and Daniel Chazme have been very active on the global street art scene for the past 10 years besides showing their work at several galleries around the world. By now KIRK gallery has been working with Robert Proch for seven years meeting him for the first time when he was 23 years old (for example, he collaborated with street artist SEPE on the mural project of the gallery Out in the Open). The Brutalismopolis chronicles is actually Robert Proch's solo show, where several of the works are made in collaboration with his young Polish colleague and street art performer Chazme who's also adding some works of his own. The exhibition will be on view from December 5, 2015 at KIRK Gallery in Aalborg, Denmark. The opening is scheduled for 12-2pm.
Featured Image: Robert Proch & Chazme - Erasing Green, 2015. All Images courtesy of KIRK Gallery