The development of the American avant-garde art in the early post-war period could not be imagined without Robert Rauschenberg. This notable figure truly revolutionized the art-making process by proposing hybrid forms called Combines that acted as an extension of a ready-made concept.
Throughout his life, the father of Neo Dadaism remained a relevant figure as he was constantly driven to experimentation and social commentary regardless of the dominant tendencies. By 1968, Rauschenberg was a highly acclaimed artist, often described as a predecessor of Pop art. When he felt fed up with New York, he moved to a small island across the coast of Florida called Captiva, where some of his most remarkable works were made.
To take a closer look at this phase of his practice, and deliberate the way Rauschenberg understood the increasing shift in the means of production, BASTIAN will host an exhibition of the works that show both the artist's unique vision and the innovative use of ink transfers and printing technology.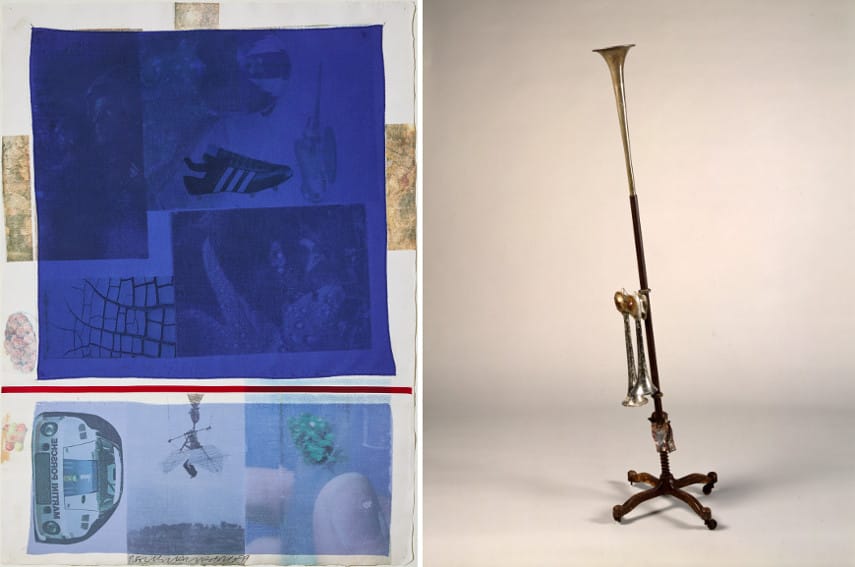 Leisure Time on Captiva
The upcoming exhibition will bring a selection of works produced by Rauschenberg during his late period on Captiva Island to unravel his devotion to exploring new techniques that were up to date with the latest technological advancements.
The visitors will be able to see Rauschenberg's three sculptures from the Glut series (1986-89 and 1991-94) that mark his investigation of found metal objects and their sculptural potentials, as well as examples from the Anagram (A Pun) (1997- 2000) and Short Stories (2000-2002) series.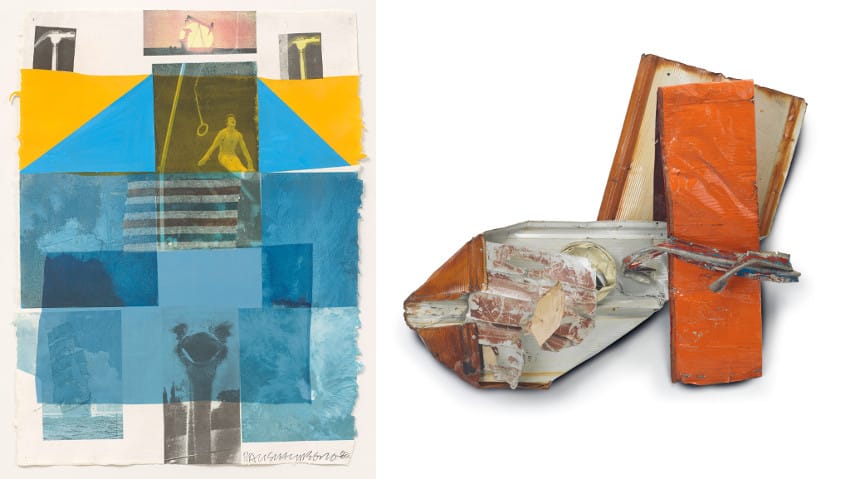 Metal, Ink and Dye
For this occasion, Rauschenberg's Glut sculptures that are a critical reflection of the circumstances around the 1980s oil market will be on display. The objects/wall-reliefs such as Pimiento Late Summer Glut (1987), Tropic Compass Glut, and Klaxon Pisa Glut (1988), are made of re-calibrated automotive scraps, gas-station signs, and discarded metal fragments to emphasize the relics of what can be described as industrial consumerism.
Throughout the decades Rauschenberg most often worked with the silkscreen process but by the late 1990s he sought out a new technique that was far more sophisticated for processing photographs and magazine clippings. A good example is the work Matinee from Anagrams (A Pun), for which he would experiment with numerous compositions by layering images on top of one another, and processing them via computer, and then manually using water-based dyes and transferring the images onto polylaminate surfaces. For instance, the work Page 10, Paragraph 3 (2001) from the Short Stories series extends further the achieved experiment as the artist takes a conceptually rounded approach.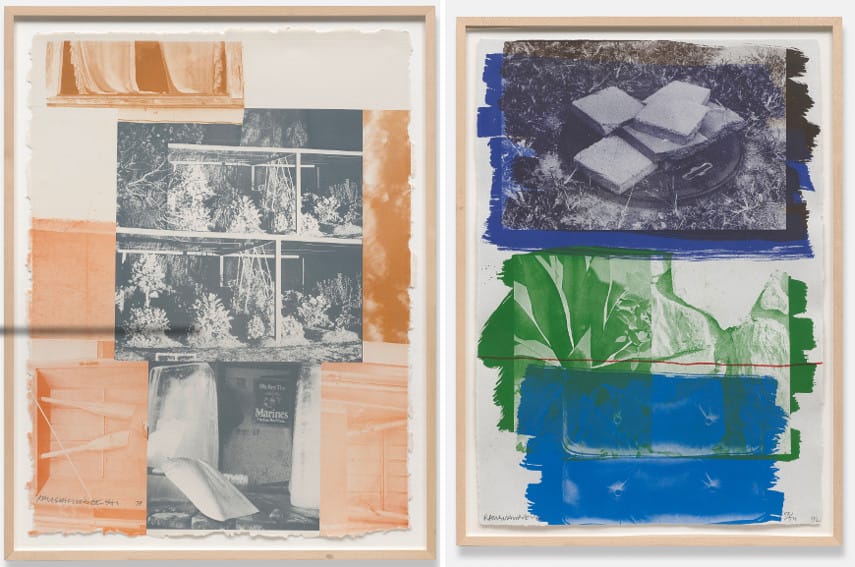 Robert Rauschenberg at BASTIAN
According to the selection of works made during a specific period in Rauschenberg's seven decades-long career, the upcoming exhibition seems promising in terms of offering renewed analysis of his innovative approach to art-making.
Metal, Ink & Dye: Late Works from Captiva Island will be on display at BASTIAN in London from 13 January until 27 March 2021.
Featured image: Robert Rauschenberg - Tropic Compass Glut, 1988. Assembled aluminium and fibreglass objects, 125.1 x139.9 x 81.3 cm, Courtesy of Waddington Custot Galleries. All images courtesy BASTIAN.